Please note: As an Amazon Associate I earn from qualifying purchases. I also work with other affiliate partners and may be compensated from the links below. Details here.
November 13, 2022
Peter McKinnon: Your 15 FAQs Answered!
---
Peter McKinnon's name is a ringing bell in the photography space. Thanks to his successful YouTube career, he doesn't go unnoticed every time stills and filmography are mentioned.
So if you're a solid PM fan, or you are interested in knowing the guy better, then this post is definitely for you.
Here are the 15 frequently asked questions when you mention his name: Peter McKinnon.
---
Is Peter McKinnon a Professional Photographer?
Yes. He is a professional photographer.
He is based in Canada, specifically in Toronto. But he's not only known for beautiful stills. He's also a world-renowned filmmaker and YouTuber with a huge following of around 2.6M.
His video contents mainly talk about all things related to photography and videography – from basic theories to gear reviews. This information is made available to all for free since he aims to inspire others to pursue their passion in the same field.
But before he became this successful, he struggled a lot, at least career-wise. He jumped from one job to the other, until he decided to follow his heart and pursue the craft.
This leads us to the next question.
---
How Did Peter McKinnon Start?
Pete's story is very interesting. He didn't even have the slightest intention of becoming a pro photographer – it just sort of happened. Well, definitely not entirely by chance.
Check out this video about his biography and career journey:
It all started when he got his first camera as a gift for being present at his sister's wedding. We went around for a while and played with the macro feature of the camera where he got amazing photos of blades of grass in their backyard.
At that moment, he knew photography was going to be part of his life.
At first, he took photos for fun, but later realized it was his passion. Soon enough, he was leaping toward the path of professional photography and that made him who he is today.
A short back story:
Before he discovered his love for the craft, he went from one job to the other. In fact, he once worked for people doing magic tricks and shows. He took videos and created magic trick tutorials for the audience. He did this for 15 years.
If you'd like to get the best photography tutorials from top experts, 
---
Did Peter McKinnon Finish College?
To be a successful photographer, one would expect you to have formal education or at least a certification that you finish a course related to the craft.
But in Pete's case, no, he wasn't able to finish college, let alone get a degree in photography.
But don't get the wrong idea. McKinnon did go to college and studied photography, but during his senior year, with only one credit left to fulfill, he decided to drop out of school.
READ ALSO: Best Film Schools in Canada (Degrees, Diplomas & Tuition Costs)
Many of you might question that decision, but Peter knew himself better.
For him, a diploma or certification won't determine your capabilities and talent when it comes to the field. And true enough, he has once again proven to the industry that even without a degree, you can become a successful artist.
---
What Kind of Photography Does Peter McKinnon Do?
As a creative, you're most likely expected to have an area of specialization.
While McKinnon does every bit of photography from wedding shots to headshots, his heart rests on landscape photography. This is probably because before becoming a pro, he always loved the outdoors.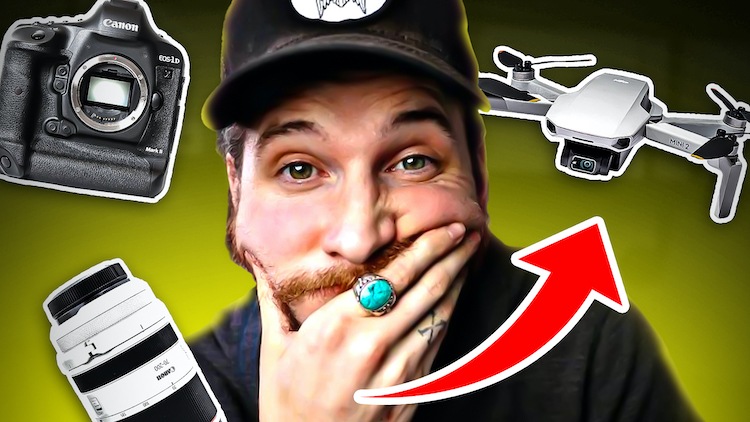 His main hobbies were skateboarding and biking, things you can do in the open fields with great scenery.
When he was still starting his professional career, he would take on almost any project involving a camera. He covered lots of weddings, parties, studio sessions, and all things you could think of as an artist.
But in a short film entitled The Bucket Shot, he mentioned he had a passion for landscape and nature. Since the beginning of his professional career as a creative, he always dreamt of capturing the scenic view in Moraine Lake (Canada, Banff National Park) during winter.
And when he got the opportunity to do that, he didn't miss the chance and just went for it all out. Right then and there, he achieved what he called his "bucket shot".
---
Where Did Peter McKinnon Bucket Shoot?
Every photographer has that one shot they'd love to do before they die (or retire from the industry, at least) – something they call the "Bucket Shot".
Since McKinnon is a huge fan of nature and the outdoors, it's not surprising that his dream shot is related to that. 
For years, he has always dreamt of taking a photo of Lake Moraine at Banff National Park in Canada. He wanted to do it during winter so that he can showcase the snowy lake with all its natural color. 
However, to get that perfect shot, a lot of things needed to be considered – the weather, the lighting, the fog, etc.
READ ALSO: Best Gloves for Winter Photographers!
But, Peter said they got lucky that everything was going smoothly that day, so he was able to take the dream shot at the park – completing his bucket shot.
---
Who Does Peter McKinnon's Tattoos?
Currently, Andrew Wilson is his go-to ink artist in Toronto, who does amazing black and white work. He even featured him in his YouTube video about the meaning behind McKinnon's tattoos:
---
Is Peter McKinnon Any Good?
It's not unusual for popular artists to have both fans and haters – we can all agree to that.
While many people claim there are better creatives than Pete, it's undeniable that this guy knows how to deliver valuable content through different forms of media.
His experiences in travel, photography, and filmmaking give him leverage over other artists without the same experience. He has his unique way of doing this, especially when dealing with lighting and audio quality.
On the part of being an instructor, a lot of people commend Pete for being really enthusiastic and well-informed. He knows the stuff he teaches and he is aware of what his audience want (or need).
---
What Does Peter McKinnon Shoot With?
Having been around in the industry professionally for over 9 years, McKinnon has used various photography equipment – that's for sure.
Here's a quick overview Peter McKinnon's gear:
What Peter had used for the most part of his career

top quality up to ISO 6400

Full HD video up to 120 fps

Peter McKinnon's go-to camera now

The brand new camera Peter uses for photography

ISO sensitivity up to 50000

has that unique Leica vibe

Top choice ultra wide zoom angle among the pros

sweet optics & ergonomics

highly popular among pros

The lens Peter uses for portraits

Peter's choice as a telephoto lens

very good tracking system

effective image stabilizer

versatile (for all scenes)

McKinnon's drone  for aerial shots

ultra light & foldable drone

3-axis gimbal with 4K cam

Popular mic choice among YouTubers
We know very well how much love he has for the Canon EOS R5, especially those of you who watched his videos. In 2022, this is his go-to camera.
But, when he was still starting his career, he used a Canon 1DX II. This was his main gear for several years. Well, you really couldn't blame him given this device's smooth and reliable AF system plus the great dynamic range.
For some casual photography though, Pete uses a Leica Q2, a very versatile compact you can easily carry around. For aerial shots, the pro relies mainly on his DJI Mini 2.
---
Peter McKinnon Presets Worth It?
You know how post-processing is as important as the actual shot, right? With presets, it will make your workflow more efficient, and many photographers have their own presets up for grabs for those who want them.
PM's presets are worth it, especially if you're new to the post-processing scene. This will make your work a whole lot lighter. However, it doesn't mean with these presets you no longer need to do your own editing works.
Instead, Pete's presets will work as your foundation (groundwork) for an easier editing process. You'll have a pre-tuned image and you'll be able to focus on the more important details.
---
How Do You Edit Like Peter McKinnon?
If you're fan of his work, then you might want to know how he does his post-processing work. Well, you're in total luck because your guy has available presets you can buy.
But, if those are not enough, you can go to his YouTube channel and watch him edit some actual photos. He has a bunch of videos where you can see him editing stuff. Like this:
Plus, if you've been a follower for a long time, it will be easier for you to catch on to his styles and preferences when doing edits. Just by watching his tutorials, and some videos of his supporters will help you get an idea of how he does the work.
---
What Software Does Peter McKinnon Use?
You know there are a bunch of photos and video editing apps out there, but have you ever wondered what professionals use to make their output stand out?
Well, Premiere Pro CC and Final Cut Pro X are two of the top-tier software you can use today. Popular content creators like Peter McKinnon and Casey Neistat use them, too.
But if you're looking for a more beginner-friendly app, iMovie might just be the right one for you.
And of course, let's never forget that Adobe Premiere Pro exists too. A lot of professional filmmakers find comfort in using this amazing editing software.
---
What Website Does Peter McKinnon Use?
Building a website from scratch is very easy these days.
McKinnon used Squarespace and he has a video tutorial on how he used it. The best part about the lesson is that he thoroughly discusses each step from start to finish so you won't leave with many questions in your head.
What's more interesting is that you don't need to know about coding or programming language to navigate and build your own website. It's totally beginner-friendly.
---
How Long Has Peter McKinnon Been on YouTube?
Peter McKinnon became controversial because of his fast-rising growth in terms of YouTube subscribers. He is the only one to get a million subscribers in 9 months – that's a feat most influencers only dream of achieving.
Pete already had a self-titled channel on YouTube since February 2010, so Chris Ramsay talked him into utilizing that to share his content. It was a good thing he listened because, in just a couple of months, his channel blew up like crazy.
At first, he tried a bunch of different content just so he could observe which spiked the interest of his subscribers. Then, PM noticed tutorials were their thing, so he went all out on that and focused on creating valuable content for his target audience. And voila! Success came early.
---
How Much Money Does Peter McKinnon Make?
There's no telling how much money McKinnon exactly makes, only he can answer that, but sources say his net worth is around $3+ million with YouTube, teaching, and photography earnings combined.
READ ALSO: What Is Peter McKinnon's Net Worth?
With almost 6M subscribers now, that's not too hard to believe.
In fact, he might be richer than that given other ventures like brand sponsorships, collaborations, and deals with other artists.
---
Is Peter McKinnon Sponsored by Canon?
I'll tell you this straight up. Peter McKinnon is Canon's ambassador. He has been using the brand's products for years, and he definitely trusts its capabilities and good results.
In a video sponsored by Squarespace, Pete is seen reviewing the EOS R3 as launched by the brand.
READ ALSO: Canon R3 Review by a Pro Sports Photographer
Although actual photos from the gear were prohibited from getting shown at the time, McKinnon did a great job thoroughly showcasing the new device's features – both external and internal.
---
What Knife Does Peter McKinnon Use?
This question might seem far-fetched, but it's worth discussing.
In a video entitled What's In My Pocket by EXCESSORIZE ME, one thing stood out from PM's everyday carry things – a Chris Reeve Sebenza 21 (custom-made) knife.
On a side note, Pete also designed a camera tool in the style of a Swiss knife!
It's called PM Camera Tool and the guy dedicated 18 months to create this genius product. It has several hex bits and a dedicated slot for storing your spare SD card. So if you ever need to open up your gear, this can come in handy.
(Currently sold out though.)
Now, I want to hear from YOU:
Do you know any other facts about Peter McKinnon not mentioned here?

Have you ever considered Pete as your role model in photography?
Share your thoughts in the comments section below!