Please note: As an Amazon Associate I earn from qualifying purchases. I also work with other affiliate partners and may be compensated from the links below. Details here.
March 5, 2019
10 Mistakes Photographers Make When Travelling (And How to Avoid Them)
---
I will keep this intro short:
Today we'll look at some of the mistakes photographers may make during their trips.
(And how to fix/avoid them.)
Without further ado…
---
Mistake #1: Damaging Your Equipment During Transport
---
You might know this one but I'll still say it:
Don't give in to temptation to put your gear in the luggage when taking a flight.
(Actually, it'd be a foolish idea.)
Truth is, standard suitcases and bags often don't withstand strong shocks. This being said, fragile cameras and lenses can be easily damaged.
Instead, use a carry-on.
Just make sure that your camera and other accessories when packed conform to the carry on rules of the airline you're flying.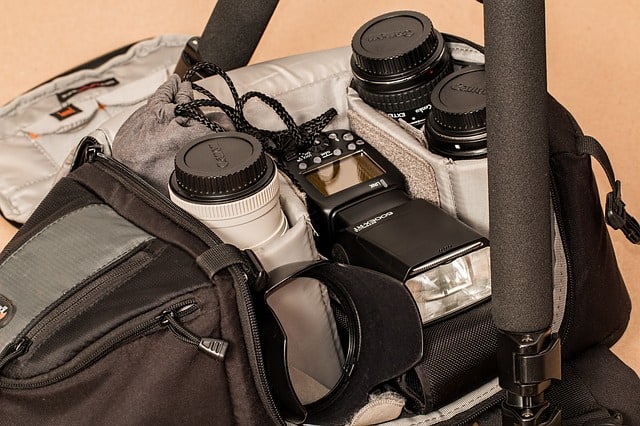 If you do decide to put your photo equipment in your check bag, make sure that it is designed for long-distance travel and can withstand heavy blows. (I strongly advise against it though.)
A few exceptions to this rule:
tripods,

flash drives,

battery chargers.
They are usually strong enough to survive a long trip on an airplane, wrapped in your clothes.
---
Mistake #2: Damaging Your Gear While at the Beach
---
Without a doubt:
The beaches provide us with excellent opportunities for photography.
But they are also one of the most difficult conditions for the operation of your equipment. Water and sand might significantly harm your camera and/or lens, if you're not careful.
When the weather is great (with no strong wind), then you can safely take photos without using protection. But the thing is that you never know what will happen in the next 5 minutes, so it's best to think ahead.
So…
How to avoid environmental dangers?
Keep your gear covered as much as possible and clean it well when leaving.

Use a

UV (glass) filter

to protect your camera lens.

Use a single lens if possible so no dust/dirt gets in.

Do not place your DSLR or even camera bag in the sand.

If your hands are sandy, another reason to avoid touching your gear.
(Also, ziplock bags are your new best friends.)
Use these tips to protect your gear. 
Better safe than sorry.
---
Mistake #3: Damaging Your Lens When Cleaning
---
If your camera has been in rather harsh conditions, it's a good idea to clean it.
Before you remove the lens, do the following:
Remove the battery and/or memory card.

Using a dust-removing tool, remove any grains of sand from the camera and lens.

Clean the gear with a soft cleaning brush.

Make sure you clean everything thoroughly.

Only after you are convinced that you have wiped everything, can you use a special cloth or liquid to clean the lens and LCD display.
If you'll do it differently, you're likely to scratch it.
---
Mistake #4: Photographing Main Attractions Only
---
---
When I wrote an article on street photography, one of the tips I had there is to capture non-touristy parts of the place you're going to, too.
Seriously, don't just take common photos of a "must-see" main attraction.
Look around you and you'll see excellent scenes that are worth shooting. This way, you'll capture sincere emotions and the true life of the city anywhere you are.
Also, when taking a picture of the landmark, try to be creative (with filters and angles).
You don't want to have the same pic as everyone else, do you?
---
Mistake #5: Bringing Too Much Equipment
---
( … or forgetting the necessary photography accessories such as battery, chargers, or memory cards.)
Let's face it:
When travelling you don't really want to carry heavy backpack with you all the time.
The good news is that there are some really awesome alternatives to bulky DSLRs on the market right now.
(Seriously, check the link out.)
You can get a compact camera with a large sensor (1 inch or bigger), and you have yourself great pics.
---
Mistake #6: Underexposed/Overexposed Beach Shots
---
The bright light on the beach can result in overexposed images.
The very same bright light is also disturbing when trying to use the LCD screen, so you can't really rely on it when evaluating exposure.
What's the solution?
You need to turn on the histogram view and make sure that the image is sufficiently consistent with the peak of the histogram, shifting the peak of the histogram to the center.
The flash can also help you to fill in any sharp shadows.
---
Mistake #7: Blurred Images During Night Photography
---
---
Look:
I have an entire article dedicated to shooting night photos like a pro but in here I want to mention one thing – a tripod.
Your tripod may seem like an unnecessary burden when packing your luggage but if you plan on shooting inside buildings or night landscapes with long exposures, you just have to take it with you.
Today, there are a huge number of tripods designed specifically for travel.
As a rule, they are smaller than ordinary tripods and their weight is correspondingly less. But you must remember that with all this, you should never "save" on the stability of your tripod.
I'm sure you don't want to come home with a bunch of spoiled photos just because your camera was shaking from every little breeze.
Get a good tripod and enjoy your Instagram-worthy (night) shots.
---
Mistake #8: Capturing Strangers in Your Travel Photos
---
While it's pretty challenging to take shots of interesting places without people in it, it's certainly doable. 
One option is to get up early before everyone and take advantage of that.
If you're not an early riser, then you can install your camera on your tripod and take a series of shots of the chosen place. As a rule, people rarely stand in one spot for too long, so there's a chance you capture a photo without them in it.
(The exception is street photography because you document life as you see it.)
---
Mistake #9: Being Inconsiderate to People, Culture & Laws
---
Avoid getting into conflicts with the locals, as well as the police.
Some places have certain rules you need to be aware of.
For example, you can't take photos of people in Spain, it's a law. Same goes for Islamic countries. (You should especially avoid taking photos of a Middle Eastern women without their permission.)
That's why you need to do your research before you go somewhere, learn about culture insensitivities and laws regarding photography.
If you really want a shot, having inconspicuous, compact cameras for street photos might help. 
---
Mistake #10: Not Protecting Your Gear in Cold Weather
---
---
If you are traveling in places with extreme climate, don't forget that such conditions can significantly harm your equipment.
Very cold weather conditions, for example, can quickly discharge your battery. Logically, it then will be very difficult to work with to the fullest.
Keep a couple of spare batteries handy and keep them in the warmth, like a jacket or inside a pair of warm winter gloves.
(You can also use hand warmers to keep the batteries warm.)
Another thing to watch out for is the changes in temperature, which can result in condensation.
And that can significantly harm your DSLR.
Dan Carr provides great tips on how to protect your gear in cold weather. Here's the link.
Like he recommends, the best solution is to carry plastic/ziplock bags.
---
Travel Photography Mistakes: Your Thoughts?
---
Now, I'd like to hear from YOU:
What mistakes have you done as photographer on your trip?

What are other common mistakes you can share with us?
Any thoughts, questions and/or suggestions are welcome in the comments!
---