Please note: As an Amazon Associate I earn from qualifying purchases. I also work with other affiliate partners and may be compensated from the links below. Details here.
July 4, 2019
Photography Locations in NY: 11 Best Places to Photograph in New York State (USA)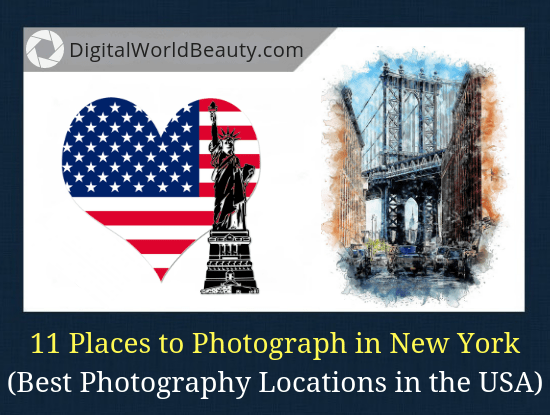 ---
Ah, New York!

One of the best places in the world to visit.
Everybody who hears the name automatically thinks of New York City (NYC), one of the greatest megacities of the world.
I hope it's not a surprise to you, but New York represents a state as well.
(In fact, it is one of the 13 original colonies that formed the USA.)
Now, the state is normally overshadowed by the city of the same name, but it is picturesque in its own accord.
This being said, I've divided the article into two broad categories, places to take pictures in NY city limits and where to take the them in NY state.
So…
Ready for the collection of some of the best photography locations in New York?
Let's get started.
---
New York Photo Spots (Within City Limits)
---
1) Brooklyn Bridge
---

If you want to take a great image of New York City skyline, then head to Brooklyn Bridge.
Walk through the bridge towards Manhattan, take some great snaps, and don't forget to enjoy the moment!
Without a doubt:
Brooklyn Bridge is one of the most Instagrammable places in New York. 
Speaking of which…
==> Check out my list of cameras for taking gorgeous Instagram photos (with video reviews and lens recommendations).
---
2) Times Square
---

---
You saw this coming, eh? 😀 
Anyway…
One of the most photogenic places in NYC is Times Square at night.
The best time to visit there is just after sunset, where the sun rays are just dying out and lights are coming up slowly. Apparently, locals don't like the spot but it is where a traveler photographers can take great pics in NY.
---
3) One World Trade Center
---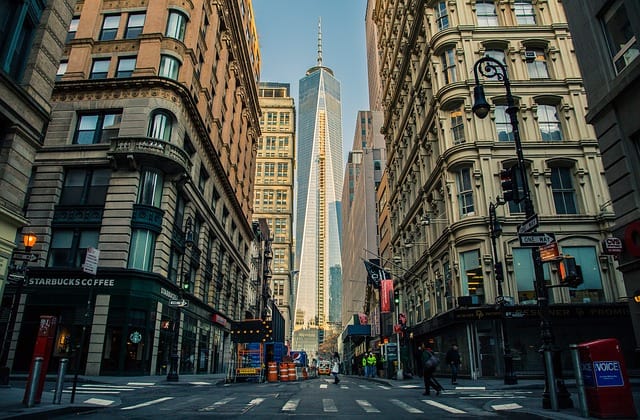 ---
If skylines are your main goal, another great place to photograph NYC skyline is One World Trade Center.
The tickets are quite pricey here, but the view is great.
There are three observations decks in the building. They are located on level 100, 102 and 103. Here the city can be seen and photographed in various angles you desire.
After you are done shooting on the observation deck, go underground at Oculus for more photography.
Without a doubt, this building is one of the "picture perfect" spots in NY that you're looking for.
---
4) Statue of Liberty
---
---
If you are looking for where to take the best picture in New York, you have to take a ride in Liberty Helicopters.
It gives you a bird's eye view of the city that never sleeps.
You can see the Statue of Liberty and an awesome view of the skyline.
---
5) Central Park
---
---
Central Park in Manhattan Island is yet another most photogenic places in NYC.
Walk through the park and you'll end up taking many Instagram worthy shots in here.
Specifically:
Bethesda Fountain and Terrace,

The Lake,

Ghostbusters Building,

Alice in Wonderland Statue,

The Imagine Memorial,
… and many more.
Plus the greenery in a city of the concrete itself is regenerating for you.
---
6) Rockefeller Center
---
---
Rockefeller Center is a place where traveler photographers can take great photos in NY.
It has architecture, beautiful sculptures and a breathtaking view of the city.
At the street level, you will find the Atlas and in front of the Center, you will find Seated Ballerina sculptures.
Going up, you will see Empire State building and the NYC skyline.
The Rockefeller Center is no doubt one of the best photo spots in New York.
READ ALSO: Flytographer Review: Best Vacation Photo Shoot Service?
---
Top 10 Photo Locations in New York City (Video)
---
I decided not to limit myself here and offer you more options if you're interested specifically in spots in NYC.
So:
Below I'm attaching Brett Conti's video on his top 10 NYC locations for photography and cinematography.
Now…
There are so many other places also like:
Harlem,

Manhattan,

Financial District,

Grand Central Station,

Chelsea Market, and so on.
However, let us stop at this point and go beyond the city to find some of the good spots to capture images in New York State.
---
Best Places to Photograph in New York (State)
---
1) Niagara Falls
---
---
Honestly, it's an incredible site that you MUST see. 
These powerful falls are on the border of America and Canada (I'm from Toronto and it's about 2 hours drive from downtown).
On the American side, there is Niagara Falls State Park which allows you to go really close to the falls to take awesome pictures.
This is obviously one of the best photo spots in the NY state area.
---
2) Letchworth State Park
---
In 1.5 km South East of Niagara Falls, there is another picturesque place worth visiting – the Letchworth State Park.
This state park is considered to be one of the best in the USA.
The approximate area of the park is 14000 acres and 17 miles long. Sometimes it is referred to as Grand Canyon of The East, making it a great Instagrammable spot in NY.
The park follows the Genesee River in which three noteworthy waterfalls and one gorge up to 500 feet deep are there.
The three main falls are called the Upper, middle and lower falls. The park also has many small waterfalls and an over 60 miles long trail. I think you should check it out.
---
3) Perkins Memorial Drive and Bear Mountain State Park
---
Perkins Memorial Drive and Bear Mountain State Park are located at about one hour north of NYC.
It is a scenic road that drives up to the summit of the bear mountain. From there you'll have some awesome views and it's yet another great spot for some skyline shots.
There is a Perkins Memorial Tower from which you can get a view of four states and the Manhattan skyline.
And why it is called bear mountain?
Just the picture of the mountain, you will get it.
---
4) Bannerman Castle
---
If you want to find a little bit of Europe inside the USA you need to visit Bannerman Castle.
It is built on an island in Hudson.
The castle is left almost untouched now to become a best New York Instagram spot. This charming castle is easily accessible from NYC as well.
---
5) Robert H. Treman State Park
---
Some of the best photography locations in New York State are State Parks.
One of them definitely worth checking out is the Robert H. Treman State Park.
It is located in Ithaca in the Finger Lakes region. The state park has over 1000 acres of area, it has a 4.5-mile hike and many waterfalls. Among them, the most notable is Lucifer Falls which is a 115-foot tall waterfall.
---
What Is a Good Camera for Travel Photography?
---

---
That's a good question.
Without a doubt, there are a lot of options out there, whether you're looking for compacts, mirrorless, or DSLRs. Hell, even your current smartphone would work as long as you know the basics of photography!
Generally speaking, my most recommended DSLRs for this year, especially for beginners, are:
But…
If you want something lighter, more compact, then I suggest you check out mirrorless cameras, like Sony a600 or Olympus OM-D E-M10, and premium compacts (with a large sensor).
==> Check out my list of the best large sensor compacts, ideal for travel photographers.
Last but not least:
A lot of photographers will tell you that what matters the most is your ability to photograph, not what gear you use.
You should understand things like:
framing,

rule of thirds composition,

how to deal with challenging light,

photographing people the right way,
… and so forth if you want to be a good (travel) photographer.
==> This being said, I highly recommend you check out this 8-week online travel photography course that DELIVERS.
---
My Final Thoughts
---
I'll be honest:
Again the article could catch only the glimpses of great, picture-perfect New York State and the Big Apple itself.
(When choosing the list of the best places to photograph in NY State, I purposely selected some of the spots in New York City itself, and some of the state other than the megacity).
Of course, listing all the awesome spots would take more than one 1300+ word article, but I hope you still have some ideas next time you're travelling in the Eastern side of the US.
The world is beautiful and NY certainly is one of the most best places to visit.
Especially for travelling photographers across many genres, including street photography, architecture, and landscapes.
---
Over To You: What Do You Think?
---
Now…
I'd like to hear from YOU:
I've never published this type of content on DWB, so what do you think of this article?

Should I continue exploring what are the great locations in the world to photograph?

What do you think of this list of the best photo spots in New York (state)?
Would love to hear your thoughts in the comments below!
---