Please note: As an Amazon Associate I earn from qualifying purchases. I also work with other affiliate partners and may be compensated from the links below. Details here.
March 15, 2022
Jerry Ghionis Training for Portrait & Wedding Photographers: Worth It? (My Review)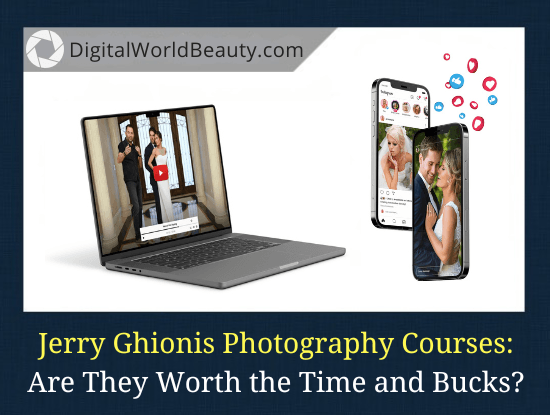 ---
Welcome to my review of Jerry Ghionis' photography courses in 2022.
Jerry Ghionis is one of the most celebrated photographers in this day and age of digital media. His courses and materials offer valuable information to help you improve your skillset as a portrait and wedding photographer.
If you haven't been into one of his classes, then this might be the right time to enroll. In this review, you will learn:
who is Jerry Ghionis

what courses he offers

why you should take lessons from him
…and a lot more!
Let's begin, shall we? 
Jerry Ghionis Training Review: Summary
---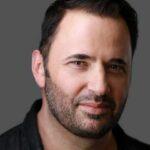 Company: Jerry Ghionis Photography
Website: https://www.jerryghionis.com/
Founder: Jerry Ghionis
Product Type: Photography courses, tutorials
Best for: Beginners – intermediate
Price: $27 – $1,786 (depends on the course)
Rating: 92/100
Recommended: Yes
---
Not everyone is born with the talent to shoot naturally, and even if you are one of the gifted ones, you will need the proper training in order to hone your skills. Choosing the right courses and the right teacher will make that job easier.
In this day and age, a lot of platforms are offering several pieces of training and the options can sometimes be overwhelming.
But if you're determined to become the best wedding photographer in town, then you better check out Jerry Ghionis and see what the buzz is all about. 
He is known as one of the best photographers in the wedding industry. Plus, he is a well-spoken instructor that might just make the entire experience smoother and easier.
All in all, the Jerry Ghionis brand has become synonymous with excellence, mastery, and innovation in the photo industry.
Check out his full How to Wow course on MZed.

---
---
Jerry Ghionis Bio
---
In case you didn't know this, Jerry is an Australian photographer who is known to be among the top 5 best wedding shooters in the world.
He lives together with his wife, Melissa. They usually go back and forth between their homes in California and Melbourne, Australia due to Jerry's commitments and projects. 
The couple decided to tie the knot in 2011, and since then, they have become a power couple which only made them achieve a lot of greater things in life – including the Jerry Ghionis Photography Training website.
He got his first-ever camera at 15, and since then he has become so engrossed in taking photographs. He even decided to pursue a 4-year degree in photography but had to quit a year after.
His reason? He dreaded having professors tell him that the world can be saved with one photo. 
Several years later, in 1994, he offered to work for free at a famous Melbourne photo studio. Shortly after, he got promoted to being the manager and main photographer. A few years after, he realized he wanted to do more so he set up his own studio and the rest is history. 
---
3 Best Courses by Jerry Ghionis
---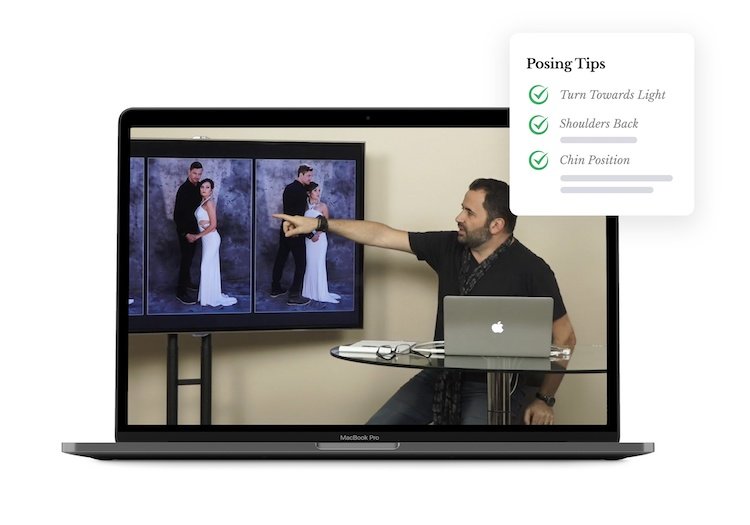 Now that you are fully aware of who our guy is, it's about time we take a look at some of the best courses and lessons you can learn from him.
I've included an all-in-one training package in the list for the photography experts who want to know how Jerry does his wedding shoots from start to finish. And there's one mid-range category and one for beginners as well.  
Let's get down to business.
---
Course 1: The Art of Wedding Photography
---
This is a complete training bundle that will teach you how to make artistically beautiful wedding photos to last a lifetime. This will help you establish your branding and enable you to unleash your creativity where it's needed. 
It includes guides on how to condition your mindset and allow you to plan the entire photoshoot smoothly. Plus it also includes a list of the right equipment and accessories to prepare, so even the most unpredictable things can be handled without much drama. 
Let's take a peek on what's inside:
This will teach you how to get that one shot perfectly – since there's no time for rewinds on weddings and every moment is special. Here, you will learn how to plan ahead for both predictable and unpredictable moments. It contains 8 lessons and lasts about 4 hours and 32 minutes. 
This masterclass focuses on the aspect of light and how it affects your every shot. This training will help you make use of shadows and highlights to your advantage. Alone, this class is priced at $197, but with the bundle, you're getting it without additional fees. 
This is one of the most popular masterclasses by Jerry. The full version of it is offered on a pretty well-known platform like MZed. (We'll talk more about this below.)
Proper posing is one of the key elements in getting that perfect shot. While half of the success depends on the photographer, the other half depends on how well the model/subject cooperates. This course will let you know how to properly pose children, men, women, and everyone else so you get the best image. 
Here, you will learn about different techniques and strategies that will help you standout among a sea of great wedding photographers. Jerry will share some of his personal tactics to help you build your own name in the industry. 
In this class, Jerry will teach you his secrets on how to perfectly capture emotions and portray it in the photos. When you master this technique, you will never take photos the same way again. 
Let's face it. Lighting is one of the most complicated aspects of photography. In this class, you will learn how to shoot in different lighting conditions. So no matter the ambiance is, you will rock your shoot as you should.
JG Facebook Academy – Bonus
This is a bonus inclusion.
When you purchase this class, you will have access and become part of their exclusive Facebook community. Through this, you will have the chance to meet other people like you, or ask your mentor whenever you have confusion. 
---
Course 2: 
How To Wow by Jerry Ghionis
---
This is one of the best-selling courses by Jerry Ghionis.
Actually, there are two ways on how you can avail of this lesson. One is by buying the official training material at $97 from the official JG website, and another is through MZed.
Though they have the same context, the one on MZed platform provides for a more comprehensive guide for both beginners and intermediate, having 7 modules (compared to the one from the official site having only 1 module), which you can purchase individually if you prefer to only focus on one topic.
But, if you want the entire course with all the lessons, you can get that for $349 with lifetime access. Or, you can subscribe to MZed for the same amount and browse through other courses they offer. 
Anyway, this training focuses on teaching you how to create that WOW factor. It can help you turn ordinary setups to extraordinary shots without much trouble.
==> Click here to check it out.
---
Course 3: Wedding Photography Quickstart
---
This is the perfect class for beginners. It has only 5 lessons showing some examples how JG does his usual wedding shoots. It lasts around 2 hours and 50 minutes, so you can definitely finish it in one sitting. 
Here, you'll get the chance to see the behind the scenes footage of an actual wedding, so you'll really have an idea how it's done in practice. 
---
Jerry Ghionis Training: Is It Worth It?
---
If you are eager to learn your way through amazing wedding photography network, then these courses are definitely for you.
If you have the resources and if you're willing to study several lessons to master the craft, then the all-in-one bundle would be the best thing you'll ever purchase for your career.
Do keep in mind that price-wise it might be a bit steep for you, but he JG does have some masterclasses and tutorials that cost under $100. The more in-depth materials can certainly be over $1500 USD.
One thing I'd like to mention is that here at DWB we've covered a LOT of courses online.
And while there are a lot of amazing portrait photographers like Chris Orwig or Joel Grimes, we haven't come across many training platforms in the WEDDING photography niche. So, if this is the niche you'd like to specialize in, you might want to consider Jerry as your instructor.
==> Start with How to Wow course here.
---
My Final Thoughts
---
Jerry Ghionis has been in the industry for over 25 years, and there's a lot of good reasons for this. He manages to merge both vintage and contemporary styles, making his work standout among others. 
Investing in a photography course is really helpful, especially if you are just starting out and still learning the ropes. If you need guidance, it's best to get it from world-renowned and well-trusted instructors like Jerry. 
Now, I'd like to hear from YOU:
Have you tried enrolling in any of Jerry's classes?

Were you inspired by this Jerry Ghionis training review to get his course?

Are there any other courses you've tried and felt it was better?
Share your thoughts and experiences in the comments section below!