Please note: As an Amazon Associate I earn from qualifying purchases. I also work with other affiliate partners and may be compensated from the links below. Details here.
September 10, 2020
Chris Orwig Training Review: Are These Photography Courses Worth It?
---
Welcome to my review of Chris Orwig's photography courses!
---
Look:
If environmental portrait work inspires you, then Chris Orwig is the go-to photographer to learn from. He's just brilliant when it comes to capturing the personality of his subjects and the essence of their environment. 
Today, we'll talk about him and his photography and Photoshop tutorials.
(Note that some of the links below offer a special discount for my blog readers.)
So, is Chris Orwig training worth it?
Let's find out.
Chris Orwig Review (Summary)
---
Purpose: Master the art of (portrait) photography
Website: https://www.chrisorwigtraining.com/
Instructor: Chris Orwig
Product Type: Lightroom, Photoshop, photography
Best for: Beginners – intermediate
Price: $27 to $297
Money-back Guarantee: 30 days
Recommended: YES
---
Here's the thing…
To Chris, photography is about savouring life one frame at a time. He's skillful and passionate about this craft and he delivers content with a down-to-earth approach.
If you're a beginner in photography, it's important to have inspiring examples and proper guidance, and Chris might be just the right man for you.
(Especially, if you're more into portrait photography.)
The only downside for some might be the price for some masterclasses. But after having reviewed many photography courses, I can attest that it's a pretty standard price on the market.
What matters is that Chris delivers and you do get value for your buck.
==> You may also find his classes on CreativeLive.

---
---
Are Chris Orwig Photography Courses Worth It?
---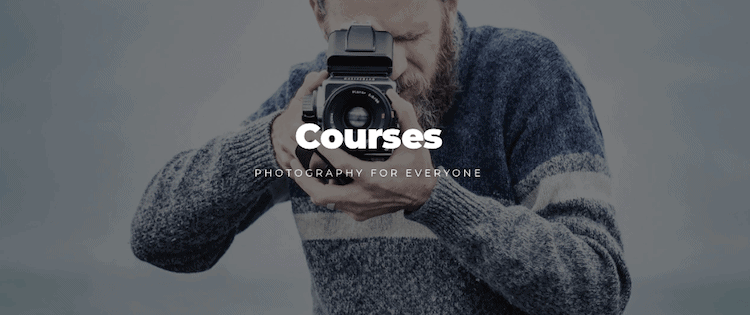 ---
I guess I kind of answered this question in the summary section but I'll repeat myself.
Chris Orwig training is worth it, especially if you're a beginner who's interested in mastering the art of portrait photography and retouching.
The platform has a wide array of different lessons that you can choose from.
If you already know some basics about photography and post-processing, then you can just avail of the Chris Orwig Presets training course, for example.
And to assure you that you get the best value for your money, they are offering a 30 day money-back guarantee, no questions asked.
How does this work?
Simply put, after purchasing the course and you feel like it's not for you or you don't find it educational for your liking, then you can ask for a full refund.
With this policy, you get to test the waters first and then decide whether you want to keep learning the course or not. This will help you understand if it's the right choice for you.
(Also, keep on reading because I'll be adding some alternative courses for you, if you want to keep your options open.)
---
Who Are These Courses Best For?
---
Without a doubt:
These tutorials were created with beginners and intermediate photographers in mind.
The lessons do not only teach you the techniques in editing or photographing subjects, but it also teaches you the fundamental theories behind the scenes.
As indicated in Chris Orwig's training site, these courses are for those of you who:
Love to take photos but just couldn't get the hang of editing

Love to edit photographs but still quite don't get great snaps

Love photography but just couldn't find the right inspiration on the spot
If you are an advanced photographer, then you should consider Joel Grimes tutorials instead.
---
Chris Orwig Digital Bestsellers
---
Here's a sneak peek of what Chris has to offer, with special discounts for my readers:
---
Complete Pack Course
---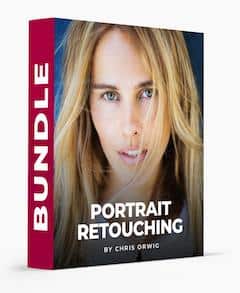 This course bundle includes the following lessons:
1. Masterclasses
This part of the training deals mostly with the fundamentals of photography and the editing process.
Here, you will learn how to shoot properly, edit your images to make them look the best, and retouch it to create a magnificent masterpiece.
Through this set of masterclasses, you will understand which lens suits best for different kinds of situations and conditions.
Let's be honest here.
Not all of us are great with choosing the right lens for the particular concept we have in mind. Even professional photographers sometimes have a dilemma on which lens to use in order to optimize the full potential of one's camera.
Here is a quick summary of all the masterclasses included in the pack:
Lightroom Classic

Photoshop Workflow

Lightroom Workflow

Portrait Retouching 101

Portrait Retouching 201

Portrait Retouching Masterclass

Portrait Retouching Advanced

Black and White Photography

Industrial Portraits

Scenic Portraits

Family and Kids Portrait

Portrait Gear 101

Photoshop and Lightroom Quickstart

Creative Mind
2. Bonus: 3 eBooks
People Pictures

Authentic Portraits

Family Photography
3. Bonus: Signature Lightroom Presets
4. Bonus: Chris Orwig Facebook Academy
This part allows you to be part of a social media network with people who are like you, or people who think alike about photography.
You can exchange ideas and provide constructive criticisms to each other, enabling yourselves to grow and develop more skills.
The community will make you feel like you belong somewhere, and that's entirely another level of support that you will surely need in your photography journey.
5. Bonus: Monthly Q&A with Chris
This is probably the best part about the entire training.
By taking this course, you get to ask Chris himself, basically anything about photography and he will gladly help you. This way, you will receive real-life feedback from the pro which will soon help you become the best photographer that you can be.
September 2020 UPDATE:
As of today, Chris offers the Portrait Retouching Bundle instead of Complete Pack.
---
Chris Orwig Lightroom Brush Presets
---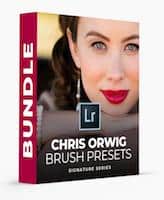 All these presets will greatly enhance your RAW images and make them as stunning as ever.
All Purpose

Landscape

Portrait

Starter Kit
(Unfortunately, I can no longer provide discounts to my readers, but it's possible you may still get them if you sign up to Chris' email list.)
---
Chris Orwig Signature Lightroom Presets
---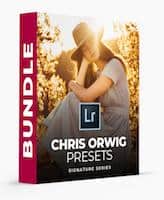 Turn your dull and boring photos into museum-worthy pieces with Chris' signature LR presets. It can greatly turn a flat image into a tone-rich and praise-worthy still.
Analog Film

California

Portrait

Studio
(Unfortunately, I can no longer provide discounts to my readers, but it's possible you may still get them if you sign up to Chris' email list.)
---
FREE Masterclass
---
Indeed, all these lessons will help you grow not only as an enthusiast, but also as a professional photographer in the near future.
If in case you are still having second thoughts on this course, you can avail of Chris' Free Masterclass to have an idea on what you will learn with him as an instructor.
You just have to sign up for the free masterclass, no strings attached.
Test the waters, see if you vibe with the instructor before buying any of his courses.
---
Chris Orwig Bio
---
This is a section for those who would like to know the back story of your instructor. So, here's a short Chris Orwig biography.
Chris is based in Santa Barbara, California. His photography journey started in a rather unusual and unexpected way.
He first began developing love for his craft after his father gave him a camera when he was in his college years. It was a gift from his dad after Chris got into an accident while skateboarding.
During his recovery, he used the camera to shift his focus away from himself and what happened. Chris then started to appreciate photography more and it has changed his life for the best (according to him).
Now, Chris has become a celebrated photographer, educator, and freelancer who create great photographs and masterpieces. He is a proud Sony ambassador and he takes pride in showing the world how great his works are.
He is also a much sought-after resource speaker for a lot of national and international conferences. He had been tapped by Adobe, Facebook, and even Google to educate people about photography and editing.
And this is the part where it gets more interesting…
He is also an author of several books mainly tackling subjects about Lightroom, Photoshop, and photography in general.
In fact, when you search for Chris Orwig books online, you will see a lot of ebooks that could come in handy if you want to begin or improve your photography journey.
Well…
You can see how successful Chris is, not only as a photographer, but as an educator as well. With that, I am confident that you will learn a lot from him when you take his online training lessons.
---
Alternative Online Courses
---
Earlier, I mentioned that I've reviewed several online photography courses, and in here, I'd like to share a few options for beginners/enthusiasts:
Definitely check those out!
You can also consider membership-based photography training platforms like KelbyOne and Phlearn.
---
Chris Orwig Training: Final Thoughts
---
Photography is truly an amazing craft. It requires talent, skills and proper training to become a professional. And the journey isn't always that easy for most of us. 
But hey…
You shouldn't give up that dream of becoming a great photographer, because you certainly can achieve it with proper guidance and practice.
Let me clear about something:
You can drastically improve your skills by following the tips and techniques of popular pro photographers. You may not even necessarily copy everything they do, but people like Chris will surely inspire you to become better at your craft.
With practice and proper guidance, you'll accelerate your own growth.
Truth is…
There are countless of online courses about photography, both free and paid (like this one).
The thing about online training courses is that you need to be fully dedicated so as to achieve the results you want to get. You will only be looking at virtual instructors and it might be quite hard to stay focused if you are not totally committed to learning the lessons.
When that happens…
You might only be wasting your resources and time, and that can be quite frustrating.
So…
You need to find a photography training course that you really love, and an instructor that will help you stay focused until the end. 
Chris' photography training doesn't only keep you focused, but he will help you stay inspired and motivated to continue doing your craft and create wonderful masterpieces that you can be proud of.
After learning all the lessons in Chris Orwig photography courses, you will never be the same amateur photographer ever again and your photos will definitely look a whole lot better.