Please note: As an Amazon Associate I earn from qualifying purchases. I also work with other affiliate partners and may be compensated from the links below. Details here.
July 26, 2020
Joel Grimes Photography Courses: Are They Worth The Bucks? (My Review)
---
Welcome to my review of Joel Grimes' photography courses!
---
Let's face it:
You don't need to be born a star, but you do need to continuously learn and practice to become a pro photographer.
Luckily, there are a LOT of amazing photography tutorials and schools available on the market these days. And Joel Grimes is one of the best instructors to learn from.
So, I'm going to share his photography course reviews to help you choose which one will be best for you.
Here's what we're going to cover today:
The Complete Pack

Masterclasses

Start to Finish
Without further ado, let's dive right in.
Joel Grime Photography Courses (Summary)
---
Purpose: Master the Art of Photography
Website: https://www.joelgrimes.com/
Instructor: Joel Grimes
Product Type: Photography tutorials
Best for: Intermediate level
Price: $27 to $5,202 USD
Money-back Guarantee: 30 days
Recommended: Yes
---
Look…
It may seem a little over the top considering the price tag, but all the things you will learn from the instructor is more than enough to compensate for that.
I know there are many available free online classes about photography, but there's always a catch to that.
Mostly, they will only cover the basics (everything even a newbie already knows of), but with Joel Grimes photography courses, you can totally expect lessons that are a whole lot deeper and informative.
So if you want to get the best out of your potential, then I honestly think you will love the best-selling courses offered by this photographer.
You may want to start with Joel's YouTube videos first though, to see if you "dig" his teaching approach.
==> Here's the list of all his courses.

---
---
Meet Your Instructor: Joel Grimes
---
---
Course Bundle 1: The Complete Pack
---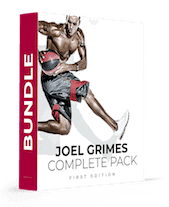 Costing a hefty $5,202 this lesson bundle will surely step up your photography game a few notches up.
To give you an idea what you can get from this bundle, here's a summary of what's included in the pack:
MasterClass

Start to Finish

Photoshop Brushes and Textures
BRUSHES
The lesson includes 22 different Photoshop Brushes you can make use of.
Clouds and Skies ($79) – learn how to instantly add clouds and skied to your photos.

Rain and Splashes ($79) – learn how to automatically add rain and splash effects.

Snow and Lightning ($79) – you will be taught how to create that perfect snow and lightning effect.
TEXTURE
This pack includes several textures that will help you create a perfect image.
Woods Volume 1 ($27) – includes 25 wood textures

Abstract Volume 1 ($27) – with 50 abstract textures

Metals Volume 1 ($27) – comes with 25 metal textures

Paper and Fabrics Volume 1 ($27)

Paper and Fabrics Volume 2 ($27)

Grunge Volume 1 ($27)

Grunge Volume 2 ($27)
BONUS TOOLS
Monthly Q&A with Joel ($1,997) – ask the man himself anything about photography.

Joel Grimes Facebook Academy ($497) – you will be exposed to a larger network of people with the same interests, thereby increasing your inspiration and potentials.
Well, just by looking at the outline, I bet you already have an idea at how comprehensive this pack is.
However, the price tag is off-putting, if you have the budget or manage to get a discount, then I definitely encourage to check it out if you want to become a professional photographer.
==> Click here to check it out.
---
Course Bundle 2: Start to Finish
---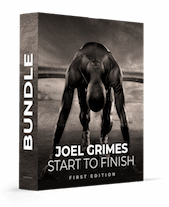 If the Complete Pack is way too expensive for you, consider another option: Start to Finish bundle.
Here's what is included in this pack…
Beauty Headshot

Beauty Portrait

Building Drama

Dodge Truck

Gold King Mine

Jessica in Iceland

Mad Max

Natural Light

Nefertiti

Simulating Sunlight

Strobing a Harley

Strobing Nature

Subaru Platography

Texture Background

The Buffalo Soldier

Rembrandt Cross Light

Wrapped in Fabric

Kerron Clement
Most of these lessons contain actual field or studio work.
Here, you get to see how Joel Grimes photographed each subject and how he handled the post-processing job nicely.
At first, all these courses may seem overwhelming especially for beginners, but Joel will guide you every step of the way until you achieve your dream of becoming a real photographer.
Normally the price for this one is $846 (which a lot cheaper than $5,202 of the Complete Pack).
==> Click here to check it out.
---
The Masterclasses
---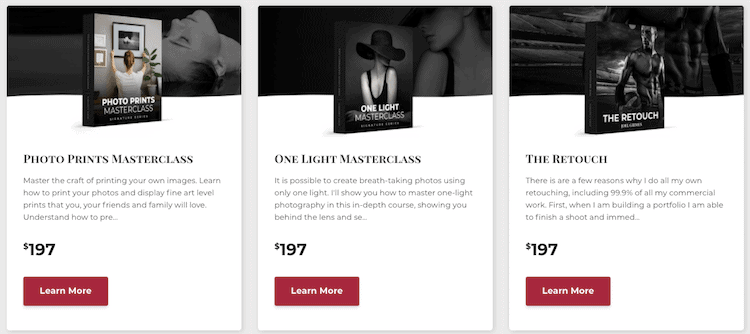 ---
As of the moment, there is no series or bundle yet offered for Masterclasses. But you can gain access to the lessons individually and here's a list of what is included in this specific course:
In this lesson, you will have the chance to improve, if not totally master, the art of printing your photos with exhibit-worthy quality.
This is a really in-depth lesson that will walk you through mastering photography using only one light. This is a special technique shared by Joel from personal experience.
This tutorial focuses on post-processing techniques known as retouching.
This is more of an eye-opener for many of us. Here, Joel redefines our perception on photography as a whole.
The Business ($197)

Behind the Lens ($27)

The Craft ($297)

The Print ($97)

Ten Steps to Becoming a Successful Photographer ($27)
Just WOW!
The Masterclasses are just so intriguing judging from the summary alone. How much more if you really get your hands on the actual lesson itself?
==> Register for Joel Grimes' FREE Masterclass here.
---
Joel Grimes Courses: Who Are They Best For?
---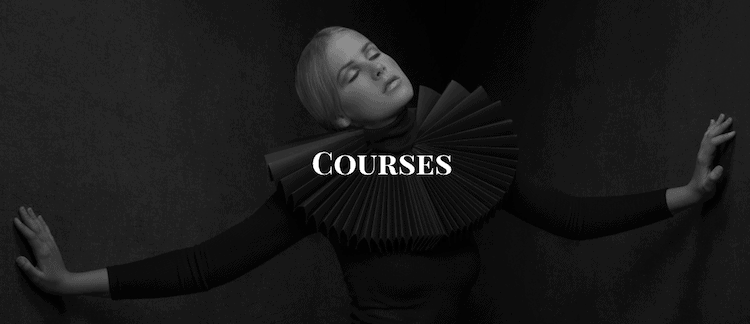 ---
Now that you are well aware of the instructor's background and achievements, it's obvious why it's worth investing in his workshops and courses.
First things first:
All his lessons are aimed at intermediate photographers.
Joel doesn't only tell you the good stuff, but he also discusses the basics as well. This is to make sure that all areas are covered and understood even by enthusiasts who don't have much experience.
Although not initially made for professionals, you are very much welcome to enrol in the class and still learn a lot from Joel's personal experience.
It's great to have inputs from other co-professionals, right?
---
Are These Courses Worth Your Time and Bucks?
---
Right now, you might be silently thinking if Joel Grimes photography courses are worth it, because I have been asking that question to myself as well.
Truth be told…
I haven't seen more complete and comprehensive photography and editing tutorials offered online than this one. It basically covers everything, from start to finish (just like the title of one of his bundle courses).
Knowing that Joel excels in his craft and is globally recognized, I think it's definitely worth checking out.
And don't worry about the $5,202 price tag because that doesn't cover just one lesson. Instead, it is a total package of everything Joel is teaching that you already learned earlier.
(Unfortunately, I no longer can offer unreal discounts through my links but it's possible you can still get them if you sign up to Joel's newsletter.)
The best thing about it is that if in case you enrol and find yourself not satisfied with the lessons, then you can always ask for a refund since they offer a 30-day money-back guarantee.
So you can get back your money if you think the course is not just for you (which I doubt will ever happen).
==> Here's the list of all his courses.

---
Joel Grimes Bio
---
At this point…
I know you are already curious as to who this highly acclaimed instructor is.
So, I want to share with you a portion of Joel Grimes biography. It is only fitting for you to know the background of the author so that you can trust him and his lessons as well.
So just who is Joel Grimes?
He is a well-respected photographer and educator at the same time. With over 35 years of experience as a professional in his field, he has bagged numerous awards here and there.
In his website, Joel shared that as a child, he was always looking for something to build or to create.
You would often find him drawing, painting, playing music, building just about anything he could think of, or sculpting. He has always been inclined to arts, which led him to become one of the most sought after photographer today.
Ever since he was young, he loved everything about the arts.
So when he was first introduced to photography in high school (freshman year), it became clear to him that this was what he wanted to pursue. And shortly after that, he graduated BFA in Photography at the University of Arizona.
And the rest is history.
When did his professional career start?
A little while after graduation, he established a commercial studio in Denver, Colorado. He has since then worked with top advertising companies all around the world, all thanks to his love and passion for photography.
In 1992, he published his first ever coffee table book entitled 'Navajo, Portrait of a Nation' and it garnered so much praise and won him various awards and recognition.
Last 2018, he decided to open Joel Grimes Academy which is an online platform for all those who want to learn more about photography.
So…
Joel's passion for his craft is really inspiring and I bet you are now ever to learn from him more than ever.
---
Joel Grimes Photography Courses: My Opinion
---
Fact check:
Photography is something not entirely based on talent. It's true that your natural inclination to this field gives you an edge over the others, but you need to learn further about it if you want to become a pro.
There are thousands of photography mastery courses, both online and offline, offering you ways on improving your natural skills in this particular area. What you need to keep in mind is to choose a course that you think will help you grow as a professional photographer.
And of course, you should always consider learning from real pros in the field. Their talents and skills are already proven and tested by many, so it's worth learning from them.
So…
After sharing my mini-reviews and letting you know Joel's backstory, I think this is the best time to give you my honest opinion. (See the list of all the courses I reviewed here.)
For me, I think it's definitely worth a shot.
You will never learn all these things efficiently if you do it by yourself. If you wish to become a great photographer, then you should follow the footsteps of a real one, and in this case that's Joel Grimes.
I'm not saying that he is the only one who can help you, though. There are a lot of great teachers and lessons out there, but you can add him to the list of the greatest instructors you will ever have.
---