Please note: As an Amazon Associate I earn from qualifying purchases. I also work with other affiliate partners and may be compensated from the links below. Details here.
March 4, 2021
Serge Ramelli aka Photo Serge: The Master of Photography and Editing (Review)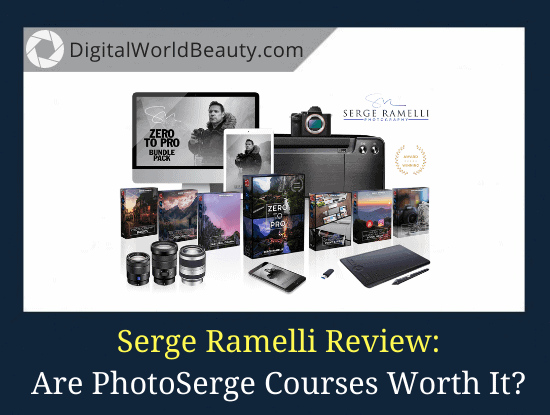 ---
Looking for Photo Serge reviews? Are Serge Ramelli's courses worth it?
---
Look:
Serge Ramelli is one of the world's most famous photo educators.
He has been teaching photography for over 15 years now, and he has helped thousands of photographers around the globe to improve their skills. He does this by providing them with his wealth of knowledge in a fun and practical way.
This Serge Ramelli review (a.k.a Photo Serge) will help you understand if his courses are right for you. You'll learn about what he offers, the prices, whether or not there are discounts available, etc.
Here's a summary:
Photo Serge Review (Summary)
---
Company Name: Photo Serge
Website: https://www.photoserge.com/
Founder: Serge Ramelli
Product Type: eCourses, workshops, presets
Best for: Beginners – intermediate
Price: $37 – $3,298 (discounts below)
Money-back guarantee: 60 days
Recommended: Yes
---
When you look at the growth of digital cameras in recent years, it's easy to see that many people want to learn how to take photos. There are many different reasons for this.
Some enjoy it as a hobby or creative outlet; others have turned it into an actual career. And while there are several different ways to improve your skillset and build up your portfolio, one option to improve is invest in online photography courses.
Photo Serge offers you the opportunity to learn tips, tricks, and techniques from the man himself, Serge Ramelli, who is passionate about what he does.
Here are his bestsellers:
The videos also include information about camera settings, lighting techniques, composition rules, etc., which makes them great educational tools, as well as being entertaining.
Now…
Understandably, these products come with a high price tag but the good news is that I'll be including special discounts for my readers (where possible).
So take advantage of those while you can!

---
---
Serge Ramelli: Quick Background
---
Serge Ramelli is a French photographer and retoucher who has been working in the industry since 2004. He is best known for his YouTube channel where he teaches people how to edit photos using Lightroom, Photoshop, and other editing programs.
Serge's content has been viewed over 100 million times on Youtube alone, making his channel one of the most popular ones in the photography niche.
Photo Serge tutorials are easy to follow and come with all the files needed so you can practice at home. They are also lengthy with tens of thousands of views each, which shows that they are still relevant years after they were created.
Every single tip that you get from Serge is illustrated by an example or two from real-life situations.
(And that matters.)
---
Photo Serge Course Bundles
---
These bundled classes will save you a lot of money instead of purchasing them individually. Let's have a look.
Bundle 1: Photo Serge Institute of Photography
Now…
If you are really dead serious about photography, then this one would be your best bet. It doesn't only offer tutorials on how to do stuff. The greatest thing about this pack is that it will entitle you to receive a diploma!
Yes, that's right! Here's how it'll look: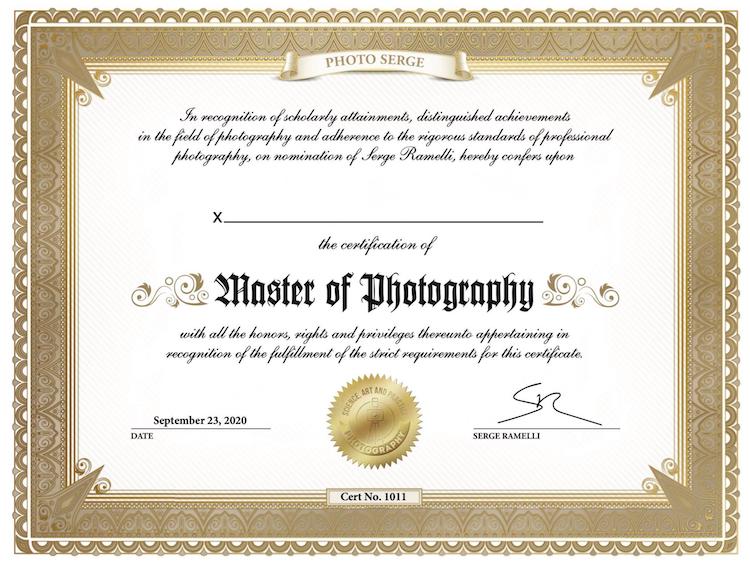 You will receive a certification that you have completed the course and you will be given the title "Certified Master of Photography" by Photo Serge Institute. You can actually include this credential in your portfolio in case your clients ask for some sort of certification.
Unlike the other trainings mentioned above, this one is quite special. There will only be 60 video discussion and 30 practical exercises to accomplish. It's like really going to school except, you can do it online and at home.
You also get live coaching and honest feedback on your work from the man himself. So, it is a really interactive class where you can improve your skills and talent exponentially. Your weaknesses will be pointed out for the sake of making you a better and more prepared photographer.
Bundle 2: The Complete Pack
If you are serious about this craft, then this pack is for you. It is a complete set of the instructor's masterclasses, workflows, and presets. This means you get access to over 20 classes in one bundle.
The set includes the most popular LR Universe, Sky Collection, Fine Art Photography, signature presets by SR, and many others that will really help you become a better photographer.
One good thing about buying classes in bundles like this is that you get a little bit of everything that is offered at the platform. In turn, you will have more options to choose from and a lot of learning to look forward to.
On top of all of that, you also get access to their exclusive Facebook Academy. Through this special perk, you will get involved with a social network with the same interests as you. Here, you can submit your RAW files and see how Serge edits it for you.
And hey, there's a whole bunch of other benefits you can get from simply joining the network.
==> Grab your spot here (with a discount).
Bundle 3: Lightroom Universe Masterclass
If I haven't already emphasized it enough, this guy is known as a master when it comes to Lightroom. Though his classes originally target beginners and intermediate level photographers, many professionals expressed high praises for his work.
This course is intended for those who are getting tired of spending too much time on post without improving the outcome of their photos. It is also for newbies who feel lost whenever editing work needs to be done.
Actually, it is quite understandable for amateurs to feel overwhelmed with the total editing process, especially if you don't have any background with software like Lightroom and Photoshop. Serge created this training to help you get through the struggle of post processing with much ease and convenience.
The entire course lasts about 9 hours and 8 minutes.
However, this is not a one-time video. Instead, the material is divided into 96 modules for easier consumption. This way, each video is cut short and you can play it whenever you feel like it without needing to go back to the start.
Through this course, you will learn how to edit across different LR platforms like Lightroom CC, Mobile, and Classic.
==> Grab your spot here (with a discount).
---
Photo Serge Bestselling Courses
---
---
In this section, I'll share with you some of the most recommended courses you can find on this platform. I'll also provide you with bits of information about what you can find inside the trainings.
Artisans and creatives have always loved long exposure photos. It just has so much dramatic effect that catches your eyes right away. In this course, you will learn how to do that.
Your instructor will go through the basics of long exposure shoots and even tell you what gears are appropriate for this type of shoot. Here, Serge will discuss the right camera settings and which time of the day it is best to use filters for this type of activity.
Get a sweet glimpse of Paris by watching your coach do live shoot and get a peek of the most amazing landmarks in the city.
After the shoot, he will show you his entire post processing workflow. On top of that, he will be giving you the RAW files so you can retouch them with him as you continue the lessons.
The entire duration of the training is about 2 hours and 5 minutes. You have 10 different videos to watch, all of them containing well-dissected information about long exposure workflow. It is intended for beginners to intermediate photographers.
(And by the way, Serge used Photoshop CC for this class.)
I don't know if it's just me but landscape photos look really refreshing to the eyes. All these beautiful and vast fields of green or a church secluded on the hilltop or a plain view of mountains covered in a blanket of snow just looks breathtaking.
As awesome as it looks, landscape photography needs a lot of practice, time, and dedication. In this course, Serge will teach you how to do it from start to finish.
You will learn how to compose your photos, how to set your cameras properly, how to take the shot, and how to edit them in post. All these things are contained in different videos with total duration of 7 hours and 27 minutes.
The good thing about this training is that the instructor provided a checklist for you to follow through all the lessons easily. With the checklist at hand, you will stay guided with what Serge is teaching and will never miss out on any important module.
Smart phone cameras have evolved over time. Today, a lot of mobile devices have vert powerful camera specs that even surpasses that of high end point and shooters. And there are quite a lot of good reasons why many prefer this over DSLRs and mirrorless – it is handy, portable, and capable of real time file sharing, just to name a few.
In this class, the instructor will teach you how to fully optimize the use of your phone's camera. Whether you believe it or not, some smart phones are capable of producing pro-like images and you will learn how to do that here.
Actually, this class is like having a crash course on smartphone photography basics. Serge will help you understand how to properly compose your photos which will change your game completely.
It lasts for only a good hour and thirty minutes, so you can easily finish it up then go out and about trying out the things you learned in real life.
---
Are Serge Ramelli's Courses Worth It?
---
Are Photo Serge tutorials and presets worth it? Why should you invest in Ramelli's products?
I'll be honest:
His photography and Photoshop classes are great. They are very informative and helpful for every level of photographer – beginners, intermediate, even advanced. Serge is a fun and easy going guy, so it helps you better appreciate and understand the lessons.
But just like other platforms, this one is not without a flaw. If you are a non-French speaker, you might find the accent a bit distracting (but not too much, though). Also, the video quality could use some improvements.
All in all, it is a good site to learn the things you want to know about this craft.
==> Check out the full list here.
---
Serge Ramelli Review: Final Thoughts
---
Photography is a skill that requires constant practice and patience.
If you're struggling to create quality images, it might be time to look at photography courses available online. Some of the best ones are:
These courses offer photographers the opportunity to learn tips, tricks, and techniques from experienced instructors who are passionate about what they do.
If you're looking for an online photography course that will teach you everything from scratch then these reviews can help point you in the right direction!
Whether or not this is something that interests you we hope our honest opinions have given you a better idea on what these courses entail so that they can fit into your budget, skill level, and schedule!
Remember:
Taking an online course can help your photography skills progress faster than just relying on trial-and-error alone.
Now… I'd like to hear from YOU:
Have you had a chance to learn from Photo Serge?

What do you think about this Serge Ramelli review?
Let us know your thoughts in the comments below!