Please note: As an Amazon Associate I earn from qualifying purchases. I also work with other affiliate partners and may be compensated from the links below. Details here.
February 27, 2023
7 Best Film Schools in Germany This Year (Degrees, Diplomas, and Tuition Costs)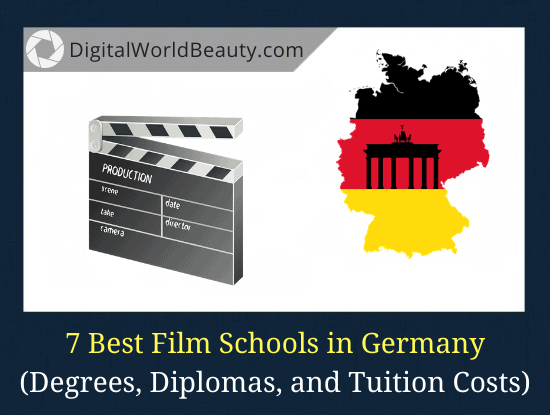 ---
Here's the list of Germany's top rated schools for filmmakers (2023 update).
---
Look:
Any aspiring filmmaker is already familiar with Germany's art and cinematography scene.
Chances are you want to visit and check it out for yourself. But what about those who actually want to study there? So…
Can you study filmmaking in Germany for free?

Which film schools in Germany for international students to consider?
In this article, I will be going over some of the best photography and cinematography colleges in this country, covering programs, course expectations, as well as any information on tuition.
Note:
Most public schools in Germany are tuition-free for undergraduate students! Currently, only the state of Baden-Württemberg requires non-EU students to pay tuition for their education. Otherwise, public schools may charge other fees (registration, administrative, insurance, etc…)
For now, here's the list of academies and schools I will be covering:
7 Best Film Schools in Germany 2023
---

Since there are the film schools in Europe taught in English too, I've sorted the list such that schools with English programs come first, followed by a mix of English and German, and finally, German-only programs.
Let's begin!
---
---
---
Programs in English
Based in the capital of Germany, MetFilm School Berlin boasts a mostly international student body. This institute is situated in the Tempelhof/Neuköln area of Berlin at the BUFA Studio campus, otherwise known as one of the oldest cinematography studios in all of Europe.
With a sister campus in London, it's regarded as one of the best filmmaking schools in Germany for international students.
Programs offered include:
Practical Filmmaking

Certificate, 8-months

Diploma, 14-months

BA, 2-years

Screen Acting (BA, 2-years)

Directing (MA)

Screenwriting (MA)

Documentary & Factual (MA)

Cinematography (MA)
and a host of short courses, such as Directing, Creative Editing, and Experimental Filmmaking, for as short as 2 days, or as long as 3 months. The Master's programs are all 1 year long.
Students at MetFilm gain the advantage of studying in a highly multicultural and diverse environment. International students, experienced amateurs, and anybody looking to hone their skills walk through these halls as they enrol in a full program or a short 4-week course.
The school believes in the practical approach to education, helping students build their portfolios across all forms of visual media: television, short and long form video production, and web media to name a few. Students are also under the guidance of active industry professionals and are even granted access to Berlin's YouTube Space.
Since MetFilm is a private institution, tuition fees vary. For programs starting in 2023:
Short courses range between €2,150 and €5,000 (~$2,400 and ~$5,500 USD).

BA programs range between €35,000 and €44,000 (~$38,000 and ~$47,700 USD).

MA programs range between €18,500 and €21,500 (~$20,050 and ~$23,300 USD).
Scholarships are also available for qualified individuals.
The Voices That Matter Scholarship 2023 – Women in the Screen Industries is available to any woman applying for a BA or MA program. Its aim is to encourage more female filmmakers to take part in the industry.
Two recipients are chosen every year – one for the Berlin campus, one for London. The recipients will gain special access to placement opportunities, work experience, as well as mentorship sessions in London.
The Voices That Matter Scholarship 2023 – Dan Demissie is available for any member of the Black community as homage to the sudden loss of MetFilm student Dan Demissie.
It is offered for select programs in select campuses. For more information, check out their list here.
All said and done, is MetFilm worth it?
Despite the private tuition costs, the school seems to be one of the best options available. Especially considering they offer their own scholarship program, something not a lot of other academies have.
---
---
Programs in English
Offering both month-long courses and full BA and MA programs, Catalyst is a learning institute based in Berlin's famous Funkhaus. Partnered with the University of St Marks and St Johns in the UK, Catalyst specializes in film and sound, making it one of the best German schools around.
They offer a multitude of programs, including:
Film Production

Filmmaking

Visual Effects

Acting
to name a few, all ranging between 4 weeks to 3 years depending on the level of education desired.
Catalyst is very much about project-based education. Most of the work will be hands-on and experiential, meaning students can expect more creating and doing instead of just studying. Beyond learning the technical and creative aspects, they will also pick up necessary networking and social skills so that they are equipped with the right tools to succeed post-education.
As a private institution, Catalyst charges tuition fees. For programs starting in 2023:
4-week courses range between €1,995 (~$2,200 USD)

Certificates range between €10,845 and €12,345 (~$11,750 and ~$13,400 USD)

BA Degree range between €10,845 and €12,345 (~$11,750 and ~$13,400 USD)

MA Degree full-time range between €7,895 and €8,695 (~$8,550 and ~$9,420 USD)
Catalyst does not offer scholarships; however, bursaries are granted for special cases.
As the second school in my list, does Catalyst hold up?
I'd say so!
Its affordable tuition, program specializations, and range of program lengths are a welcome invitation to anybody unsure of what field they want to enter at the start.
---
---
---
Programs in English and German
Otherwise known as the German Film and Television Academy Berlin, DFFB is one of Germany's oldest cinematography schools. The academy does not offer degrees, rather graduates receive a certificate after completing their 4-year programs.
These programs are:
Directing

Cinematography

Producing

Editing & Sound

Screenwriting
The academy is structured so that the first half of their education (first 5 semesters to be exact,) revolve around learning the principles of filmmaking, getting accustomed to their specialization, and studying approaches to filmmaking through making. The second half focuses on a student's specialization: masterclasses, individual projects, and submitting their graduation project.
Students are supported along the way with joint initiatives, seminars, lectures, and film screenings that all contribute to finalizing their projects. Select movies can also be featured in local events and festivals.
DFFB requires students to be 21 or over upon the start of their courses. Some may need to pass a week-long entrance exam, and everyone is expected to have good fluency in both German and English. Foreigners need to provide a Goethe Certificate level B2 or equivalent as proof of their proficiency in German.
DFFB is a public university, meaning there are no tuition costs. They do, however, have mandatory annual registration fees, equipment insurance fees, and public transit fees. They add up to about €605 (~$655 USD) per academic year.
But is it worth it?
For the bilinguals among us, yes, it is. Attending DFFB is a great way to hone both language proficiencies in the context of the film industry while specializing in a field. The free tuition is a major bonus to that, of course.
---
---
---
Programs in English and German
Located in two cities, the University of Europe for Applied Sciences (UE) offers all their programs in English in the city of Berlin, while most of their programs are offered in German in the city of Hamburg.
In terms of filmmaking programs, they are:
Illustration (BA)

Film + Motion Design (BA)
UE also has an MA in Visual & Experience Design for anybody interested in the visual medium outside of the film.
Illustration students will take on a visualist's point of view. Drawing inspiration from classic art to today's contemporary artists, they will work with both analog and digital technology to realize all kinds of visual media: infographics, posters, apps, magazines, etc…
Film + Motion Design students develop portfolios in both traditional and contemporary filmmaking: 3D modeling, visual music, CGI, animation, etc… They will mix theory and practice to realize their projects, taking advantage of all the modern equipment and space UE has to offer.
Both programs are 6 semesters long, with students choosing to spend their 5th semester either abroad or interning locally.
UE is a private university, thus their tuition for the 2023 academic year is:
€8,496 (~$9,200 USD) for EU citizens

€12,100 (~$13,120 USD) for non-EU citizens
If tuition is negligible and you like working towards the same degree with others, UE is made for you. Having two available programs means you're all working towards the same thing, and isn't that what you want in a degree sometimes?
---
---
---
Programs in German, some English
Stepping out of Berlin, you can find the International Film School of Cologne (IFS). One thing of note about IFS is all 7 of their Bachelor's programs are offered in German. 3 of the 4 Master's programs are offered in English.
These programs are:
Creative Producing (BA)

Director of Photography (BA)

Directing (BA)

Editing Picture & Sound (BA)

Production Design (BA)

Screenwriting (BA)

VFX & Animation (BA)

Entertainment Producing (MA)

3D Animation for Film & Games (MA)

Digital Narratives (MA)

Serial Storytelling (MA)
The last three MA programs are in English. BA programs are 7 semesters long, MA programs are 4 semesters long.
IFS has a leg up with their education as they are a part of CILECT, otherwise known as the International Association of Film and Television Schools.
Students' workload is involved and individualistic. IFS class sizes are smaller, encouraging strong mentorship and collaboration between student and teacher. Coupled with a faculty comprised of international industry members, students will garner valuable filmmaking experience from different disciplines.
It should be noted IFS opens up admissions every two years, with the upcoming school year starting in September 2023.
As a private school, IFS charges tuition fees at the following rates:
BA Degree for €1,500 (~$1,850 USD)

MA Degree range between €1,500 and €3,250 for EU citizens (~$1,850 and ~$4,000 USD)

MA Degree range between €2,500 and €4,250 for non-EU citizens (~$3,075 and ~$5,225 USD)
There is also a semesterly €250 (~$350 USD) contribution to the "Friends of the IFS society" scholarship. Students in their first year of study are eligible for the scholarship.
IFS's relatively lower tuition + scholarship is a great bargain, especially for German speakers. The variety of programs + small class sizes are enticing enough for anybody looking for a close student-teacher environment.
---
---
---
Programs in German, some English
Another academy in Cologne, North Rhine-Westphalia, is the Academy of Media Arts Cologne. It stands out in that it only offers one program for all levels.
The Media and Fine Art Diploma 1 is a 9-semester program for undergraduates, while Diploma 2 is a 4-semester program for postgraduates. They also offer a doctoral program, and most of their courses are in German.
Students here balance their education with practice and networking. Their courses cover a range of fields, from sound design to directing, cinematography to animation, and storytelling to public art. The wide array of roles teaches students about every facet of filmmaking.
Moreover, collaborating with industry veterans, festival runners, and even other local and international colleges prepares every graduate of the academy for a career in the industry post-education.
As a public school, it only charges between €330 and €350 (~$360 and ~$380 USD) per semester. It also requires a Goethe-Institut B2 level as part of the application for anybody whose first language is not German.
But is it worth it?
One of the academy's strongest assets is its networking capabilities. It's worth it alone getting involved off campus and in local festivals and events during your education. The single program means it's been refined and future-proofed.
---
---
---
Programs in German
Located in Munich, Bavaria, the University of Television and Film Munich (HFF in German) differs from the other schools in this list as it exclusively offers diplomas in German.
Anybody of legal age and German fluency (or Goethe-Intitut level B2) can apply to study here with the knowledge that their diploma is not equivalent to a Bachelor's or Master's Degree. Programs are normally 9 semesters long, though one can take time off to study abroad if they like to.
Their programs include:
Production and Media Management

Screenplay

Image Design (Cinematography)

Image Design (VFX)

Directing for Cinema and Television Film

Documentary Film and Television Journalism
The final two are offered with a focus on assembly if desired, and a Doctorate in Media Studies is also available, too. Students can choose to specialize during their studies in the following areas:
TV Journalism

Advertising

Creative Writing

Serial Storytelling

Image, Light, and Space
Students take the same starter classes before branching out into their program-specific courses. HFF's approach is specialty in collaboration, so what program you're in dictates the bulk of your work.
Understanding other roles are necessary for movies, of course, which is why students constantly work with one another as they complete their projects. They are given the tools to develop their own artistic approach through technical work, seminars, and internships.
No tuition fees exist at HFF, however, they do charge a student union and public transit fee of €152.30 (~$ USD) per semester.
German speakers are in luck with HFF. No tuition + uncommon specializations make for a good combination. Anybody fluent in the language will find it worthwhile to study here.
---
Best Film Schools in Germany: FAQ
---
---
Q: Are there tuition free film schools in Germany?
So, can you study filmmaking in Germany for free? As I mentioned at the beginning of the post, most public schools are free for undergrad students. How awesome is that? But if not, you may also wonder what are good film schools in Europe with scholarships. (Read the next paragraph for the answer.)
Q: Are there scholarships that can help with financing?
While not every school offers a scholarship, they accept external student financial aid such as the BAFög. Generally speaking, you must be a citizen or permanent resident who's lived in the country for five consecutive years to be eligible.
Q: What safety and health precautions are being taken?
All the academies above have taken the proper health measures to ensure their students' education is provided as smoothly as possible. Few of them with small enough class sizes have permitted in-person education. However, most are offering classes online, with some necessary hands-on work permitted in person under proper supervision.
Q: Is the Berlin School of Photography strictly for photographers?
It seems that the Berlin School of Photography is dedicated to teaching you strictly photography-related topics. If you're interested mainly in cinematography, consider the aforementioned colleges, institutes, and universities in Deutschland.
Q: What are the alternative options to study abroad?
If you're considering places to study in any part of the world, I've also written a list of the best filmmaking schools in Canada that you can check out (with degrees, diplomas, and tuition costs). 
Now…
I'd like to hear from YOU:
I've shared a list of the best filmmaking schools in Germany (for international students as well), in both the English and German languages – what do you think?
What school stood out to you the most? Do you know enough of the language to attend a German-speaking program?
Let us know below in the comments!