Please note: As an Amazon Associate I earn from qualifying purchases. I also work with other affiliate partners and may be compensated from the links below. Details here.
December 4, 2020
Vallerret Markhof Pro 2.0: Premium Gloves for Everyday Use in Mid Winter (Review)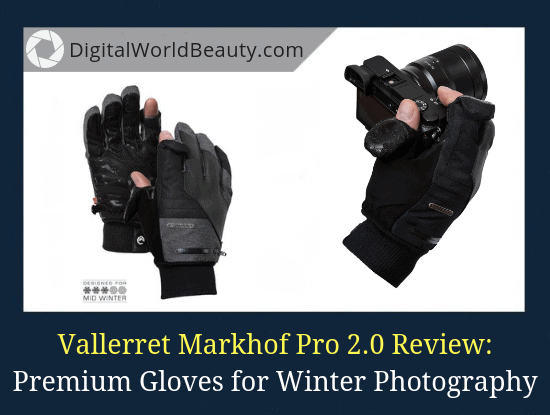 ---
Welcome to my Vallerret Markhof Pro 2.0 review! (Dec 2020 update)
---
Here's the truth:
There are a lot of winter gloves that could be considered as photography-friendly.
But…
How do you choose the best ones, in terms of price-quality ratio?
If you want to:
have a good grip,

have the tactile control to operate a camera,

keep your hands warm when shooting out in the cold,
… then Markhof Pro 2.0 gloves is a great investment for a cold weather photographer. There. Saying this right off the bat.
Here's a summary before we get into details:
Markhof Pro 2.0 Review (Summary)
---
Product

: Markhof Pro 2.0

Company

: Vallerret

Designed For

: Mid Winter

Best For

: Adventurous Winter Photographers

Customer Support

: Excellent

Price

: Under $80 (on Amazon US)

Rating

: 4.8/5
---
Look:
Markhof Pro 2.0 gloves are unique.
Why?
Because unlike other products, these winter gloves were created for cold-weather photographers BY photographers.
I mean, they KNOW what you want and need.
Some features that you'll love include:
non-slip grip,

 

thermal insulation,

ultra breathable materials,

windproof and water resistant,

removable index and thumb finger caps,
… Just to name a few.
Truth is:
Markhof Pro 2.0 is one of the best photography gloves for MID winter conditions that don't compromise on functionality or style.
Where to buy? Check out the reviews, price and availability on:

---
---
Vallerret Markhof Pro Model (My Video Review)
---
==> Subscribe to my channel HERE.
---
About Vallerret
---
I wanted to give you background on Vallerret, so you understand why their products work specifically for photographers.
So…
Vallerret is a fairly young company, founded in 2014 by Carl van den Boom and Stine Lyng Jørgensen.
---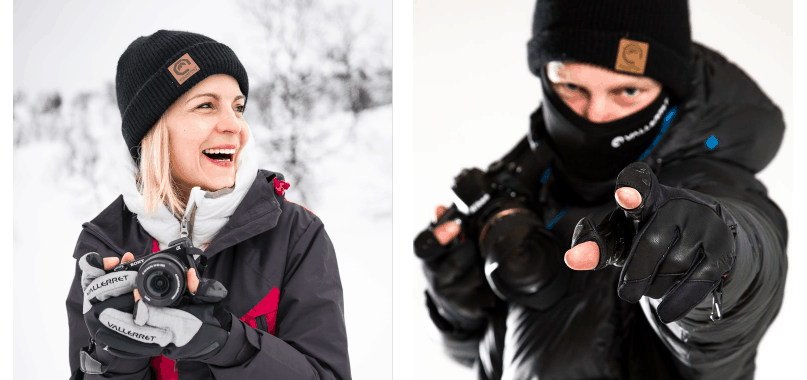 ---
They decided to design gloves to solve their own problem that they had as snowboarders AND photographers.
If you enjoy winter photography you know how it is…
you can't shoot with regular gloves, and,

without gloves you just end up freezing your hands. 
Talk about dilemma!
And guess what?
In just a few short years, Vallerret became recognized for their premium winter gloves for photographers.
(That are certainly worth buying this year.)
What I like about them:
They wanted to create photography gloves suitable for every day use in the winter.

They didn't want to compromise on functionality and style.

They listen to photographers and constantly improve…
… Which leads us to a quick "comparison" between the original Markhof Pro version and the updated 2.0 version.
---
A Word About Original Markhof Pro Model
---
While the original version was pretty popular too, there were some minor complaints.
Specifically:
Markhof Pro 1.0 could've been a bit warmer (for zero or sub zero temperatures)

They could've been more weatherproof
And Vallerret founders listened.
The 2.0 updated version certainly is a great improvement over the 1.0 version and they basically made an already awesome glove even better.
So…
Let's discuss what exactly you might love about Markhof Pro 2.0 model.
---
Markhof Pro 2.0 Photography Gloves
---
Honestly the build quality and functionality is awesome.
I know some people don't really care about it, but personally I love the fact that they are stylish.
(I think because they are aesthetically pleasing, it makes you WANT to go out more often and use them regularly.)
Anyway…
---
Materials Used/Build Quality
---
Like I mentioned earlier, the build quality and the level of attention paid to small details is great.
First of all:
These photography gloves use 100% merino wool as a base layer.
Basically it allows Vallerret to produce thin and fitted gloves, and still keep you warm.
It gets better…
This fabric makes gloves ultra breathable.
Even if you were to wear gloves for a long time, the 100% merino wool will reduce sweat (while keeping your hands toasty and leaving a nice soft touch.)
Other materials used are…
goat leather,

2 ply DWR outer shell, and,

suede
… which do a great job keeping water out and adding extra protection for your hands.
(Cold and wet is not something you want to experience.)
It also does a good job keeping wind out. That is why any adventurous winter photographer should consider this pair of gloves.
Last but not least:
Remember how I said earlier how original Markhof Pro could've been a bit warmer?
Well…
This time Vallerret added Thinsulate mid layer.
Having gloves with high performing insulation means staying warm when shooting out in the cold winter days.
---
The Features You'll Absolutely Love
---
Here's the truth:
As a winter photographer you can't rely on regular or battery heated winter gloves because they'll simply interfere fear with your shooting process/camera control.
Yet, you need stay warm.
(Especially if you like staying out for a long time.)
There are 3 main features that you'll love about Markhof Pro 2.0 gloves:
FlipTech finger caps

Non-slip grip

SD card pockets
---
So…
FlipTech finger caps (with magnets)
The way these gloves work is that you flip your finger caps and this way you're only exposing the parts that you need to access camera dials and take a photo.
You stay warm whenever you shoot.
Rubberized non-slip grip ensures a perfect camera grab and change the lenses without any issues.
Last thing you want is for your gear to slip out of your hands!
You'll find nice SD card pockets on the back of each hand with a zipper. 
(This certainly is a handy feature.)
Pro Tip: You may try adding small hand warmers in those SD card pockets to keep your hands even more warm during cold days.
Clearly, it's a very well thought out design.
Don't you agree?
---
Choosing the Right Size
---
Markhof Pro 2.0 is slim fit and has unisex sizing.
If you're not sure what size to get, Carl explains it in the video below:
(Like I mentioned earlier, this glove is slim fit. So, if you prefer a looser fit, just choose a larger size.)
---
What Should You Keep in Mind?
---
You may ask:
"Sure these gloves sound great, but are there any drawbacks?"
While Vallerret strives to produce the best photography gloves, no product is perfect.
Now…
What I'm about to mention isn't necessarily a "disadvantage" but something that you'll need to keep in mind.
(Just want to be honest here.)
1st thing to keep in mind:
While Markhof is windproof and water-resistant, they aren't fully waterproof.
So, this means that if you're out in the rain, your hands will get wet.
(Still warm though.)
2nd thing to keep in mind:
These gloves are NOT touchscreen compatible.
This might be a deal breaker for some people but that's basically the trade-off in order to have extra warmth when wearing Markhof Pro.
(To be able to use your smartphone/camera touchscreen LCD, you'll need to remove your finger caps.)
3rd thing to keep in mind:
These gloves are suitable for every day use in MID winter.
I certainly don't recommend using this product for harsh temperatures below 15ºC (5ºF).
---
Markhof Pro 2.0 vs Ipsoot Photography Gloves
---
---
So…
Which is better, Markhof 2.0 or Ipsoot camera gloves?
Vallerret gloves are great. In fact, they have 2 popular models that remain to be a favorite among many photographers: Markhof 2.0 and Ipsoot.
(For an even warmer option for deep winters, consider Vallerret Skadi Zipper Mitt PSP.)
Now, what makes these two so special and what sets them apart from each other?
At first glance, these two models may look almost identical, but if you look closely, there are actually subtle differences that distinguishes it from the other. Check it out below.
I admit, when I first checked out Ipsoot and Markhof 2.0 camera gloves, I was a bit confused as to which one is which. They both have the same classic black color so it's hard to tell with one look. But upon a closer inspection, you will notice that Ipsoot uses a different colorway that Markhof.
The fingers of Markhof 2.0 model sport purely black materials with rubber prints, while that of Ipsoot uses black and gray colorway.
Another major (visual) difference between these two models is that Ipsoot gloves uses goatskin leather on almost half of the palms, whereas Markhof 2.0 only has rubber prints all over the palm area.
Lastly, Markhof 2.0 is more of a "slim fit" model than that of Ipsoot (the manufacturer advice you to go a size higher if you are not comfortable with super snug gloves). Because of this, Markhof 2.0 is naturally more lightweight than Ipsoot, but the difference is not that much of an issue, anyway.
These two are both 'photography' gloves, but they both have different uses. Well, it's more like each one has a specific time when you can use each one at its full potential.
Remember when I mentioned that Markhof 2.0 is lighter than Ipsoot? This is because it's only best for mid winter. Though it is warm enough to keep you going on most days, it's significantly thinner than the Ipsoot model. And naturally, it's a little less warmer making it a good glove for any day of the year except deep winters.
(I personally wouldn't wear them if it's minus 5 degrees Celsius.)
On the other hand, Ipsoot model is a bit bulkier because it uses materials that provide more insulation. Aside from the Merino wool inner and premium goatskin leather, it still has an additional Thinsulate membrane to make it even warmer. Hence, the perfect company for extremely cold weather.
And of course, the most obvious difference we can point out is the price. Since Ipsoot has more insulation and is a lot warmer than Markhof 2.0, it's naturally more expensive. The difference in price ranges from around $20 to $30.
You might be wondering: is the added warmth really worth the price difference?
Well, that totally depends on your preference. If you are the type of person who easily gets cold even during mid winter, then it would probably be best for you to use the warmer Ipsoot model. But if you feel like you can manage sub-zero temperature with Markhof 2.0 (which is unlikely IMHO), then that would also be great, not spending $20-$30 more on photography gloves.
==> Read my FULL review of Ipsoot gloves.
---
Vallerret Markhof Pro Model: FAQ
---
---
1) How much do they cost?
---
As of now, it's around $80. For some, this price tag can be seen as a significant drawback. But these gloves are certainly high quality.
Note:
Amazon prices are subject to change, so you'll need to hit the button below to see the most current prices.
---
2) Does Vallerret company have a good reputation?
---
I mentioned earlier that Vallerret is a pretty young company but they already managed to build a very good reputation among winter photographers.
In fact they were featured by major photography resources online, including:
PetaPixel

PhotographyTalk

CameraJabber

Fstoppers
… Just to name a few.
Point is:
Most Vallerret photography gloves are one of the top rated on the market right now. 
---
3) Which type of person should consider these? 
---
Without a doubt, it's for adventurous winter/cold-weather photographers, who need to keep their hands toasty and the tactile control to operate camera without any issues.
Whether you:
are into winter landscapes,

like street photography,

shoot outdoor portraits in the winter

 (or anything else),
… then these gloves are for you.
And Markhof Pro 2.0 DEFINITELY is for you if you love skiing/snowboarding as much as you love photography.
---
4) How cold of temperature can these gloves survive?
---
These gloves are designed for mid-winter, let's say -10ºC (14ºF). 
However, keep in mind that everyone is different and everyone handles cold differently. (Personally, since my hands are cold-sensitive, I don't use them in -5℃ temperatures.)
If you feel like you're one who doesn't handle cold well, you may consider other options from this list of top rated photography gloves for winter shooting.
Keep in mind…
If you use Markhof Pro, you can use small hand warmers in SD card pockets to stay warmer.
---
5) What happens if these rip? How durable are they?
---
First of all, these gloves are made of top quality materials which prevent any ripping.
Should you have any issues, I encourage you to contact customer support. They are amazing! (I speak from first-hand experience.)
Secondly, these gloves seem to be pretty durable. But they were recently released in the market and I will know for sure how durable they are as time goes.
And then will update my answer here.
---
6) Can you hold small cameras with Markhof Pro gloves?
---
Yep, you certainly can hold mirrorless and/or point and shoot cameras with these gloves. (See image above.)
---
7) Would you recommend buying them online?
---
Certainly.
To be honest, I think that's the only way you can get them. So, where to buy then? Check out the reviews, price and availability on:
---
There's Not Many Gloves Better Than This One
---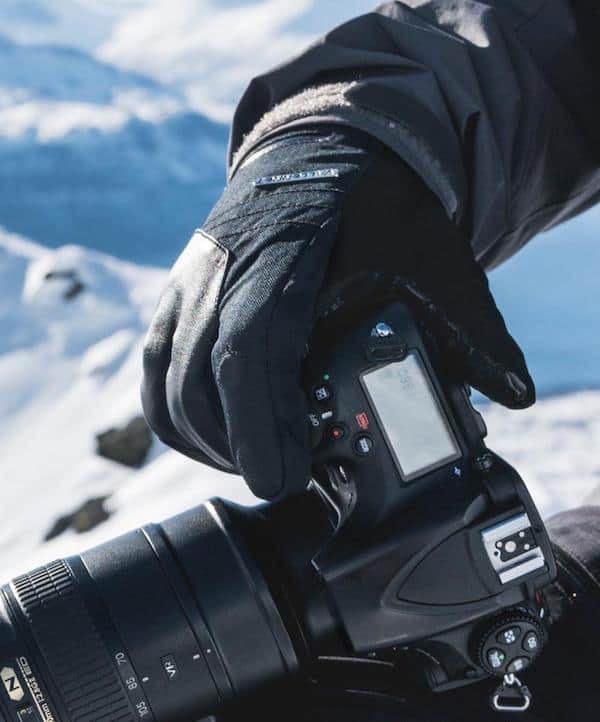 ---
Truth is:
Even though Markhof Pro model is one of Vallerret's newest offerings, it is a must-have for cold-weather photography outdoors.
Now…
For some, paying around $80 for a pair of gloves might be a lot but the construction, functionality and design sure make it worth it, IMHO.
These gloves are:
stylish,

comfortable and warm in mid winter,

have features that make it super easy to operate a camera.
What else can you ask for?
Bottom line:
Vallerret Markhof Pro 2.0 is one of the best photography gloves on the market right now.
(And it certainly delivers.)
---
Markhof Pro 2.0 Gloves Review: Your Thoughts?
---
Now, I'd like to hear from YOU:
How long have you been a winter photography enthusiast?

Have you tried any other "special" photography gloves?

What do you think of this Markhof Pro 2.0 review?
Any concerns? Questions? Suggestions?
Would love to hear your thoughts in the comments below!
---