Please note: As an Amazon Associate I earn from qualifying purchases. I also work with other affiliate partners and may be compensated from the links below. Details here.
January 31, 2021
Vallerret Skadi Zipper Mitt: A Warm Choice for Deep Winter Photographers (Review)
---
Welcome to my Skadi Zipper Mitt PSP review for deep winter photographers!
---
Look:
Winter photography is really beautiful but many folks refuse to give it a try because of the extremely cold weather and a fear to freeze their hands.
But there's a solution. 
Today, we will review the Skadi Zipper Mitt photography gloves by Vallerret and discuss whether it'll help you get outdoors and finally take those amazing winter shots you've always wanted.
What's so special about them? Are they really worth it? What are the alternative options?
We'll cover all this, but in the meantime here's a quick summary:
Vallerret Skadi Zipper Mitt (Summary)
---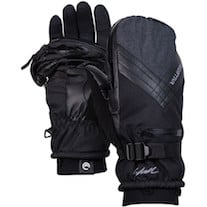 Product: Skadi Zipper Mitt PSP
Company: Vallerret
Designed for: Deep winter
Best for: Winter photographers
Price: Under $150
Recommended: Yes
---
I'll say this:
Products from this company have always been made tailor-fit for photographers, simply because the founders are also in this line of work. With that, you can expect their products to directly meet most of your requirements for outdoor fieldwork in the cold.
I myself own several gloves made by Vallerret such as Markhof Pro 2.0, Ipsoot and Skadi Zipper Mitt, and created reviews on those to help cold weather photographers make an educated buying decision.
While most people don't agree with the prices, in my opinion, the (upgraded) Vallerret gloves are made of good quality and provide you with the warmth and dexterity you need.
For deep winters, Skadi Zipper Mitt are a better option than other models I have. And I think they are worth investing in if you enjoy shooting outdoors in the cold.
Pros:
premium materials

innovative design

great insulation

stylish
Cons:
(I personally have the GoldenRod colour model and got the regular medium size but for women with petite hands the pair might be a bit bigger, and for larger handed men, it might be a bit smaller.)
Where to buy? Check out the reviews, price and availability on:
---
---
Skadi Zipper Photography Mitt: Key Features
---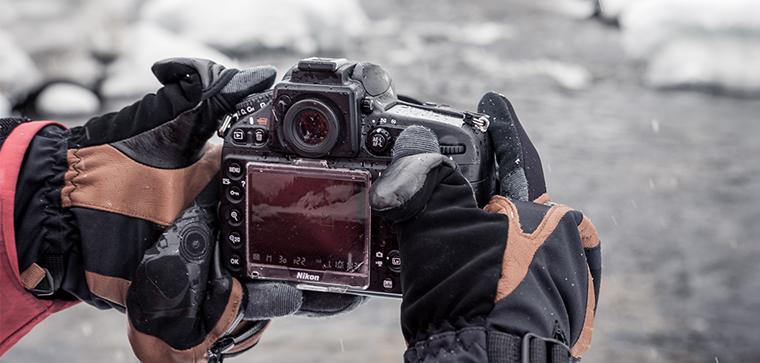 ---
Cold hands can get in the way when you shoot outdoors during winter.
Instead of being ready to capture the moment, you might be too distracted because your hands are freezing, or you don't have much dexterity to handle your camera because of your thick winter gloves.
(Regular battery heated gloves aren't the best option for photographers as well. But if you're an avid outdoor enthusiast do consider them.)
This is such a pain, and the people at Vallerret knows just how frustrating this can be.
So now, let's talk about the features of Skadi Mitts and see if it really is the right gear for you.
One of most important features of a glove is versatility, and this feature is a perfect example of that. Skadi zipper mitt PSP is unisex, which means anyone can use it regardless of gender.
This is actually good news for those planning to give this pair to friends and families. You no longer need to look for a bunch of other options for men and women on your list.
The only downside about this feature is the sizing. It follows standard sizing which could mean it will be a little bigger for petite women, or smaller for men with large hands. But this isn't really that big of a problem. You can always go up or down one size to ensure the right fit.
This product looks like ordinary mitts on the outside, but you can actually transform it into a glove liner which makes it a 2-in-1 gear. It is actually very helpful for those who easily get cold hands yet still wants to go outdoors.
You just have to unzip the upper portion of the mitts, and you will be able to use the pair as a liner. This means better dexterity to control and operate your camera and other gears you might need during the shoot.
Without a doubt, this pair is made of premium and high quality materials that ensure durability and robustness. The outer shell is made from authentic goatskin leather, adding to the premium feels.
Plus, it also has laminated twill to improve water and wind resistance. Not only that, the outer layer also has DWR suede in 2 ply to help with weatherproofing as  well.
100% Merino Wool Interior
Merino wool is one of the softest material you can ever have on a glove interior. Its plush and soft feels make your hands feel really comfortable even if you wear the pair for long periods.
This is also a good material for insulation, making the gear really warm and nice despite the freezing cold outside. That is why many manufacturers prefer to have this in their products.
Just like most of the other winter gloves today, Skadi mitts also has stash pockets on both hands. This can serve as your utility pocket for any small things you want to carry with you on the shoot. The most common usage for this is storing extra SD cards to ensure that you have enough storage to keep you going.
Another good use of this pocket is for storing small hot packs for added warmth. This is really good for people with hands that get cold easily, especially during deep winters.
It also has a tripod release key for easier unmounting of your device from your tripod. No more looking for coins and cards to twist the nobs.
Even if the liner itself already gives you much dexterity as one glove could ever give, Vallerret made it a point that you can have more by designing the liner with flipping finger cap technology.
This allows you to expose a small portion of your fingertips to the cold so that you can interact with your touchscreen devices and gears. It also lets you control camera dials as you normally would without a gloves.
So this is really an innovative way of letting you do things you normally do without getting your entire hands cold in the process.
Of course, it is very important for mitts to have non-slip grip. Otherwise, you have high risk of dropping your camera during the shoot. This is the last thing you will want, believe me. Your gears are expensive so extra care should always be practiced.
The palm is imprinted with a non-slip material so that you can have a strong grab on your camera. This ensures that it won't drop while you are using the gloves.
A lot of people don't pay attention to every detail in the design of hand warmers. However, these tiny details may help with the overall experience big time.
This is one example for that. Jersey cuffs are really great for a variety of reasons. One is that you can easily put the gloves on and off without breaking a sweat. Second is that the cuffs ensure that no wind can enter the insides of the gloves, ensuring that it really stays warm and toasty.
This is an extra feature added by Vallerret to make sure that you will not lose one of the pairs while you are not using it. The leash connects to the cuff so in the event that you take off the gloves, it will still stay connected to the wrists of your jacket.
---
Vallerret Skadi Zipper Mitt PSP: FAQ
---
---
Q: How can I determine my glove sizing?
Vallerret provides a sizing chart on their website. There, you will find out how to properly measure your size so that the gloves will be as snug as it can be. It wouldn't really do you any good if the pair is too big or too small for you.
If you already own a pair of hand warmers but not from the same brand, I highly recommend you check out their sizing guide, especially if you are planning to get this unisex product.
Q: Is this safe for machine wash?
No. Since the inner layer contains 100% Merino wool, it is not advisable to machine wash this product. It is quite a delicate material and only hand washing is the safest way to clean it. Also, remember not to put it in a tumble drier since the material might disintegrate in the process.
Q: Would you recommend buying them online?
Definitely. Also, I think this is the only way you can get them. (Don't take my word for it though). Where to buy? Check out the reviews, price and availability on:
Q: Which is better, Skadi Mitt or Heat3 Smart?
Design-wise, these two products are very similar. They both sport a 2-in-1 construction that allows you to use the hand warmer as mittens or liners, whichever you prefer. With regards to materials used, they also both boasts high quality and premium ones, making their products robust and powerful.
The only noticeable difference I can actually find is with the fingercaps. Skadi Zipper Mitt PSP has fliptech caps that exposes a part of your finger to promote more dexterity and control. On the other hand, Heat3 Smart sports three-finger touchscreen compatible finger caps allowing you to interact with touchscreen devices while wearing the gloves.
But all in all, they are both good products you can invest in.
==> My review of Heat 3 Smart gloves.
Q: Skadi mitts vs Markhof 2.0 photography gloves?
Both are products from Vallerret. At first glance, you will notice a lot of differences between them. One of the most obvious would be the design. Markhof 2.0 doesn't have mitts design, but instead sports a solid glove look. This is good for those of you who don't want to fiddle with zippers just to remove the top portion of the mitts and reveal the liner. 
Another difference between the two is the degree of insulation it can offer. Skadi is made for deep winters, while Markhof 2.0 is made for mid winter. So unless you only do shoots during mildly cold days, Skadi is still the better option.
Q: Skadi vs Ipsoot photography gloves?
Ipsoot is another Vallerret product making it a sibling of Skadi. Aside from its difference in construction, design and materials, there is really nothing much different about these two products. Both of them are also designed for deep winters so they promise to provide a higher level of warmth than its other sibling which is the Markhof 2.0.
==> My review of Ipsoot winter gloves.
---
Vallerret Skadi Zipper Mitt Review: Thoughts?
---
Now, I'd like to hear from YOU:
Have you tried shooting winter photography?

Have you tried any photography-optimized gloves already?

What are your thoughts on Skadi Zipper mitts model by Vallerret?
Any concerns? Questions? Suggestions?
Would love to hear your thoughts in the comments below!