Please note: As an Amazon Associate I earn from qualifying purchases. I also work with other affiliate partners and may be compensated from the links below. Details here.
December 1, 2020
Vallerret Ipsoot Photography Gloves: Great for Deep Winter Photography (Review)
---
Welcome to my review of Vallerret Ipsoot photography glove model!
---
Look:
Extremely cold winter days can be harsh and overwhelming. But letting this get in the way of your outdoor commitments, especially as photographers, is a total bummer.
There's just so much to see and capture outside during this season, and you might not want to let those opportunities to slip from your hands.
What is a smart solution for cold weather photographers?
It's pretty simple. You just need to wear the right kind of winter clothes that will keep you and your hands warm and toasty despite below zero temperatures.
I myself own Vallerret Ipsoot photography gloves and in this review we'll talk about its features and whether this product really is a good choice when shooting in extremely cold winters.
Let's begin, shall we?
Ipsoot Photography Gloves (Summary)
---
Brand: Vallerret
Material: Goat leather shell, 100% Merino wool
Product Type: Winter photography gloves
Best For: Deep winter
Price: Under $120
Recommended: Yes
---
Let's face it:
Quality thermal gloves for winter photographers are hard to find.
They need to offer the maximum possible hand dexterity without compromising on comfort and warmth. If only one of those requirements are met, that's just not good enough.
Now, do such winter gloves optimized for photographers really exist?
Certainly, there are a few products that are exceptionally good in keeping your hands warm and dry while still allowing you to use your hands as you normally would holding your gear.
Vallerret Ipsoot is one example of that.
I've had a chance to test them out this winter and, in my opinion, they are definitely worth investing in if you like shooting outdoors in pretty cold weather conditions.
Where to buy? Check out the reviews, price and availability on:
---
---
Ipsoot Camera Gloves: The Features
---
---
Now…
It's about time we talk about the different features you can expect from these camera gloves. You have to take note that the Vallerret team intends to balance dexterity with comfort, so let's see if they did it.
The materials making up a product plays a vital role in the overall quality of it. The higher quality the materials are, the better the product will be, and Vallerret knows that too well.
This Ipsoot model uses goatskin leather, a material that is highly regarded for its durability and premium quality. This ensures that this pair is robust enough and can withstand abuse as it should. Since you will be using it outdoors, it needs to have tough outer shell like this one.
On the inside, the pair uses 100% Merino wool. This is also a great material that doesn't only provide warmth, but it also feels soft, making your hands feel comfortable.
I guess we all know the struggle of wearing gloves that feel like rigid on the inside. It just makes your hand itchy and sweaty all at once. But with this kind of material in the Vallerret Ipsoot model, that's not going to be a problem anymore.
It gets even better…
There's another layer that makes this pair great for deeper winters. It has thinsulate membrane between the outer shell and the interior merino wool, making it all the more warm. This added layer allows for better insulation, making sure your hands feel as toasty as it should be.
I have to point this out though.
Because of these materials, the pair is a bit bulkier than its sibling, the Markhof 2.0 glove model. Though a lot of photographers don't mind the extra thickness because it still makes you have good camera grip.
All in all, the extra bulk is the price you pay for having warmer hands, and that's a pretty good deal for the value.
(If you need an even warmer option from Vallerret, consider their Skadi Zipper Mitt model.)
This is a super helpful feature a pair of cold weather photography gloves can have.
There's nothing more frustrating than not being able to interact with camera dials, buttons and touchscreen. When wearing extremely thick pairs, even these basic operations will seem almost impossible. But with this technology, you don't have to worry about that anymore.
The FlipTech caps allow you to flip over the finger caps to the back so that it exposes a small portion of your thumb and index finger. This way, it will be easier to interact with your camera. The good thing about it is that you no longer need to take actually off the gloves just to do all these.
As a result, your hands remain warm all the time.
I mentioned earlier that there's almost no need for you to take off the pair when using your camera, but sometimes you will just need to.
Now, have you noticed how hard it is sometimes to wriggle out from a snug fit gloves?
And in worse cases, you miss out on that perfect shot because you're too busy fiddling out of the hand warmers. With this jersey wrist cuffs, it will be a whole lot easier to take it off and put it back on.
Having this feature saves you so much time and trouble, honestly. Also, it gives you more time to focus on what you are doing.
Plus:
Since it's a jersey cuff, it stretches but still comes back snugly right after you wear it. This results to a warmer hand, not allowing the cold wind to penetrate inside the Ipsoot.
Of course, you can't go wrong with stash pockets. It acts as extra storage space for small items such as SD cards or even an extra hot pack to keep your hands even warmer. It comes with YKK zippers so you are sure it's sturdy and tight as it should be.
The left side pocket contains a tripod release key, which is very useful. It's chained to a lanyard that's fixed to the insides of the left pocket, so there's no way to transfer it over to the right, which is not so much of a problem.
The last thing you want to happen is breaking your camera because it slipped from your grip while wearing your winter gloves. It would be a total disaster if that happens, and we should avoid it at all cost.
The good thing is that Vallerret incorporated a rubberized palm print for a stronger and more comfortable grip. This means that even if you are wearing this quite thick pair, your camera will still stay safe and sound in your hands.
But have you ever wondered why not make the entire palm area rubberized instead of just adding strips? Well, I think it would also be a lot of trouble if you make it totally rubberized. I bet it will only slow you down by being extra sticky on parts where it isn't suppose to stick. You know what I mean?
Let's admit it it. This one's a genius feature.
Having a built in lens wipe on your glove is so handy. Since this is meant for outdoor shoots during cold weather, you can expect you lens to turn foggy every now and then.
When that happens in the middle of an interesting shoot, it can be troublesome to still search for it inside your camera bag or your pockets. With Vallerret Ipsoot, you can simply wipe the lens with the microfiber material attached on the back of the thumb.
So…
These are the key features of the Vallerret Ipsoot product. And unlike battery heated winter gloves, you can easily use this all day long without power supply.
Where to buy? Check out the reviews, price and availability on:
---
Vallerret: Quick Background & Other Products
---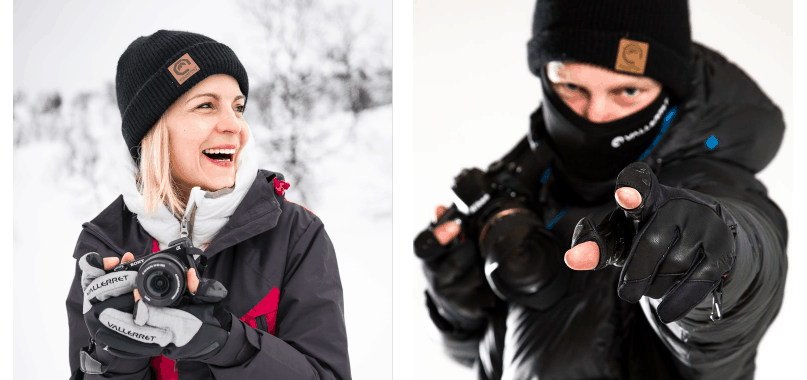 ---
Look:
Vallerret is a company that manufactures gloves especially designed to meet photographers' needs.
The founders are winter sports enthusiasts AND photographers themselves so they know better how it feels not being able to properly shoot in the cold weather.
(By the way, they also created a winter photography course for $49 as well.)
Hence, they created these products to help fellow artists to still effectively shoot even during the coldest of days.
While this company is quite young having been started only around 2015, they have a lot of winter apparel that photographers like you might love.
To name a few:
Urbex Photography Gloves – comes in a more "urban" like overall style.
Markhof 2.0 – similar to Ipsoot, but for milder winter weather.
Skadi Zipper Mitt PSP – This is a 2-in-1 gear. It is a mitten with zippers. When you unzip them, you can reveal the gloves inside and proceed with your shooting process like you normally would. Very similar to Heat 3 Smart product.

Now…
While Vallerret is very popular in this niche, there are a few other brands that specialize on producing optimized gloves for outdoor photography in the cold.
I've written several articles as well as created videos, and if you're still unsure, I recommend you check my top list of the best gloves for cold weather photography this year.
---
Best Gloves for Photography Outdoors?
---
Photography in winter is really challenging. However, it's also as rewarding as ever. There are a lot of beautiful sceneries that are naturally magazine-worthy.
Since you need to be patient and wait for that momentous scene of the day to unfold before your very eyes, it would be a great idea to wait in comfort, right?
This pair of Vallerret Ipsoot really does pretty well in that department. While it's thick enough to protect you from cold, it doesn't really slow you down significantly as a photographer.
In my opinion, they are one of the best photography gloves for extreme cold.
Now…
If you want a slimmer version, you can also check out Markhof 2.0. But I'll warn you ahead that this model is only meant for mid winter. If you plan on going out during the coldest of days, then Ipshoot is definitely one of the best options you can pick.
---