Please note: As an Amazon Associate I earn from qualifying purchases. I also work with other affiliate partners and may be compensated from the links below. Details here.
October 31, 2019
5 Highly Useful Travel Gadgets Under $50 (Totally Worth Buying This Year)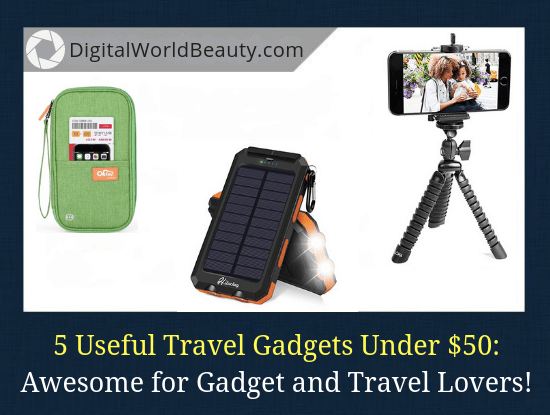 ---
I have a confession to make:
I love travelling as much as I love digital photography.
So…
In today's short list, I decided to name my top 5 highly useful travel gadgets under $50 for 2020.
(Some travel accessories are a game changer.) 
Without further ado, here is what to expect in this post:
5 Best Travel Gadgets Under $50 for 2020
---

Without further ado, let's get started.
---
Power Bank: The Best Gadget Wherever You Are
---
In today's world not too many people leave the house without a power bank, whether it is for 2 hours of shopping or a mini trip to a local city. 
For regular travelers, this gadget is a real godsend.
I will list the main cases when you'll need a power bank in travel:
1). Long flights. 
You can use a smartphone at the airport, on the plane, and upon your arrival to a destination.
2). A long journey, when you're on your feet for the whole day or don't get to sleep at all in a hotel. 
Sometimes there is no way to charge all your devices once a day. 

Lots of travelers face a similar problem with long journeys on a bus when traveling for the whole night or day.
3). As a backup source. 
It so happens that in inexpensive hotels there is only one outlet, and it's easier to charge the devices from an external battery in the evening, and leave it for the whole night. 

You really don't want to jump out of your bed in the middle of the night just to switch your devices for charging.
4) Hiking tours. 
Typically, you can go on for 1-2 weeks without recharging and the only solution is in power banks.
This being said, which power bank to choose?
You won't make a mistake going with Xaiomi as your brand choice.
They tend to make great power banks.
For example:
You can get a portable charger that costs under $30 with the capacity of 10,000 mAh. (But there are more capatious options too).
However…
For hardcore travel, you may need a more reliable version:
waterproof,

with a flashlight,

and the ability to get charged from sunlight.
On Amazon you can find many options suitable for such that, but most well-reviewed is the Hiluckey Solar Power Bank.
It has everything mentioned plus it has a small compass that you'll find useful when camping or other outdoor activities. 

---
Portable Door Alarm: The Best Security for Your Buck
---
When I learned about this, I was amazed.
We live in such a great time when everything is made for us.
For example:
If during travel you often stop at roadside hotels and other sketchy places, this portable door alarm will allow you to sleep peacefully and not be afraid that someone will quietly enter your room.
How does this gadget work?
Security portable door alarm is a motion-triggered technology, so as soon as the door opens, the beep will turn on, and the flashlight will start flashing.
The loudness of this very sound signal will be as much as 95 dB (like the noise in the subway car while driving).
And guess what?
All you need to do is mount it on the door and turn it on.
This is definitely the best security for your buck that you'll ever see. 

---
Luggage Tracker: Keep Your Possessions in Sight
---
Look:
Initially this section had Trackdot listed, but DO NOT BUY it anymore!!! It used to work well for years but now the company is out of business since they support 2G only.
So, I looked around and found this great alternative. A very useful gadget for tracking luggage called Tracki.
(At the time of me writing in 2019, it had a great discount and significantly less than $50. But keep in mind that prices on Amazon are constantly changing!) 
Anyway…
All you have to do is put this Tracki device in your luggage, and your smartphone will always display its exact location coordinates.
Well, almost always.
To save battery, the gadget will be turned off during the flight.
Tracki understands this thanks to the built-in accelerometer and works with the regular, old-school batteries.
According to the manufacturer, this thing will be able to track the location even in metal structures, cars, hard cases and cargo compartments of aircraft. 
And then the data is sent over the cellular network.
Important note:
There's a monthly fee depending on which package you choose.
Bottom line:
If you are looking for tech gadgets/trackers under or around $50, then this is one of the best ones you will find for the price. 

---
Smartphone Tripod for Unique Instagram Photos
---
These days, if you have no trip photos on Instagram, then you weren't on a trip!
I know, right?
That's why before going anywhere, it would be nice to get a tripod on flexible legs and take awesome vacation images.
Now:
While Gorilla tripods are most popular, if you're looking for the best smartphone tripod under $50, then I think Arkon offers the best bang for your buck.
It also has bendable octopus legs, which will certainly help getting creative. 
(Multiple user reviews confirmed it too.)
Basically, this tripod will allow you to install your smartphone almost anywhere and on any (even uneven) surface:
… whatsoever. 
This tech gadget sure will get you creative and take unique photos for your social media accounts.

---
Waterproof Passport Wallet – The Most Important Things Are Always Safe With You!
---
Personally, I never leave my house without money.
Don't you too?
Either way…
On any trip, nothing is more important than your money and your ID's.
I mean, you can lose anything you want and don't want, BUT these.
Now:
If you are a regular travel junkie, you must make sure to not to drown your documents, cards and money, wherever you are.
That's why I advise you to acquire a waterproof passport wallet.
My recommendation is to get one from Flynova.
If you'll be looking at other alternatives, that's fine. As long as it's constructed of: 
high-density nylon fabric, and,
is completely waterproof.
Remember that!

---
5 Best Travel Gadgets Under $50: Your Thoughts?
---
So this was a pretty short article on 5 gadgets for travelers that I find useful and which cost less than $50.
Now…
I'd like to hear from YOU: 
What useful gadget would you recommend us, travel enthusiasts?

What is your favourite travel gadget under $50 from this list?
Let us know in the comments below!
P.S. 
A while ago I wrote a list of the 5 best tech gadgets under $100 that you might want to check out too. It was written for Valentine's Day holiday but really it'll work for anyone who's a gadget lover.
---