Please note: As an Amazon Associate I earn from qualifying purchases. I also work with other affiliate partners and may be compensated from the links below. Details here.
September 20, 2020
Photo Shortcuts Course: Another Bestseller by Photography Pro Team (Review)
---
Welcome to my review of Photo Shortcuts by Mark Hemmings!
---
Look:
Photography Pro's digital products are quite popular among beginner/enthusiast photographers (and for good reason). The bestsellers include:
I personally have access to Mark Hemmings' online courses and I'm glad to share my knowledge with you.
Now…
Photo Shortcuts claims to give you some techniques that will potentially speed up your photography journey. Is that really so? Who is this course for? Is Photo Shortcuts worth it?
And that's exactly what we'll talk about today.
Let's get started.
Photo Shortcuts Course (Summary)
---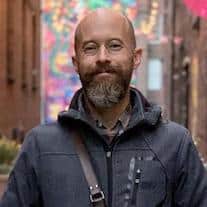 Company Name: Photography Pro
Website: https://photographypro.com
Course Name: Photo Shortcuts
Instructor: Mark Hemmings
Best for: Beginners – Intermediate
Price: $995 ==> $199 (at a discount)
Money-Back Guarantee: 30 days
Recommended: Yes
---
The thing is:
Most instructors wouldn't recommend any sort of shortcuts in studying the craft. And quite frankly, I agree to them to some point. I mean, there's a danger in not knowing the basics and fundamentals of what you are into.
But…
If you have some experience in the field, you'll enjoy learning about a handful of techniques that will make your life as a photographer easier. It's all good as long as you understand why you need to apply that certain technique.
With over 20 years of experience as a professional photographer (and instructor), Mark knew better than to fully rely on inspiration alone when taking photos.
After all, inspiration is hard to find sometimes.
But can you really give your client that kind of excuse? Definitely not. And that's the reason why MH created this course for you.
So whenever you feel uninspired, you still can capture stunning photos in any situation… like a pro.
More importantly…
You'll be a part of a super helpful private Facebook community, and this aspect alone is worth the price. The amount of value and feedback you'll get is unreal.

---
---
Is Photo Shortcuts Course Worth It?
---
You might be wondering…
Is there really a shortcut to becoming a pro and is it worth the investment?
To be totally honest I don't think there is literally a shortcut to make you a professional photographer OVERNIGHT.
However, you can learn some of the best techniques pros use to make your photos look like theirs, and that's what Mark is going to share with you in this online training.
Of course, it will help you improve both your shooting and editing skills, but you still need to have more knowledge and experience to become a real expert in the photographic scene.
Nevertheless, this is a really good stepping stone towards becoming the best photographer that you always aspire to be.
All in all: 
If improving your photography skills is important to you, then yes, Photo Shortcuts is worth your time and investment.
---
Who Is It Best For?
---
This training is created with slightly more advanced beginners and intermediate level photographers in mind. This course is also for those enthusiasts who would like an "easier" approach. 
You will learn most of the tricks used by pros to make their images look as captivating as possible.
You only need to know the basics of shooting in order for you to understand this lesson, so it's fairly beginner-friendly.
Also, Mark teaches in a very calm and clear manner so I'm confident you won't have any problems following his lead.
Is there an overlap between Photo Shortcuts and Digital Camera Mastery?
Yes, there is a bit of an overlap between the two.
I've come to the following conclusion:
Digital Camera Mastery is an intensive course best suited for total newbies and enthusiasts. Its purpose is to help you learn your camera, lighting and other photography related topics.
Photo Shortcuts is more about shortcutting your learning curve. It provides general photography techniques and some of the creative things that you can try.
Both are great. And even if you've bough DCM, PS will still teach you a lot.
And if you complement them with Mark's Lightroom Editing Mastery course, then you'll get the maximum value. Click here to read my review.
---
Photo Shortcuts: The Structure
---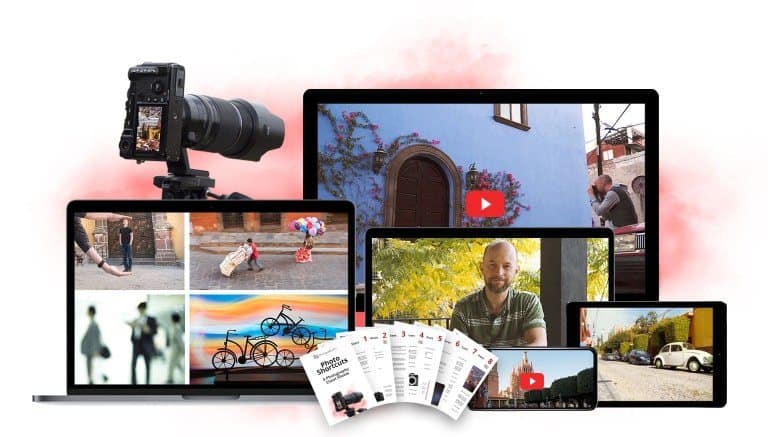 ---
Overall this course has 5 core modules and 4 bonuses.
Let's take a look at each section and what you get.
Module 1 – How to Take Captivating Shots
Capturing great photos doesn't happen by chance. It takes a lot of practice to produce awesome images constantly, and that's what you will learn in this module.
Here, Mark will give you tips on how to make simple everyday scenarios look more touching. And you can do that by using easy to follow shooting techniques Pros often use.
Module 2 – Using Light Tricks for More Stunning Photos
You see…
Photography is all about proper lighting. No matter the subject, it will always look good with the right lighting.
In this module, you will learn how to use the natural light to your advantage. Mark will be teaching you when the best time to take photos of several landmarks is. You will also discover how to make use of the "golden hour" to produce dramatically stunning photos.
As if that's not enough…
This module also contains tutorials on how you can properly take sunsets and sunrise shots. You also get a glimpse of how to successfully capture great images even under difficult lighting conditions.
Module 3 – Must-Know Travel Photography Hacks
We usually travel to see places we don't often see every day.
It has become somewhat like an implied requirement to take photos of those beautiful landmarks before heading back home.
And most of the time, we get too excited about it that we forget to check if the resulting image is good enough.
In this lesson, you will learn various travel photography hacks that will get rid of those blurry and disappointing photos. Aside from that, you will also learn how to capture emotions of people while taking photos behind them.
Module 4 – How to Take Beautiful Landscape and Nature Photos
Nature and landscape photography has always been a challenging genre, even for professionals.
There are several complicated factors that you need to keep in mind when doing nature shoots. And in this module, Mark will simplify those by introducing to you foolproof techniques on how to get the job done.
Together with the instructor, you will examine sample landscape photos and try to recreate them. You will also learn how that photo was taken and processed afterwards.
Module 5 – Creating Stunning Portraits
Portraiture is another rather tough photography genre. You need precise shooting skills and proper lighting knowledge to produce high-quality portraits.
In this module, you will learn how to shoot pro-grade portraits even without a studio.
In as quick as 15 minutes, you will also find out about framing techniques, low angle photography and many other tricks that will make portraiture job a whole lot easier.
Bonus 1: Photography Basics
Of course, Mark wouldn't want you to go into the field without giving you the fundamentals of photography. It is highly important that you build good habits before becoming proficient in this field.
A lot of us often take for granted things like how to properly hold the camera, or even just how to manually adjust the camera settings.
These are very simple factors that can greatly affect your photos and career, in general. You will learn how to do those properly in this module.
Bonus 2: Quick Introduction to Lightroom Editing
Your crash course to becoming photography expert would not be complete without learning the basics of editing. Although there are several tools for this, Mark wants you to use Lightroom because it is so similar to Photoshop and involves less complexities.
Here, you will learn how to navigate through the software and how you can use the tools to make your photos look impeccably stunning.
Check out my review of Lightroom Editing Mastery course here.
Bonus 3: Trick Photography
This bonus lesson is something that will come in handy anytime.
After watching the videos, you will now be able to recreate long exposure photos, perfectly panned images, defocused lights, and many other artistically dramatic shots you only dreamed about.
This module contains a downloadable file with various photography cheat sheets you can follow and practice on. Pretty awesome.
If you like the sound of what PS has to offer, click the button below to grab your spot today.

---
Pros & Cons
---
Now that you already saw how this course looks from the inside, it's about time we talk about the things that make it worth your time and money.
---
✓

What you might like about PS:
---
Once you purchase the course, you'll be able to join the private group on Facebook. It is where you'll interact with like-minded folks and will be able to get feedback from beginner and experienced photographers alike.
A lot of Mark's students that I interacted with told me that the group was a significant source of inspiration and their growth.
The lessons come in different modules, separating one topic from another. But that's not all. Each module contains different sub-lessons further breaking down the topic into a more specific tutorial.
As a result, you get to decide whether you want to watch the entire module or only choose specific parts that suit your needs. This also enables you to jump form one sub-module to another.
(Not to mention that you have a lifetime access.)
Videos are short and concise
This is probably the best thing about the entire experience.
The videos are really short, averaging about 2 to 4 minutes only. Despite that, the clips are loaded with the right amount of information without feeling "rushed".
And that's exactly why this course is very easy to consume.
---
✕

What you might not like about PS:
---
Having reviewed many different online courses in different niches, I can tell you that PS comes with a pretty standard price tag. And as far as I know, there aren't digital courses on the market right now that share the best 'shortcuts' for enthusiast photographers.
If you've bought Digital Camera Mastery before, you might not be super happy about some overlap there, for example in the segment about aperture.
Either way, you'll have 30 days to ask for a refund and Photography Pro team will gladly help you.
==> Click here to join Photo Shortcuts today.
---
Photo Shortcuts by Photography Pro (Review)
---
Look:
Mark Hemmings is a street and travel photographer with more than 20 years of experience.
Having gone to different parts of the world to take beautiful photos, Mark realized that there's so much more you can learn if you know the right techniques. And, he wants to share this with his fellow artists; hence, he started offering online trainings like this one.
But MH isn't only focused on travel and street genres.
He is also into food, advertisement and architecture photography. He excels in these fields which make him all the more fitting to become an effective instructor.
Without a doubt:
Photo Shortcuts by Photography Pro is a really great way to fast track your photography journey. It might not contain all the things a professional should know, but it certainly includes all the things you essentially need on your journey to become the expert you always wanted to be.
And remember…
Being a great photographer takes a lot of time, patience, and practice. There are things you only learn through experience. And most of the time, those things are what makes you better at your craft.