Please note: As an Amazon Associate I earn from qualifying purchases. I also work with other affiliate partners and may be compensated from the links below. Details here.
October 29, 2020
Palmyth Flexible Gloves Review: Great for Anglers and Cold-Weather Photographers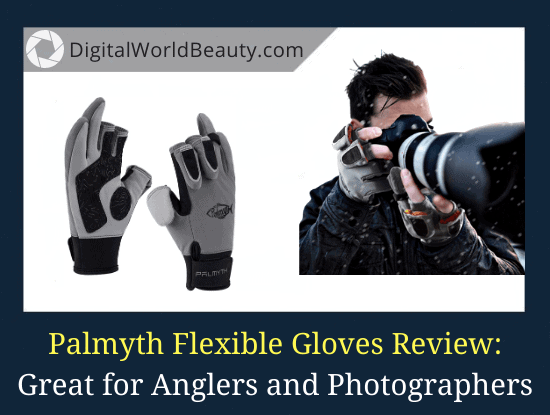 ---
My review of Palmyth flexible gloves (for fishing and photography purposes).
---
Let's face it:
Buying several specialty gloves are costly. Some people believe that though it gives you the satisfaction of working so well for its specific purpose, it doesn't always justify the huge spending.
Wouldn't it be better to find a pair that's good for everyday use and other winter activities all in one?
In this Palmyth Flexible Gloves review, we'll find out if it really performs well, who is it best for, the pros and cons of the product, as well as some alternatives for cold weather photographers.
But before we begin, take a quick look at this summary.
Palmyth Flexible Gloves Review (Summary)
---
Brand: Palmyth
Materials: Synthetic leather, anti-slip silicone grip
Product Type: Multi purpose cold weather gloves
Best For: Fishing, Photography, Motorcycle
Price: Under $35
Recommended: Yes
---
You see…
It's difficult to enjoy winter activities without proper protection, especially for your hands. When the hand feels cold to the point of freezing, you can barely do anything, that's for sure.
Even the most trivial task of holding your photography gear will be extremely difficult with super cold hands, much less taking great shots.
What's interesting is that this product was originally created for fishing, but I noticed that a LOT of my blog readers buy Palmyth flexible gloves for cold weather photography purposes. 
And it is because of that, I decided to place it first in my list of the best gloves for photographers.
While this pair is not gonna save you from really harsh winters, you can still enjoy wearing them in the cold weather and stay comfortable in terms of warmth, grip, dexterity; whatever you do outdoors.
Best of all?
This is perhaps the best affordable gloves under $50 that you can get right now.
---
---
Palmyth Fishing/Photography Gloves: Features
---
---
Let's go over some of the key features of Palmyth Flexible warm gloves. Here are the things you can expect when buying this product:
Before, a lot of people dread wearing thick winter gloves because it limits your hand's dexterity (especially your fingers). And it can sometimes be frustrating not being able to move your fingers freely and grab something easily.
However, it's necessary to wear one outdoors if you don't want your hands to freeze.
The good news is that Palmyth photography gloves has a solution for that.
The 3-cut finger innovation makes it easier for you to move your fingers without taking it off. This pair has 3 magnetic flip caps for the fore finger, middle and thumb. When you flip back the caps, it will expose part of your fingers for better dexterity.
Some of you might be wondering: wouldn't that make your fingers turn cold?
Well, at some point, yes if you leave the caps off for too long. But, this is still manageable compared to your entire hand being bare under the cold weather, right?
Also I believe this feature is why it's so popular among photography enthusiasts. I mean if you look at other options out there, you'll see that most of the products have only 2 finger flip caps, if any.
 Breathable and stretchable fabric
This pair is made up of water-resistant out shell with stretchable properties.
It allows you to comfortably put the gloves on minus the rigid feel. Aside from that, it also has a pre-curved design making it easier to grip things without much problem.
Another good thing about the materials used for this product is it's breathability.
When wearing any winter gloves, there's a tendency for the hands to sweat, so a breathable fabric really helps wick the unnecessary moisture away.
You may not think much about this feature, but it's really important.
Too loose wrist straps will only let the cold breeze (or worse, snow and rain) get into the gloves. That's why it is always advisable to find a pair with snug fit.
Palmyth fishing gloves comes with velcro wrist straps. This means you can easily adjust the tightness of the gloves around your wrist to ensure a snug yet comfortable fit.
The thing about photography gloves is that it needs to be weatherproof, since you're most likely going to expose it to harsh weather conditions. Luckily, this pair has that feature.
This gloves come with a water resistance capability.
However, it is only designed for accidental exposure to water. This means that prolonged exposure to water, or intentional dipping of the gloves into it, will still make it wet.
So if you are wearing this one outdoors and it's raining, don't expect this glove to keep your hands dry for too long.
Tri-layer interior for added warmth
This pair is actually well insulated for its price range. It has a soft fleece lining that provides the comfort your hands need. It also has a TPU membrane for better weatherproofing capabilities.
These materials are enough to keep your hands and fingers toasty and dry all day long on normal winter days. If you are planning to go out on the coldest of days, you might want to look for another option.
So, that pretty much sums up what you will be getting once you purchase this product. Though it has some drawbacks, it's still worth investing in.
---
Palmyth Flexible Gloves: Pros and Cons
---
---
Now that we've cleared out the features of this product, it's about time we talk honestly about the advantages and drawbacks of buying this pair of gloves.
---
✓

What You Might Like About It
---
This is probably the biggest advantage you can get out of this product. Normally, a good pair will cost you over $50, but this one doesn't. It's cheaper than most counterparts of similar quality, so it's a deal breaker.
Don't you just love it when the gloves still allow you to grip and hold things just like you do with your bare hands? I bet you do.
Comes with a secret warmer pocket inside
Now this one is a true game changer. Since it's not like battery heated gloves, there's no way you can control how warm this gloves can make your hands.
However, you can still make it warmer than it already is by putting in hot packs inside it. There's a secret pocket for that.
Silicone palm prints for better grip
If you think the prints are just there for aesthetics, then you got it wrong. It actually serves a very important role in allowing you to grip things properly.
Without it, there's a high chance your gears will end up slipping out of your hands (the last thing you'll want for your cameras for sure).
This is another commendable feature. It gives you the chance to do more without getting your entire hands cold. And it will be easier to interact with your camera controls, smartphones and other devices you might need to use during the shoot.
Oh, did I mention that this was actually sold for fishing purposes?
Well, though that's the case, it's still very popular among photographers and motorcycle riders as well. It doesn't only keep your hands warm, but it allows you to use your fingers more.
---
✕

What You Might Not Like About It
---
Not for extremely cold weather
While this is not necessarily a con, it's something I have to mention here.
The manufacturer said it's only good for temperatures not lower than 36F.
And from what I've gathered, they are true to their word when they said this. I stumbled upon user comments that said they tried using it on days which much colder temperature and their hands went cold in no time.
If you want to have something that's warmer, you can check out the best alternatives below.
---
Best Gloves for Photographers (Video)
---
If you're on the fence and would like to check out other options then start with this video:
The best alternatives to Palmyth fishing gloves:
You can also leave a comment below and tell me what exactly are you looking for, what weather you do your activities in, and I'll be happy to suggest a product for you.
---
Palmyth Gloves Review: Final Thoughts
---
---
Palmyth flexible fishing gloves are great, and totally works for photography enthusiasts too.
It offers enough warmth for you to last a whole day capturing beautiful winter activities without a problem. Plus, it's also inexpensive.
But before buying this item, just remember it's designed for slightly cold weathers only. If you think that's all you need, then it definitely is a good value for your money.