Please note: As an Amazon Associate I earn from qualifying purchases. I also work with other affiliate partners and may be compensated from the links below. Details here.
February 3, 2021
KelbyOne vs Lynda (LinkedIn Learning): Which One's Better to Learn Photography?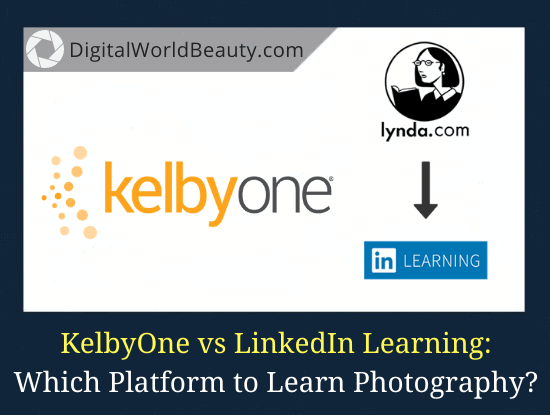 ---
Welcome to my KelbyOne vs LinkedIn Learning (formerly Lynda) comparison post!
---
Look:
There are different ways by which you can enhance your photography skills. If you would ask a professional, they'll like tell you to practice every day and to continuously learn from experts.
Now…
Online interactive classes are the new trend because of their convenience, affordability, and flexibility. There are a LOT of online courses and platforms that you can enrol in to step up your photo game.
But today, we'll look at KelbyOne vs Lynda (now LinkedIn Learning).
I'm here to help you figure out what's the best option that you can choose depending on what these they can offer, as well as some alternative options at the end of the post.
Without further ado, let's get started!
---
Inside the KelbyOne Training Platform
---
---
What is KelbyOne?
---
KelbyOne is one of the recognized platforms in the world of photography. This online learning website caters to all your needs to become professional.
==> Here's a full review of KelbyOne.
With a long list of courses being offered, you might even have a hard time knowing where to start. But their website is well organized so as not to overwhelm new members while navigating through their site.
Now…
Let's talk about what makes KelbyOne stand out.
If you want to know more about photography but you are not yet decided on what topic to take, you don't have to worry because KelbyOne offers flexible options through their membership plans that can adjust based on your needs and preferences. 
There's a way to check out the platform for free and even have access to some of the courses. It's called Campus Tour. All you have to do is sign up with a valid email address here. 
For as low as $9.99/month, enjoy browsing through their 300+ offered courses with newly added topics monthly. This membership has a lot to offer especially for those who are still a beginner.
In case you would like to shift from plus membership to pro membership, no need to sign up again, you'll just have to pay the prorated amount and you'll get immediate access in real-time.
This is the upgraded version of the membership plan for only $19.99/month. It gives you exclusive access to all products and services.
Enjoy new courses weekly, unlimited access to over 800+ courses on how to shoot and edit, expanded training tools, and help and assistance from an interactive community. 
No need to sign a binding contract since you can cancel your subscription anytime. 
Whatever membership plan you choose, it is an assurance that your first month is free of charge so you would know if it's worth your time and money.
How great is that?
Apple Association Member Purchase Program
Whether you choose a Plus or Pro plan, you are automatically eligible for the membership purchase program offered by Apple where you'll get exclusive deals and discounts in availing of their products and services.
The products of Apple such as iPad, Mac computers, and iPhones have great editing capacities that can assist you in your photography activities. 
As long as you are an active member, you'll have the unlimited privilege to purchase a variety of Apple products at a discounted rate.
Africa Wild Safaris Discount
For the Pro plan members, practice your wildlife photography skills in an adventurous place like the Africa Wild Safari. All members of this plan will have a $400 discount. 
You'll greatly benefit from this if you love traveling while capturing lots of memories through taking shots.
Get a chance to showcase your work
KelbyOne sponsors 4 gallery shows per year where they encourage their members to submit photography entries.
Your work might be chosen to be displayed together with the artworks of various artists who will participate.
Who knows, your creation might stand out and be given a big break in the photo industry. 
Convenience is the number 1 reason why people would prefer to enroll in an online learning school.
Good thing,  this platform focuses on how to make their services more accessible through app integration. 
If you don't have a computer, no need to worry because you can access all its features on your mobile phone, television, or in a tablet.
Here are the different kinds of apps that this online school offers:
Mobile App

TV App

Magazine App
---
KelbyOne Training: Pros & Cons
---
✓ What you might like about it:
Exclusive member discounts 

New course each week

800+ training classes and over 10,000+ lessons

Keep updated on what's in trend about the industry through their updated blog

In-person one-day seminars

Courses can be downloaded for offline viewing
✕ What you might not like about it:
Not easy to find the trial (free) option

not for you, if you plan on learning one particular topic only
---
Is KelbyOne Worth It?
---
Absolutely!
From its membership programs up to its features, you can say that spending your money enrolling with them is all worth it. 
If you are still in doubt, you can sign up using your valid email address and avail of their campus tour program wherein you get to try their 10 courses for free. 
I see a lot of positive feedback about how their classes are being handled by top-notch instructors.
If you are satisfied with their service, give them a good rating after finishing a course.
==> Here's a full review of KelbyOne.

---
Inside Lynda.com (aka LinkedIn Learning)
---

---
What is Lynda?
---
Lynda.com (aka LinkedIn Learning) is a versatile online learning platform that caters not only to photography but also to different industries that involve technology, business, and software.
It is a partner training tool commonly used by different companies for their employees or students to be equipped with a certain skill.
Just like KelbyOne, it offers a wide range of photography courses that cater to all skill levels.
So…
Let's discuss what makes Lynda a good choice.
As long as you are a member, the subjects that you can take is not only limited to taking photos. They also offer career-related topics that can help you build a successful career.
You can take photography topics while taking business management so you'll have a better idea if you want to make it your bread and butter. 
No need to pay extra amount even though you take more than one course because you have unlimited access to all the things that you see on their website, no restrictions applied.
This is a perfect membership plan if you are only taking photography courses for short-term only. For as low as $19.99/month, you can choose from a list of courses that you can take individually or per group.
Premium Monthly Subscription
If you want to have unlimited access to all available courses in different industries offered, opt for the premium membership. Pay only $25/month.
Personalized course recommendation
Before you become a member, you can ask them to assess your skills so they can give you recommendations about the best course topics to prioritize.
The personalized course recommendations that they provide aim to help their members spend their time wisely on courses that suit their abilities and skills. 
With their long list of courses, there are moments that the time is just spent on browsing, this feature minimizes it because as you go along the way you can just add and organize it into your playlist. This will help you plan ahead and track your progress. 
Quizzes and Certification
This platform is not only concerned about how they can attract students to enroll but they also make sure that their enrollees learned something through assessments before giving them certification.
Not all online schools provide certificates that is why for those who are earning credentials, enrolling with them is the best option.
---
Lynda.com: Pros & Cons
---
✓ What you might like about it:
Cinematic-style classes because of video quality

Provides certificate after course completion

The courses offered can be translated into five languages

Offline viewing is enabled

Well designed mobile app

Over 15,000+ expert-led courses
✕ What you might not like about it:
No point in signing up if you plan on learning one topic only

Might be overwhelming at first
---
Is Lynda (LinkedIn Learning) Worth It?
---
Definitely!
It is a great option if you wish to learn general knowledge on different topics that you can partner along with photography. 
It has attractive pricing that allows you to be flexible in choosing for the suitable course that you can benefit from. 
Since they also offer career-related topics such as business management and marketing, joining their community is a perfect choice if you want to earn a living with photography.

---
Similar Features Of KelbyOne and Lynda
---
So…
What are the similarities between the two? Let's discuss those.
A diverse collection of courses
The topics offered in these two learning platforms are almost the same. They only differ in the approach of how they present things. These are the photo courses that they offer:
Portrait and Landscape Photography,

Commercial Photography,
(Just to name a few.)
Industry-Leading Teachers
The educators make or break online school platforms. Both Lynda and KelbyOne make sure that they only hire professionals with relevant skillset about the industry to ensure that they can also pass down their best practices. 
Community Forum and Help Desk
As a rule, online learning platforms build a community where like-minded creative people share ideas and inspire each other. Those who are part of these online schools enjoy the atmosphere not only because of the new learnings that they gain but because of the new friendship that they form.
Since you are learning remotely if in case you encounter tech issues, you don't have to worry because their websites have support service where you can see workarounds on how to get things done.
These two e-schools are known to offer the best free online photography courses for the first month of subscription.
You'll just have to log in using your valid email address and you are now eligible to attend whatever class you like. 
---
Lynda or KelbyOne: Which is Better?
---
So… Which is better, Lynda or KelbyOne? As you notice in this comparison post, both of these institutions have strong points.
Even if you have zero knowledge about photography before enrolling, it is an assurance that after accomplishing a course, you will gain something to improve your skills.
In terms of accessibility and convenience, KelbyOne is number one on the spot because of the multiple app integrations where you can take your classes whether online or offline. 
However, if you would check on its courses offered, it only caters to photography-related matters, unlike Lynda that tackles a wide selection of topics in different industries.
If you are a visual learner, you can benefit more from Lynda because they focus more on their final presentation and on how they can make the quality of their video materials high-quality. 
It is considered a versatile platform because unlike KelbyOne that only caters to photography, Lynda caters to other subject matters such as business software and tools, web design, project management, mobile development, and data science apart from photography. 
Anyway…
Whatever you choose between the two, it is still a win-win situation because both of them are efficient membership-based community platforms.
Here are other articles worth checking out:
Like I mentioned, there are PLENTY of great resources out there, both free and paid. You just have to find the one that suits you best in terms of your budget and current needs/skills.
---

---
Q: How much are photography classes?
Online courses are much more affordable than attending traditional one-on-one classes. It is often less than $150 a year. Monthly subscriptions can be as cheap as $9.99. 
You'll just have to make a research about the institutions that offer affordable yet worth its packages.
Q: What are the best CreativeLive classes for photographers?
I have actually written a separate article on KelbyOne vs CreativeLive. Check it out!
Q: Best Udemy photography course?
Like other online schools, Udemy also offers photography and editing courses that are in trend. It's hard to just name ONE great course, when there are plenty and in different genres.
Either way, I encourage you to check out my comparison post of KelbyOne vs Udemy here.
---
KelbyOne vs Lynda: Thoughts?
---
In short:
It takes great effort, determination, and patience to master photography.
KelbyOne and Lynda are both a great foundation to start your career.
Now that I have gone in detail about these two platforms, you already have a better idea about the most suitable company that will cater to your needs.
I'd like to hear from YOU:
What can you say about the features offered by these two platforms?

What are your thoughts on KelbyOne vs LinkedIn Learning?
Share your thoughts and experience with us in the comments below!