Please note: As an Amazon Associate I earn from qualifying purchases. I also work with other affiliate partners and may be compensated from the links below. Details here.
August 1, 2020
KelbyOne vs Udemy: Which Platform to Choose to Learn Photography? [Compared]
---
Welcome to my Kelbyone and Udemy comparison post!
---
Look:
Nowadays, learning and mastering photo skills have been made convenient and easier through the help of interactive lessons that you can take online.
There is a notion that joining the e-learning platforms is expensive.
In my opinion, this is partly true but with the number of people that offer different courses, I'm sure that you will be able to find the one suitable for your budget and needs.
If you were to google the photography-related tutorials to enhance your skills, KelbyOne and Udemy would definitely be in the top results.
Here is what to expect today:
What are KelbyOne and Udemy?

What are its features?

Their advantages and disadvantages

Is either one worth enrolling in today?
Without further ado, let's get started!
---
What is KelbyOne?
---
---
KelbyOne is an online learning community that aims to help photography aspirants to master the skills.
It offers more than 10,000 videos that scope different genres such as portraits, landscapes, sports, products, fashion photography, etc.
It is perfect to enroll on this platform even if you are also busy with other things because their tutorials are offered 24/7 so you can choose a time slot anytime and anywhere.
Now…
Let's get into the features of KelbyOne.
---
Features of KelbyOne
---
If you were to become a member of KelbyOne, you'd enjoy unlimited access to its lessons and you will be given the freedom to choose for the subjects that you are interested in.
It offers three membership options:
the campus tour,

standard membership, and,

pro membership.
1) The first option is the campus tour, which is free of charge. If you want to have a sneak peek about what KelbyOne offers, go ahead and sign up using your email address.
Here's the kicker:
If you are still undecided about whether you would enroll for a paid membership, you can try and enjoy 10 courses for free just by using a campus tour account.
Isn't it amazing?
2) The standard membership is a popular option because it offers at least 300 courses with added fresh content monthly.
It only costs $9.99 per month and $96 yearly with a 20% discount if you pay in full.
3) The last option is the pro membership that costs $19.99 per month and only pays $199 as a one-time payment annually with a 40% discount.
You get to enjoy 800+ tutorials with weekly added subjects. What's good about this membership is that you have exclusive perks and discounts to different partner stores where you can buy photography accessories.
So…
The question is, what is the most recommended membership plan?
In my opinion, choosing the best kind of subscription depends on your needs and preference.
Whatever plan you choose, you won't be in the loss. Why?
First, because you get a lot of value for your buck. And second, because they offer a money-back guarantee, should you want to get a refund for whatever reason.
What's good about this school is that they have interactive activities for their members to build connections.
They organize seminars and conferences with hands-on activities for their registered students so they can apply their knowledge in practice.
They are also given a chance to feature their creations in KelbyOne's gallery which happens 4 times a year.
This online platform has ways on how they can further reach out to their members. 
Best part?
Aside from the live classes, they also have photography materials where members can showcase their works and where their subscribers are given another option to learn. 
This is their own digital publication where you can see a summary of the live courses offered in text-based information.
Those who have standard membership can have access to recent publications while pro members have access to all information, archived or not.
(There is a new magazine publication archived every month for each course.)
Feel free to subscribe so you will be notified if there are new uploads.
If you want to have a break from watching live videos, you may read their blogs that have a wide range of topics related to photography.
There is a total of 5 blog posts being produced each day that is mostly about new updates, latest gears and accessories released, as well as controversies and issues related to this industry.
Their blogs aim to attract a wider audience. 
Since members of KelbyOne have exclusive perks, they send out an email newsletter each month that features new tutorials, releases, partner stores discounts, and other exciting information to look forward to.
If you are not interested in getting updates from them, you may opt-out. 
But receiving updates on a monthly basis will help you know what to expect especially if you are eyeing on a new topic to be available.
---
Advantages and Disadvantages of KelbyOne
---
✓ What you might like about it:
Courses are a combination of live and recorded training

Lessons are focused on photography

Forum and help desk for members

Creative tool kit for hands-on training

Monthly issues of digital user magazine
✕ What you might not like about it:
Not recommended if you intend to learn one topic only

Slots are usually limited; If you don't have slots you'll be on the waiting list
==> Click here to read my KelbyOne review.
---
What is Udemy?
---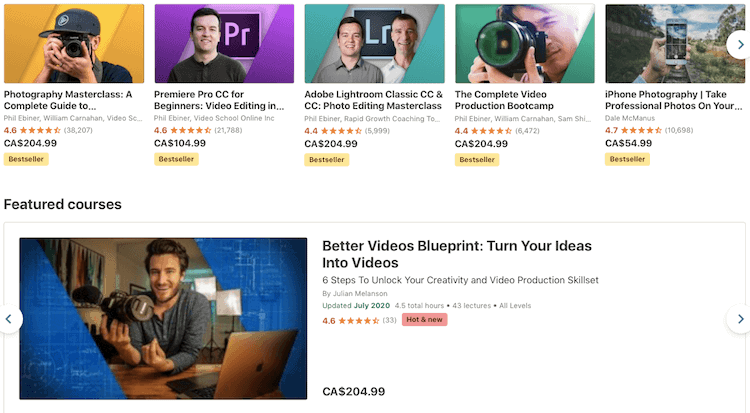 ---
Look:
Udemy is a popular American online learning platform that serves as a live virtual classroom for beginners and professionals alike.
As their vision states, "help anybody learn anything online".
Unlike other schools that only cater to photography, Udemy offers diverse courses in different industries such as business, entrepreneurship, technology, and so forth.
So…
If you are planning to learn multiple things in just one subscription, this is the best option for you.
It's also a go-to platform for those who have a tight budget because they have a lot of tutorials that are free depending on the instructor who will handle it.
Now…
Let's get into detail about Udemy.
---
Features of Udemy Platform
---
Most online 'institutions' make use of a membership system where you have to pay for subscription, whether monthly or yearly.
One of the unique features of Udemy is the pay-per-course service that ranges between $9 to $300.
It is a good option for those who are only interested in taking up one tutorial.
This platform value the worth of your money that is why if you are unhappy with the way their instructors deliver their lessons or if you can no longer continue your enrolment for whatever reason, you can go for their 30-day money-back guarantee.
Certificate of Completion
As proof of progression, you will be receiving a certificate after you finish a course.
This is great for students and even professionals who are required to get education credits.
And the good news? 
If you are in search of a job, certificates that you gained from Udemy can be included in your portfolio so there are higher chances that you'll get hired.
Even if you only enrolled in one tutorial, you can review and re-take it a limitless number of times without any additional cost. It is like you have paid to own it.
If you are mastering a particular skill, you can go over with the same material over and over again until you become a pro.
For those who do not have flexible schedules, you will still have the opportunity to have access to it anytime you want.
Isn't it great?
Instructors have the freedom to teach their preferred topics. 
They are not just educators who are knowledgeable about the subject but it is an assurance that they are also experienced in their field.
All types of learners can easily relate since all lessons are presented in the most simpler and creative way.
---
Advantages and Disadvantages of Udemy
---
✓ What you might like about it:
Lifetime and immediate access

No pre-qualification necessary to take any course

Low-cost tuition

Accessible in all internet-connected device

The app's interface is easy to navigate

30-day refund policy

Certificate of completion
✕ What you might not like about it:
Courses cannot be saved to be used for offline training

Instructors are recorded instead of doing live training

Pricing can be confusing because each tutorial offers different rates
==> Click here to join the Udemy training community today!
---
KelbyOne vs Udemy: Which Is Better? 
---
When it comes to enhancing your photo skills, there are a lot of options to learn it. 
You can just type in the topic that you wanted into the search engine and you will automatically get results.
However, if you have the budget, you may enroll in online platforms where you can get specialized training so you can easily learn based on your preferred style.
Truth is…
You can never go wrong choosing between Udemy and KelbyOne. (Or other online platforms like CreativeLive and LinkedIn Learning.)
In fact, they both cover all topics related to photography.
There may be things to consider when deciding on where to enroll but just make sure that it suits your abilities and skills.
Bottom line…
Join KelbyOne if you want to learn different courses because their membership consists of bundles where you can save money while enjoying countless perks that they offer.
If you are a student that needs educational credits or a professional that wants to level up photography into a business, Udemy is the ideal option.
---
Udemy vs KelbyOne for Photographers
---
So:
Now that I have gone in detail about these two top online photography schools, I hope you have a better idea which platform to enroll in as a beginner photographer.
As you have noticed, they have their own uniqueness that stands out but they also have downsides that you need to consider.
Now…
I'd like to hear from YOU:
What are the features that you like most in a photography school?

What training platform would you choose to learn digital photography: KelbyOne or Udemy?
Any questions, comments, suggestions? Let us know your thoughts in the comments!
---