Please note: As an Amazon Associate I earn from qualifying purchases. I also work with other affiliate partners and may be compensated from the links below. Details here.
October 17, 2021
Mixbook Review: Make Memories Last Longer!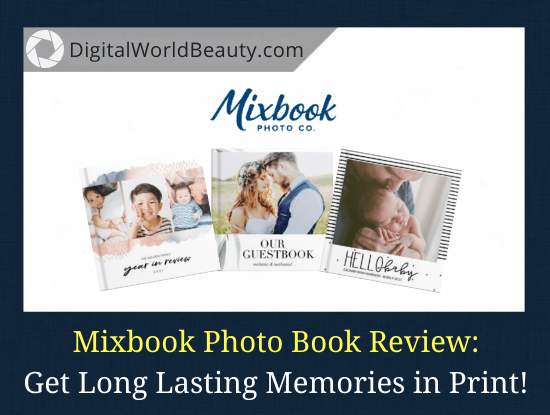 ---
Find out if photo books are for you with this Mixbook.com review!
---
Living in a highly digitalized society, we became too comfortable storing our photos and videos electronically. While it's very convenient to just simply browse through your phone gallery to reminisce your unforgettable times, nothing beats the feeling of seeing these images in print. 
Though digital files are much easier to carry around, it poses some risks to your data as well. Malicious viruses may attack your files, which can often lead to unrecoverable loss. If you treasure your pics too much, it wouldn't hurt to have another form of backup, would it? 
Mixbook.com has a great way to ensure you don't lose those precious memories in a blink. This is a personalized book that will contain your chosen photos. It will be printed on paper and become an upgraded "photo album" that you can confidently show whenever someone visits you. 
In this Mixbook review, I will share the following:
what is a photo book

how to make your own book album

the pros and cons of printing your pictures
…and so much more!
Without further ado, let's get into the details.
---
What Is Mixbook Photo Book?
---
Mixbook is a company that creates and sells photo books to people who need them. Basically, they turn your wonderful digital files into fine prints that you can physically display at home. 
The thing about putting your pictures in a book-style album is that you can share them with other people without reservations. Unlike photos saved in smartphones, you probably have some other stuff in the gallery that you'd rather not let some people see, right?
Aside from albums, they also offer other products like personalized calendars, cards, and decorations. These are perfect souvenirs and giveaways during parties and events. This will definitely ensure your guests and friends won't forget the good times they had with you. 
---
Are Mixbook Photo Books Good?
---
Mixbook is one of the most popular photo book manufacturers today. Not only do they have a wide customer base, but they also have a global reach. And that in itself already tells us something good about the company. 
Quality-wise, the products are wonderful. They use high-quality photo paper in printing your pictures. This makes them look and feel more special than they already are, doesn't it? 
The binding quality is also exceptional. The thing about normal photo albums is that they somehow get torn over time. But with this made into something like that of a book, tightly bound, it will certainly last longer.
---
How Does Mixbook Work?
---
The thing that usually stops you from purchasing stuff online is how the entire site works. If the ordering process is quite tedious and burdensome, you'll probably end up closing the tab and look for other sites instead. With Mixbook, you won't have to worry about things like this. 
Here are a couple of things you can expect when ordering a product from their site:
Their software is pretty straightforward. You go to the site, browse the pre-designed templates, upload your images, and you're all set. All that's left for you to do is to arrange the pictures by yourself if you are not satisfied with how the overall layout turned out. 
They have more than hundreds of available designs that you can choose from. Plus, these layouts are divided properly into different categories so that it's easy for you to find what you are looking for.
Planning to do a birthday photo book? Just head to that section and you'll certainly find lots of beautiful templates that you can easily use.
For experienced editors, there's also an available blank canvass where you can start from scratch. Once you choose this, you will do the album layout and arrangement, making it more personal. You can add anything that will remind the recipient about you. 
One of the best things about this company is that they don't only offer photo books. They actually have so many products you can get – cards, home decors, personalized calendars, and other fine prints you might want to purchase. 
Right now, among the most popular ones is the year-in-review photo book. It is a convenient way to summarize your most precious moments within the year. The best thing about this is that you have the option to directly upload the contents from your social media accounts, making it easier for you to find the pictures you are looking for. 
One of the main things you need to consider when weighing your options for which site's services to avail of is their pricing. It doesn't necessarily mean you need to find the cheapest one because, at some point, there will always be a trade-off between quality and price.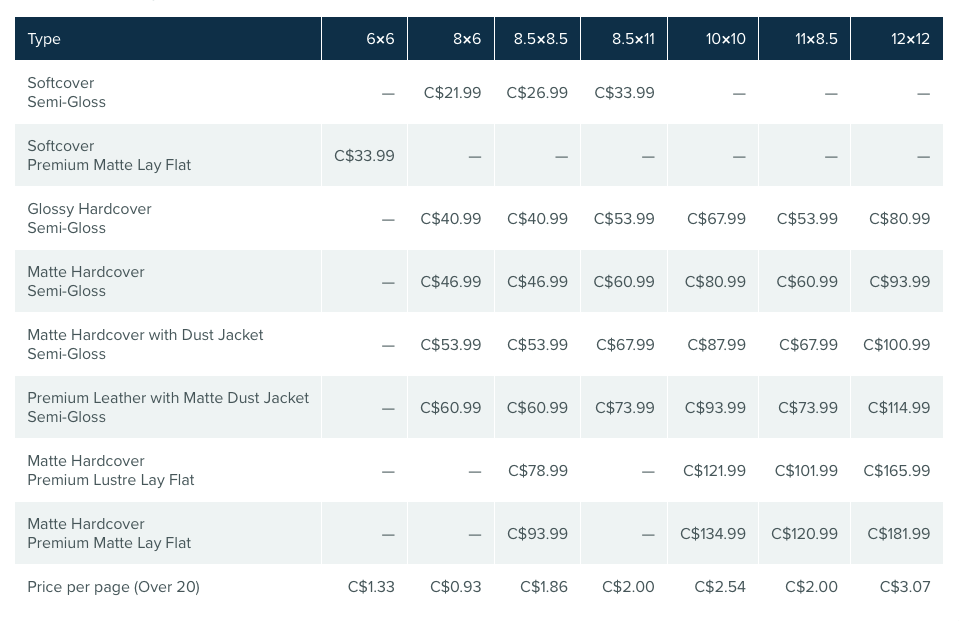 You just need to go for the one that offers you the best value for your money, and Mixbook might just be that. Their prices are reasonably affordable, considering the price-quality ratio. 
For example, most photo books are priced starting at $15.99 with 20 pages and a softcover. For this price, the album will have a landscape layout and will have a size of 8″x6″. But of course, upgrades are always available for you. 
You can choose to have the layout in square or portrait formats. You may also choose the kind of paper you want the images to be printed on. Additionally, you may choose different sizes and cover types as well. In short, it's a fully customizable book!
For this basic book, it will cost you about $0.69 per additional page with a maximum of 399. So if you want to have more pictures in the album, you have to pay a little extra per page, which is quite fair enough. 
This is the part where it gets interesting. Most sites can offer you a processing time of 3-5 business days, but Mixbook does it within only 1-2 business days. That's quite speedy!
After you have completed your book and placed your order successfully, you just need to wait a couple of days for it to be completed and they ship out right after processing. 
Depending on your location, it could take a week or three to get the parcel delivered to your doorstep. For this part, the company really has limited control over the shipments (or none at all). Once the products are forwarded to the courier, it's now the courier's timeframe that's being followed. 
But of course, the company ensures the delivery is expedited, especially if you paid for Express shipping. And if you didn't know it yet, they offer several shipping methods you can choose from – Budget (6-11 business days), Standard (5-7 business days), Priority (4-7 BD), Express (4 BD). 
==> Click here to check it out.
---
Mixbook vs. Shutterfly
---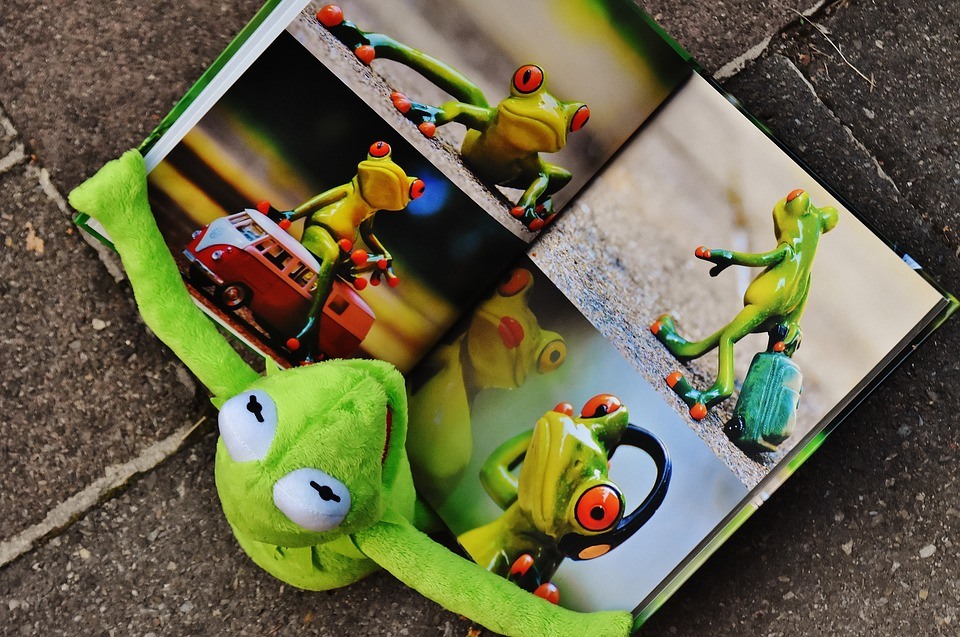 ---
Since there are several companies offering the same printing services, it's not unusual to hear some people compare Mixbook with competitors, specifically, Shutterfly. Well, there are some good reasons for this that you'll find out below!
Number of Years In Service
If you base your judgment solely on the length of time the platform has served customers, then Shutterfly will certainly win. It has been around since 1999. Meanwhile, Mixbook is a younger company that was established in 2006. 
Given that fact, it's understandable why SF has more following and customer reach compared to its younger rival. But it's also right to note that MB is picking up its pace and gaining more and more loyal customers by the day. 
Now, when you talk about the general quality of the products, these two are nip and tuck. They both have a high-quality output that will keep you satisfied. From the binding itself, up to the kind of paper used, they both really stand out among the rest of the other platforms today. 
When it comes to prices, it's really neck and neck for these two as well. Although, in the long run, Mixbook's pretty much got the lead in this area. 
They're quite transparent with the pricing plans, so you don't have to keep guessing how much you'll be paying for the kind of photo book you want. In short, even from the start, you will have an idea of how much you need to spend for the desired number of pages and the type of paper and cover you'll be needing. 
On the other hand, though Shutterfly has an almost similar pricing scheme, they go big on the add-ons. If you try to order a standard book, you'll get a really simple and classic design which is a bit inferior compared to the rival's basic offer. 
So now that you know some of the differences between the two companies, I'll let you decide which one you want to go for. After all, it is a matter of personal preference. 
But, before I forget…
I've been hearing so many people ask this question: are Shutterfly and Mixbook the same company? 
The answer? NO.
---
Why Turn Your Pictures Into A Book?
---

---
Now…
It's about time you start wondering, do I really need to print my photos and turn them into a book? If you're looking for reasons on why you should do it, then I'll share a couple of things with you here:
Digital Data Can Easily Be Deleted
As amazing as it seems, technology is nowhere near perfect. There will always be risks associated with keeping digital files. One of the most daunting is a file infected with a malicious virus. Because of this, your images might end up getting corrupted. Or worst, you might lose them forever!
Though most storage devices have high-level encryption and security measures in place, you can never be 100% sure it's foolproof. So, aside from keeping an electronic copy, why not have them printed as well?
When you decide to have your pictures printed, it doesn't always mean it's only as a personal keepsake. In fact, you can turn them into giveaways and mementos for guests at an event, or just simply something you give to your friends and family. 
Sometimes, it's good to have a tangible reminder of how good those memories with them were. It's would be more special that way. 
For most of us, smartphones have become an extension of ourselves. We save almost everything on our phones – notes, memos, pictures, videos, and everything else that can be stored electronically. 
Now, unless you are super-duper close to that person, it will be hard for you to entrust your phone gallery to her, right? Sometimes, we have very personal photos we don't want others to see, and that's very normal.
If you print them out into a photo book though, you can choose whichever you want to include in the album. That way, you will be confident enough in showing your guests, relatives, and friends all the things in there. 
Pictures are not only meant for regular-sized albums. Sometimes, you want to have them bigger so that people can see them better. The good news is that printing photo books will allow you to do just that. 
Mixbook, in particular, allows you to choose from various sizes according to your needs. Right now, they have 8 kinds of album dimensions you may pick: 6×6, 8×6, 8.5×8.5, 8.5×11, 10×10,11.8.5,12×12, and the largest which is a 14×11″ book.
This way, you'll have more freedom on how big you want your photos to look on paper. If you have HQ images, then the bigger the print size, the more details will be seen on the output. This will showcase not only your photography skills but also your camera's quality as well.
---
Mixbook.com Review: Final Thoughts
---
For those of you who are looking for ways on how to preserve your images in a unique way, Mixbook photo book is a great concept. Aside from their main product, you can also get other high-quality and personalized prints for all your souvenir needs – for any occasion, at that. 
==> Click here to check it out.
No need to worry if you don't have editing and layout skills because their existing templates and designs will have you covered.
Actually, there are lots of options to choose from for whatever theme you want, so it's gonna be convenient. The hardest part will only probably be choosing which photos to include and which among them to highlight, HA!
Now, I'd like to hear from YOU:
Did you find this Mixbook photo book review helpful?

Have you ever bought one from them?

Was the quality up to your expectations?
Share your thoughts in the comments section below!