Please note: As an Amazon Associate I earn from qualifying purchases. I also work with other affiliate partners and may be compensated from the links below. Details here.
November 27, 2021
Shaw Academy Courses: Is Shaw Academy Legit or Scam? (TERRIBLE Reviews!)
---
Welcome to Shaw Academy reviews 2022. (You might be disappointed.)
---
Look…
You've probably been taking photographs for some time now, and start wondering whether or not taking an online photography course is worth it.
Is Shaw Academy legit? My opinion is that investing in yourself is the best kind of investment. BUT I'd be highly cautious with Shaw Academy platform because their practices are bordering on scam. ("The free cheese in a mousetrap" comes to mind.)
In this review, we'll answer the following questions:
Is Shaw Academy legit or scam?

Is it really a free online course?

Should you invest in their (photography) courses?

Are the classes accredited?
Or are you better off learning elsewhere?
Let's find out!
Shaw Academy Review 2022: Summary
---
Company: Shaw Academy
Website: https://www.shawacademy.com/
Chairman: Stephen Murphy
Product Type: Online courses (beauty, photoshop, etc)
Price: $69.99/month
Rating: 1/10
Recommended: No really
---
Look:
I love reviewing digital products and discovering great tutorials for beginners and enthusiast photographers.
Shaw Academy kept popping up in my social media ads for years and eventually I joined their affiliate program in case it would be a platform I'd end up recommending.
Then I did some research, read articles, and delved into multiple comments sections.
I wanted to learn as much as possible so I could both inform you of what Shaw has to offer, but also to make an educated decision before committing to anything.
>> Spoiler Alert: I ultimately decided not to sign up. Spammy/scam-like practices and impossibility to delete Shaw Academy account are certainly the reasons.
In this article, I'll essentially be conducting a review on the entire platform, specifically about the photography courses they offer, and whether or not the academy is credible.
We'll go over prices and what people have been saying about the platform.
I will share my thoughts, which aspects I think are strongest, which fail to meet the standards, and what to do to minimize your financial risks.
Keep reading till the end of the post because there are better alternatives for you to consider. Or you can have a look at CreativeLive, a great membership platform that offers various online courses.
Best of all, CreativeLive is proven and comes with a lot better price tag. Check it out here.
---
---
What is Shaw Academy?
---
Before we discuss that, I just want to share this video I stumbled upon on YouTube while doing some research.
This is the review of an actual user – who has had, let's say, several not-so-pleasant experiences with this company. Is the "free" trial really free? Find out below:
Now, I'll let you be the judge after seeing this video. But of course, it wouldn't hurt if you give this platform the benefit of the doubt by reading on the rest of the review, would it?
So…
What is Shaw Academy?
Shaw Academy is an online learning school that offers certifications in a list of fields, including marketing, technology, beauty, and language. They've been around since 2013 and have catered their 100+ courses to over 12 million students at the time of this writing.
Fees currently begin at USD$69.99 per month, with a yearly payment plan available for those interested.
==> Here's a BETTER (and trustworthy) learning platform.
---
How Does It Work?
---
According to their website, it's as easy as picking a course, attending 2 classes per week, completing the required tests and exams, and getting your certificate.
The website has a list of all their diplomas and courses available to take. As an added incentive, first-time members are offered 4 weeks of free courses. 4 weeks is the normal length of a course. In other words, one course is on Shaw!
At this point, maybe you are wondering, how are courses run?
Well, they use a proprietary learning platform called Phoenix. It delivers the lessons, manages assignments, and administers examinations. Pretty much just like regular schooling – simply schedule a lesson from their options, and you're set.
Classes are normally last for about an hour and are advertised to be live recordings. But as you have seen in the video, this isn't the case.  On the plus side, these modules are available for viewing later, alleviating any time-zone or commitment issues. 
But there's a catch:
You cannot rewind the video while it is playing (since they said it was "live"). So in case you miss a portion of the lesson for whatever reason, then you have to wait until you finish the entire course. This way, you can go back and rewatch it.
In case you have any questions during class, other students and an AI bot are there to answer your questions. You will have weekly assessments as well as an exam at the end of the course.
==> I recommend CreativeLive instead.
---
Photography Courses at Shaw Academy
---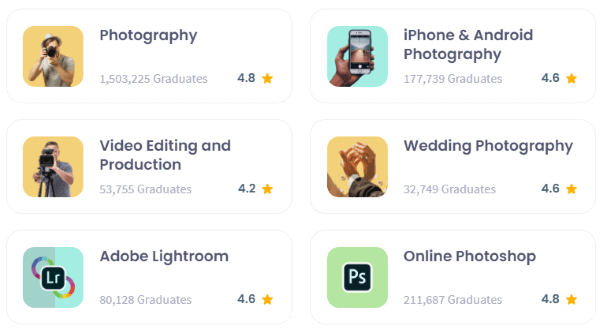 ---
Shaw currently offers 6 different courses in photography. They are:
The academy's photography section seems to be their most popular, with over 1.5 million graduates, while the second most popular is the Online Photoshop course, sitting at a little over 210,000 graduates.
Each course is made up of 4 modules, one module making up 4 weeks. Since the first 4 weeks are free for first-time users, you would need to pay for the remaining 3 should you choose to complete the course.
An e-certificate can be purchased after completion of a module for an additional fee. Diplomas are only awarded after completing all 4 modules and paying an extra fee.
---
Is Shaw Academy Legit or a Scam?
---
So…
Is Shaw Academy legit? Or is Shaw Academy a scam?
As far as I can tell, it seems that the actual lessons are informative and legit. While much of your photography skills will come from actual practice and learning as you journey through the industry, these learning resources still help add up to your knowledge bank. 
However, having no guarantee if any experts are in attendance to answer your questions isn't really enticing.
Some of the instructors, if I may say, are amateurs or hobbyists.
Not that I don't think they are not qualified, but of course, it's a different story to have a coach who is an expert in that topic. While there is no shame or fault in being a non-expert in a given field, I don't think they are best equipped to teach online.
What difference does it make if I learn through Shaw or any free website if neither guarantee an expert present on the platform when I need them? Gotta think about that. 
That's not all…
Several users have mentioned how the platform tries to upsell you and convince you to upgrade to a full membership near the end of your course. They go as far as to have the lecturers really advocate for the premium membership.
It's a bit distracting if you ask me. I'm not here to buy your services every time I log in, I'm here to learn!
==> Check out CreativeLive instead.
Bottom line:
The information itself is legit BUT their practices with hidden fees, unauthorized charges, and the impossibility to cancel their subscription is bordering on scam.
Here's why…
---
Feedback and Failures
---
---
During my research, I came across a plethora of negative reviews and please-stay-away's. Even the positive reviews felt either uninspired, lackluster, or over-the-top enthusiastic.
In other words, nothing genuine or convincing. This is because of a long list of shortfalls from Shaw Academy.
Things that shouldn't be a problem end up being a major problem. Let me list a couple of the bigger ones for you:
"Registering is a nuisance"
As one user puts it, registering is in fact a nuisance. While doing my research, their website seems a tad aggressive with selling their service.
Every page is designed to sell you their platform with the promise of free education for 4 weeks, and there's no escaping it.
For example:
I clicked on a "Start free trial" button and was unable to exit the prompt afterward. Even clicking the X button did nothing. I had to refresh the page to continue browsing the website.
One user recounts his experience with signing up as a "nuisance". They mention inputting their contact information and immediately being "bombarded" with notifications to download their mobile app.
Nowhere does it mention it's necessary to have the app (it's not mandatory.) They were also recommended to purchase the course tool kit for an improved experience. No prior mention, either, you're only told about it after the fact.
(Oh by the way, as the actual user in the video said, each class has its own tool kit! So imagine being sold separate ones for enrolling in several lessons). 
Once again, not obligatory. Shaw simply words it in a way to make it seem mandatory.
Hidden charges and no reminders
Shaw has a nasty habit of hiding a lot of hidden fees from the public. And it starts from the moment you register!
When you're registering for a free course, Shaw requires that you enter your credit card or PayPal information. You might think, "that's not malicious, that's in case my 4 weeks are up and I need to pay for the next period."
I would agree with you. However, I found out that Shaw often charges you for the next month before the 4 weeks are up. Not only that, they don't send you reminders either. If they do, it's been reported to happen short hours before your subscription expires.
This happens even if you have them set on. It seems there is an issue with the system in sending reminders on time, or even at all.
Hold on… There's more!
I've already mentioned the fee for getting either your e-certificate or your Diploma. The reason why I kept bringing it up again is that this information is not readily available.
You can't find it anywhere when signing up or when looking at the courses they offer. I was only notified of this from reading people's experiences.
I had to dig into their FAQs (found at the bottom of the page,) to confirm this. The worst part is they don't announce the prices; it's just a statement saying there is a fee to be charged.
They paired this with a platform designed to entice the user to make rash decisions they can't take back; limited deals, persistent emails, and notifications, it's all made to convince you to subscribe.
On top of all of that, a lot of their services are one-click purchases. It's too easy clicking a button to learn more and finding out you've just bought a month of courses you weren't convinced of.
I'll say this…
I would suggest you be careful. I mean they are being investigated by Trustpilot due to so many complaints by people. And there are a LOT of Shaw Academy complaints everywhere.
If you really want to give the platform a chance, use a Prepaid Mastercard/Visa when signing up for a free trial, so that they don't endlessly charge you without your permission.
Fun fact:
When you type Shaw Academy in Google search bar, the Autosuggest suggest the following… "refund", "phone number" (for cancellation), "customer service" (again to cancel), "scams", "complaints". Hmmm…
I mean that raises a lot of red flags and makes you wonder what's up.
Canceling your subscription
Treat this as your "how can I cancel my subscription on Shaw Academy" guide –  because it's a bit lengthy.
According to one previous subscriber, Shaw really doesn't want you to leave. They would rather let you go in circles than get you off their list.
As I've mentioned before, they've designed their platforms to keep you subscribed. They have this not so easy-to-use UI when it comes to canceling; misleading links, small cancel buttons, and pages upon pages of "are you sure you want to leave?". 
Just like I had to go searching for information on the Diploma, this subscriber had to navigate their website to find the page that started the cancellation process.
Unlike social media and streaming websites, where deactivating and deleting your account is no more than 3 clicks away, Shaw has you confirming your cancellation multiple times.
As if that's not enough hassle…
The final step is to call a dedicated number to end your subscription. Don't worry about explaining to somebody why you're leaving, though, it's an automated response bot on the other end of the line.
And if that didn't raise a red flag, this user reported getting emails from them even after they had confirmed their termination of service.
Another Shaw Academy complaint was regarding their customer service. After failing to properly cancel their subscription and subsequently asking for their $40 refund, one user was offered hundreds of dollars worth of courses from a customer service representative.
If you think about it carefully, why would the company offer free service valued at $600+ instead of refunding $40?
Reviews like these are countless. It's no wonder everyone is looking up how to cancel a Shaw Academy subscription. Some people can't cancel without calling their customer representatives. It's pretty crazy how complicated it is!
Because of that, this company is bordering on scam.
---
Shaw Academy Scam? (Final Thoughts)
---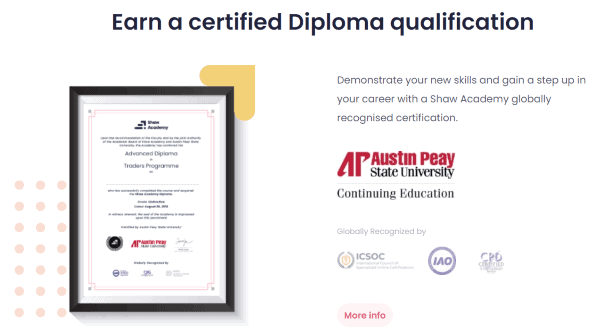 ---
There are entire courses and physical schools focused on photography and its different disciplines and approaches. However, the convenience of having all this valuable information at home through the Internet is really appealing. 
I set out to find an online course that could teach me something new. Perhaps brush up on some old knowledge while learning a new technique? But, the more I read about Shaw, the less convinced I am of their authenticity.
Now, let's answer the burning questions you might have:
Q: Are Shaw Academy courses good?
The courses themselves might be decent, but the fact that you get tricked/get charged without your authorization, and impossibility to delete your account or stop the payments is very very off-putting. Cancelling accounts shouldn't be this complicated.
Q: Is Shaw Academy legit?
From an educational standpoint, yes. They will give you an education and a certificate/diploma to prove it. (Or so they say.)
Q: Is it really free?
Technically, no. Your first 4 weeks as a first-time user are free. But there are hidden fees in course materials and such.  
Q: Does Shaw have good photography courses I would be interested in?
Yes, they cover a good range of photography topics.
Q: Are Shaw Academy courses accredited?
Yes, triple-accredited, according to this article by UK Tech News. However, other sources say that it's not entirely true.
I mean, they had an accreditation by Edinburgh Napier University which they lost in 2019. Also, if you search the CPD Standards Office, you'll see that Shaw Academy is not CPD accredited as they claim to be. Lots of red flags there.
Q: Would I sign up for a course?
It's a hard no. Despite having courses that actually prove to be beneficial and informative, I'd rather not waste my time with an academy that's more concerned with selling education than providing it.
Though it promises you a certificate or diploma, that's just about it. Other than this, the platform is more of a "business" rather than an online learning space.
Besides, there are a lot of wonderful platforms and instructors on the internet that you can check out. Below are one of the best online photography courses today…
Q: What are good Shaw Academy alternatives? 
If you're looking specifically for photography courses, check out the following:
Like I If you're looking for general e-learning platforms that's not only about photography, then consider the following sites:
CreativeLive

Skillshare

LinkedIn Learning (formerly Lynda)

Udemy
Like I said, after having done extensive research the Shaw Academy courses are not really worth it. But, the final decision still lies with you. After all, it is you who will enroll in the classes.
Now, I want to hear from YOU…
What do you think about this Shaw Academy review 2022?

Is it legit or a scam?

Are you willing to take the risk and invest in it, o

r are you better off learning somewhere else?
Let us know your thoughts on the comments section below!