Please note: As an Amazon Associate I earn from qualifying purchases. I also work with other affiliate partners and may be compensated from the links below. Details here.
August 13, 2022
What Is GuruShots? Is It Worth It? Your 13 Burning Questions (Answered!)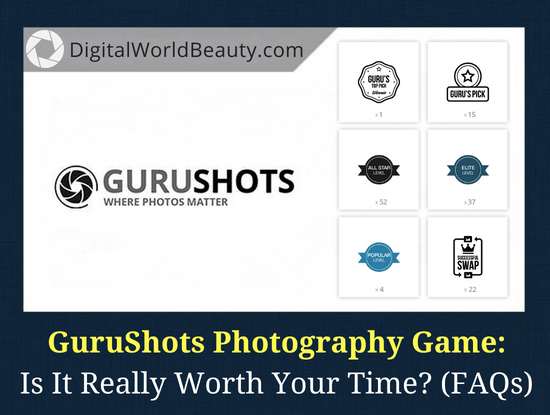 ---
Look:
If you're looking for a photography-specific platform, then you may look into GuruShots – a fun game with daily challenges and rewards for photographers.
It is a worldwide photo contest, and it's an interesting way to challenge yourself, to step up your photography game, get exposure, and meet like-minded folks in this community.
Now…
In this article, it won't be exactly a GuruShots review, but rather some of the frequently asked questions you may have about this platform and will offer you more insights into it.
You'll also have answer to your question: Is GuruShots worth it?
Without further ado, let's get started.
---
What Is GuruShots?
First things first, check out the video below to understand what is GuruShots.com about:
---
Is GuruShots rigged?
The most straightforward answer is "No."
Suppose you are a photographer looking forward to gaining exposure and validation for your work and determining your skill set against other artists while enjoying a game. In that case, GuruShots.com is the right platform for you.
As an online gaming platform for photographers, it emphasizes prize winning more than the participants' talent. Competitors spend a lot of time on the website to increase their visibility.
Are you looking for an online space where you can gauge your photography artwork skills with another artist for fun? Is GuruShots a con? No, this app is legit. However, in a game, one has to compete to win competitively. GuruShots is a great start.
Now, here's one of the common critiques you might come across:
There are numerous ways to expose your photography work without spending hours on the website voting to gain visibility. Furthermore, nobody cares about your award-winning budges outside of this website.
Some would argue (and shared their feelings) that it is just an illusion of space, and your photography work means nothing outside this URL. In the end, you just have an empty feeling as the virtual interaction bypasses anything that one considers socially fulfilling.
But a lot of folks actually DO enjoy this game-like social platform, and it's a great way for beginners and enthusiasts to improve their photography skills.
---
Can you make money with GuruShots?
Are you an upcoming photographer looking for avenues to make extra cash? The simple and direct answer is "yes." While Guru is not a platform for selling artwork, you can still make money.
It is a legit website that allows participants to compete and win big prizes. GuruShots is free to download the app. It has partnered with big brands like Skylum, Kodak, and Adobe, among others.
READ ALSO: Is PhotoJobz Legit or Scam?
How do you make money on GuruShots?
While the app is free to join, one has to pay to play. It is built on the premise that contestants have to pay to win. The more the fills, swaps, and keys, the higher your chances are for winning.
The participants upload a photo into the competition, which immediately gets many views. However, after reaching the set maximum, the views start slowing down or stopping until the maximum views are increased. 
Also, bear in mind that the voted view differs from standard views.
The "voting view" is the number of times a photo has been viewed in a specific challenge. The standard view is displayed on the photo as the number of times a photo has been viewed on the platform.
What is the difference between the two? 
The one with the most votes becomes the winner of a prize worth $300 or more.
==> Here are the 10 ways to make money with photography.
---
How do you win GuruShots?
Have you joined GuruShots with the sole intention of winning big? Are you wondering what you can do to win?
First, remember that it is a game, and the chances of winning are slim. However, you can use some features on the site, like an exposure bonus. These will allow your photos to get noticed, resulting in more votes in the competition.
Other features like fill can assist in filling up your exposure level. The competitor with the most votes gets to win.
Check out this mini review of GuruShots by Michael Ronin, and how he thinks this platform could use some improvements:
---
How do you get more votes on GuruShots?
In the video above "Why GuruShots Sucks" by Michael Ronin, he mentioned the flaw with the voting system where your voting meter will increase if you vote POSITIVELY on images.
So many people might abuse this, and vote "yes" just for the sake of voting and having their own photos exposed. (Which is not exactly fair.)
In any case, here's what people do to get more votes:
Selective use of the out-fill option:
Choosing the right time to vote or using auto-fill is the best strategy to maximize your photos' exposure level. Utilize your auto-fill feature during the day when competitors are looking at voting on photos on the platform. 
Swapping at a specific time is the key to gaming and gaining the highest ranking. After swapping a new image to replace the existing one, the new one gets an exposure bonus, the same as your other existing photos.
Reading and complying with the challenge guidelines: 
Reading aims to ensure your photo complies with the competition guidelines. 
Upload high-quality photos: 
To ensure you receive the highest votes on your images, you must ensure it's of high quality.
---
Is GuruShots free?
Yes, GuruShots is a free app to download. It features millions of participants globally. Also, the app does not require any sort of membership fees to use. If you are an upcoming photographer looking forward to exposing your artistic work without spending GuruShots is your best option. 
However, you must utilize some features to promote your work visibility on this platform. These are not free to use.
To unlock a single key that will allow you to boost one photo will cost $2.99. Five fills can expose all contest submissions to thousands of viewers at $1.99.
Lastly, if one of your photos is not receiving enough exposure, you can use swap. The feature allows you to swap one photo with another at $0.99.
Thus, while downloading and joining the platform is free, it will cost you some dollars depending on how much exposure you want for your work and if you are looking forward to winning big.
Not everyone feels positively about it though.
Check out the GuruShots review below by Stalemate Studios:
---
Does GuruShots own photos?
NO, GuruShots does not own photos. After uploading the photos, they end up in one's gallery. The site preserves users' right to maintain ownership of their photos.
It is similar to Instagram but lacks bio information and a website. GuruShots won't add watermarks to the uploaded photos in an attempt to claim ownership in any way.
Another common question is: Does GuruShots buy photos?
GuruShots is not a platform for selling photos. The purpose of this site is for photographers to compete against each other on different subjects. As such, you cannot sell nor can the site buy any photos.
---
How many people use GuruShots?
GuruShots users include both males and females. While the highest number of users are between 20 and 40 years, some are in their 60s using this website.
The total number of users voting multiple times a month on this platform is 4 million. That's quite an audience for your artwork. 
While a virtual connection is excellent for today's business, humans still crave physical connection. To that effect, this platform hosts at least five real-life exhibitions for its users each month.
---
What happens when you become a guru on GuruShots?
The privilege of running themed challenges comes with great responsibility for the community.
As a guru, you can create your contests and decide on the winner. If you become one in GuruShots, you have the privilege of running challenges and are in a position to issue Guru's picks and Guru's top picks. 
Now, how do you become a guru?
As the competition is running, the guru pro creator will select a few of the best pictures.
If your picture gets selected, it earns 50 votes, increasing your chances of becoming a guru. Also, you are a guiding light of inspiration that ensures all members earn the same amount of exposure and experience.
---
How does the GuruShots algorithm work?
---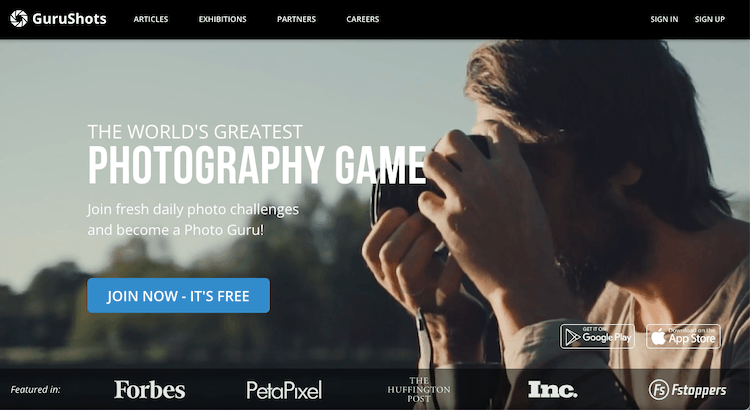 ---
The site uses an algorithm ensuring that each submitted photo gets equal exposure regardless of when it was uploaded during the challenge. The equal opportunity that each participant receives makes this game reliable and legit. 
How does this algorithm work?
After a participant uploads a photo or photos in the challenge, the voting system ensures that all photos receive the same number of views. Thus, regardless of whether you upload at the beginning or the end, all photos will enjoy the same exposure.
However, the maximum views are dynamic and change as the challenge progresses. 
After uploading a photo into the challenge, you will realize a drastic increase in the number of views until the maximum. After reaching the current maximum at that point, the exposure will slow down until the maximum amount of views is increased.
---
What is the best time to boost in GuruShots?
Boosts allow the challenge participants to gain a lot of exposure to a particular photo. Usually, they are locked during the challenge and only open randomly once during the challenge.
The free boost only unlocks for members who have joined the challenge before 25% of the challenge time has erupted or before the first 24 hours have ended. 
Thus, the best time to use the boost is to join during the stated period and swap a lot. Suppose the photo gets to the top, swap 12 hours and 6 hours before the four photo challenges and six a single photo challenge, respectively.
If you join too late, you might miss the free boosts requiring you to use a key. 
However, in a 4 photo challenge, do not fill the exposure after the swap; instead, swap back 8 minutes before the challenge ends and fill the exposure only after the votes have stopped.
---
How do you get Guru picks?
Guru picks a little star icon that appears on your photo. This means that your voted photo receives 50 votes. Also, your photo has been selected as a winner of the Guru top pick award.
How do you get guru picks? You only receive these after a challenge guru votes for your photo.
---
How do you level up in GuruShots?
While participating in a challenge, you receive a level depending on the number of votes your photo receives.
For instance, 50 votes earn you a popular level, and a skill level is 200 votes, etc. In this case, you level up by earning points and getting noticed by the photographer, and receiving specific awards.
Speaking of…
As a DigitalWorldBeauty.com reader, you have an opportunity to get the Creative Photography Cookbook for 80% OFF. Submit your email below for the discounted price!
---
Is GuruShots Worth It? Conclusion
---
Without a doubt, there are pros and cons to GuruShots.com platform.
Some people love it for the challenges and opportunity to win prizes/make money with photography they take; others don't really like the voting system, or the fact that you can't get a constructive feedback.
Either way, the only way to find out whether you'll like it or not, is to trying it and seeing it for yourself!
Now, I'd like to hear from YOU: 
What are your thoughts on this platform/game?

Have you ever played it before?

Is GuruShots worth it?

Would you like us to create an actual GuruShots review or does this FAQ page suffice?
Let us know in the comments below!