Please note: As an Amazon Associate I earn from qualifying purchases. I also work with other affiliate partners and may be compensated from the links below. Details here.
August 27, 2021
Fujifilm X-T20 in 2022: Its Design, Simplicity and Price Will Get You Hooked! (Review)
---
Welcome to my Fujifilm X-T20 review 2021! (Updated)
---
You might be wondering:
Is Fujifilm X-T20 worth buying in 2021?
If you're looking for a great mirrorless body right now, then definitely consider it. I mean its design, simplicity and its price will get you hooked!
Over the last few years, Fujifilm has greatly updated its lineup, releasing rather interesting products. (X-T20 was released after its flagship X-T2.)
And guess what?
Fuji X-T20 received an official EISA Award as the best consumer compact system camera.
Without doubt, this particular Fuji is an example of a really good digital camera that is worth your money.
Keep reading to find out why.
---
Fuji X-T20 (Video Review)
---
Here's great video review by Chris Nicholls:
---
Fujifilm X-T20 Mirrorless Camera: The Features
---
Quick Specs:
Type:

 SLR-style mirrorless

Weight:

 383 

g

Resolution:

 24 MP

Sensor size:

APS-C (23.5 x 15.6 mm)

LCD screen:

Tilting

Touchscreen:

 Yes

Weather-sealed:

 No

ISO:

Auto, 200-12800 (expands to 100-51200)
✓

Reasons to Buy:
Versatile and easy to use

Powerful shooting mechanisms

Colored touchscreen LCD

Convenient transfer of images

Accurate image view

Various filter and shooting mode

Compact and lightweight

Solid, metal edge

Very fast image processing
✕

Reasons to Avoid:
10-minute limit for video shooting

no RAW images in Auto mode

Relatively low battery life
==> Check the exact price on Amazon.
---
So…
In order to understand what the Fujifilm X-T20 offers, let us take a close look at its features, mechanisms, pros, and cons.
In this way, you can decide for yourself if this mirrorless product is really worth your investment.
Let's look at its key features:
What is its most important "weapon" in the camera industry?
Without doubt its Fuji's X-Trans CMOS III, a high performance sensor that does a great job capturing excellent image quality.
The process happens at maximum speed boosted by a lot of factors, such as extra memory, short capturing interval, shutter time, and autofocus accuracy.
For hybrid/video shooters, this will be close to a dream: UHD resolution at a rate of 30 fps.
The autofocusing system is already familiar from the X-T2 model: it uses up to 325 separate focus points, and also provides the ability to select AF areas (zones).
There's quality on every shot. Bottom line is that Fujifilm X-T20 is ideal for stills and video use.
Multi-Purpose Autofocus Modes
With a variety of autofocus modes, the Fuji X-T20 allows you to detect specific phase accurately to capture more pixels.
Among the autofocus modes are the Zone AF to capture objects in action, Single Point AF to focus on a chosen particular object, and the Wide/Tracking AF for landscape photography.
You capture what you see through the fully manual operation of this Fujifilm product.
It has easy-to-use dial controls, which allow you to adjust different camera operations, such as the exposure, shutter speed, light, shooting timer, and others.
Compared to other digital cameras, this Fuji is very portable. Its powerful aspects are all housed in a compact and lightweight body that is easy to hold.
Three-Inch Color Touchscreen LCD
If you wish to view the object you are trying to capture, you can do so through this camera's 3.0-inch color LCD monitor.
The LCD monitor, with an aspect ratio of 3:2, provides a good preview of the object even in bright, outdoor settings. It can also tilt up and down so you can comfortably capture photos and record videos.
For more than 80 years, Fujifilm has come up with flawless film simulation.
It captures tone- and color-rich videos that suit the subject, condition, and creativity.
The film simulation modes allow you to use a variety of options for shooting videos. Among the film simulation selections are Provia, Velvia, Classic Chrome, Astia, and Acros.
If you are looking for more creativity and control, the X-T20 is equipped with filters that generate unique images.
Among the filters are retro, low key, soft focus, miniature, and pop color.
---
Fujifilm X-T20: Summary of the Features
---
Truth is…
The Fujifilm X-T20 is a trusted device that you can use to take photos and record videos.
In fact, it made my top 5 camera list for hybrid shooters.
This is because it comes equipped with a long list of features, which include the following:
Manual and auto control operations

Equipped with 58 preset exposure settings

36M-dot electronic viewfinder

3-inch, 1.04M dot tilting color LCD touchscreen

4K full HD video recording capability

15 film simulation choices

Versatile filters

180-degree and 120-degree panoramic shots

Wireless image transfer

Timer shooting and time-lapse
A word about it's battery life:
This camera comes with the usual battery for Fujifilm: NP-W126S.
According to the manufacturer, it's enough for 350 frames with the display turned on. In practice, the battery is sufficient for a larger number of frames.
Personally, in one of my photoshoot I made 520 photos, and I shot with flash, at long exposures, and at high ISO.
Yet, after the shooting, I still had some battery life left.
It seems that Fujifilm X-T20 one of the best indicators of autonomy among the mirrorless cameras.
---
Fujifilm X-T20 vs Fujifilm X-H1 (Comparison)
---
Now…
The Fujifilm X-T20 mirrorless is one of the latest high-end crop sensor cameras that offer both still and video shooting capabilities.
If you want a similar one but with better features, you might want to consider the Fujifilm X-H1.
The Fujifilm X-H1 has more features and capabilities that allow you to have more control and give you flexibility according to your photography skills and needs.
Here's the thing:
Both Fujifilm X-T20 and Fujifilm X-H1 offer the same pixel count, maximum shooting rate, and sensor size.
BUT…
The latter offers great image stabilization, which also helps with video recording.
It also comes with a touchscreen display that helps the user navigate the camera's various settings.
However, despite the fact that the Fujifilm X-H1 offers several better features than the Fujifilm X-T20, we can't deny the fact that the Fujifilm X-H1's body is at least a couple hundred bucks more expensive than the latter.
The price point can be a deal breaker for both beginners and photography enthusiasts alike.
---
Fujifilm X-T20 Review 2022: Final Thoughts 
---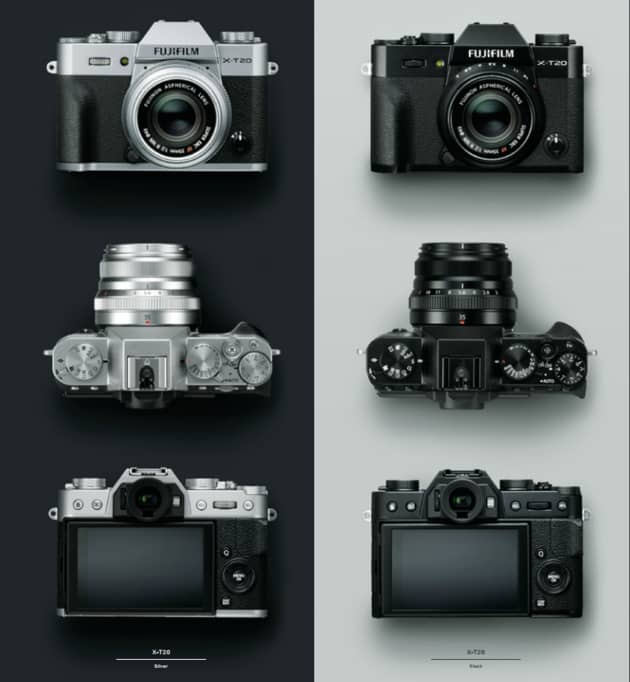 ---
Overall, the Fujifilm X-T20 mirrorless camera is an excellent option for people who want to capture the best quality photos and videos.
It has powerful mechanisms that allow you to achieve the kind of photo that you are aiming for.
The dial controls and lightweight body make it easier to grip and navigate.
Once again, among the features and capabilities that Fujifilm X-T20 has are:
the autofocus mode,

color LCD monitor,

fast image processor,

continuous shooting time,

film simulation, and,

advanced filters.
Just to name a few.
Having all these features might be too much for beginners, but it comes with both manual and autofocus modes that still result in good quality photos and videos.
What you might not like:
It is also worth noting the 10-minute limit for shooting videos, relatively poor battery life, and small viewfinder.
Though in my opinion, these are just all minor drawbacks that are overcompensated by notable features and capabilities.
Hence, if you are looking for a compact mirrorless option that lets you be in control and achieve the kinds of photos and videos that you want, then Fujifilm X-T20 camera is a very good consideration. 
==> Check the exact price on Amazon.

---
Thoughts About Fujifilm X-T20 in 2022?
---
Now…
I'd love to hear from YOU:
Are you a fan of Fujifilm, or mirrorless camera systems for that matter?

Would you rather choose X-H1 since it was released after X-T20?

What do you think of this Fujifilm X-T20 review?
Any comments, suggestions or recommendations are welcome.
Let them know in the comments below!