Please note: As an Amazon Associate I earn from qualifying purchases. I also work with other affiliate partners and may be compensated from the links below. Details here.
April 21, 2021
Belly Baby School: Become a Pro in Newborn Photography with Ana Brandt! (Review)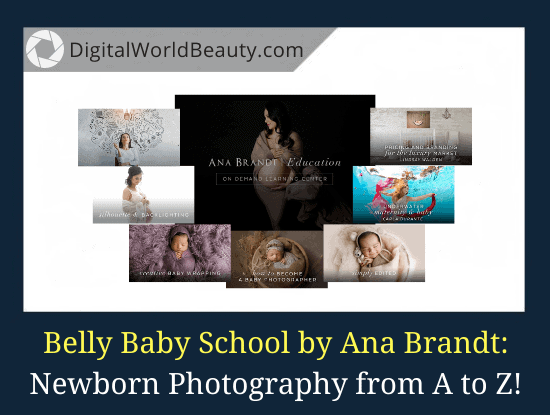 ---
Welcome to my review of Belly Baby School by Ana Brandt!
---
Truth is:
When you're looking into newborn photography, there's a lot of information to take in. You might be wondering what exactly is involved, and if it's worth the time and money.
In this Belly Baby School review, you will learn:
if this platform is worth it

if the workshops are for you

if it can help you become better baby photographer
Here's a quick overview…
Belly Baby School Review: Summary
---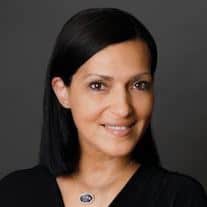 Website: https://www.bellybabyschool.com/
Founder/Instructor: Ana Brandt
Products: Newborn photography courses
Best For: Beginners – advanced photographers
Price: $75 – $200 (depends on the course)
Rating: 97/100
Recommended: Yes!
---
We have all seen those pictures of sweet babies in the arms of a loving mother. The adoring father gazing at his new son or daughter and the proud grandparents with their faces beaming.
These images are some of the most beautiful photographs you will ever see, but they can be difficult to capture without experience.
And this is where Ana Brandt comes in to help you. She founded Belly Baby School, which is an international online learning center to cover all aspects of newborn photography.
It is for you if:
you want to know how to take stunning photos of babies,

you want to find out about the best time to photograph a pregnant belly,

you need tips on lighting, gear and proper neonate posing,

you want to learn how to take pictures of newborns and their families in a natural, relaxed environment,
… and so much more!
So, if you want to become a pro baby photographer, then this e-learning platform is one of the best options to consider today.
==> Check out what BBS Premium Membership offers.

---
---
Ana Brandt: Quick Background
---
Before we talk about the various workshops and online training that you can find at BBS, let's first get to know the school's founder.
Everyone knows the first few days, weeks, and months after a baby is born are some of the most important moments in their life. They're also the most challenging to capture.
Ana Brandt has been photographing weddings for more than 15 years. She is an award-winning wedding photographer who specializes in capturing the love and emotion of couples on their special day.
Originally:
She started her business Ana Brandt Photography because she wanted to help other photographers improve their skills through education.
After a while, she realized that there was one genre not really given much attention to – baby photography!
As an experienced artist, Ana Brandt knows all too well that not everybody has an idea how to create beautiful images with newborns in the safest way possible. That is why BBS is a way for her to share all the things she knows about this special genre.
By the way, in case you didn't know it yet, Anna:
is a mother of 3

is an educator who is popular on a global scale

has conducted in-person workshops and seminars in over 32 countries
(FYI: She showcases pregnancy and newborn images at Baby Belly Love website.)
Ana knows from personal experience how important it is to keep mementos of a baby's first few weeks. So the things you will be learning from her are part of her actual experience as both a mom and an artist, isn't that just great?
With all those credentials, you can already foresee what you can expect from her training.
---
Belly Baby School: 5 Featured Courses
---
Belly Baby School may be focused on neonatal photoshoot workshops, but it doesn't mean they don't have other resources to offer. In fact, they have more than the typical lessons about shooting and posing.
Check out this short list of the site's featured classes:

To make this platform even more interesting:
They also offer training for the business side of this craft. They have marketing video tutorials for those who want to set up their very own studio. In short, they offer a variety of stuff you can learn from.
While BBS offers a LOT of learning material, in this review though, I'll give a brief description of the 5 courses (in different categories) that we think is worth investing in.
Though I'd recommend to get this special bundle at a special price.
Let's get started!
---
Most Comprehensive Infant Photography Class
---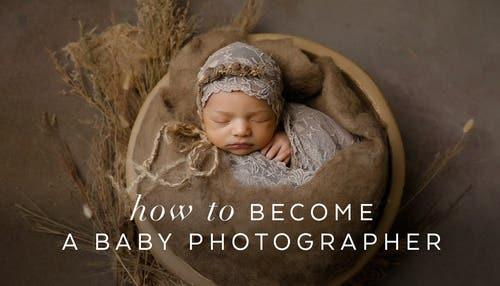 ---
1. How to be a Baby Photographer
This is the most comprehensive baby photography workshop available at the site. It contains 70 lessons that will help you become a better artist in this genre, in no time!
The thing about Ana Brandt's education is that it does not only comprise video tutorials. There are also audio guides and downloadable PDF files so that you can follow through with the discussion easily.
Basically, the entire curriculum covers all the aspects of this special field – from prepping to marketing (mind you, I wasn't joking when I said this is really comprehensive!)
Included in the discussions are the gears you will need for the shoot so you will be ready whenever your clients call you over. Plus, there is an in-depth discussion on infant safety, something you wouldn't learn from regular courses.
This is the most crucial part of the training because babies are very fragile and sensitive, and so are the parents. So you need to know exactly what to do to ensure a safe working environment for your clients.
But it gets even better…
You will not only learn about the shooting and editing process but also the business aspect of this field.
There are dedicated lessons as to how you can put up your own studio and how you can manage your working environment efficiently without compromising the quality of your work and the safety of your clients.
All that and more in this start to finish newborn photography course.
==> Click here to grab your spot!
---
Get Better at Maternity Photoshoots!
---

---
2. Silhouette and Backlighting (Maternity)
I don't know if you have noticed it, but expecting moms are now getting more and more interested in having maternity shoots.
Actually, it can be pretty amazing to capture not only the first few moments after birth but also the wonderful transition from baby bump to full-grown belly.
This maternity photography workshop will teach you some exciting techniques on how you can nail this genre.
As an artist, you probably know by now how important lighting is for your work.
Here, you will play with different lighting styles to enhance the quality of your photos. Plus, you will learn proper posing so that you can capture the best angles of your subject, making them more beautiful than they already are.
Moreover, there are also dedicated lessons in editing backlit images to ensure that you only produce the most wonderful artworks. Ana will teach you how to master all these in both Photoshop and Lightroom.
That means no matter which tool you use, there is always something you can learn from this workshop.
==> Click here to grab your spot!
---
Stepping Up Your Editing Game
---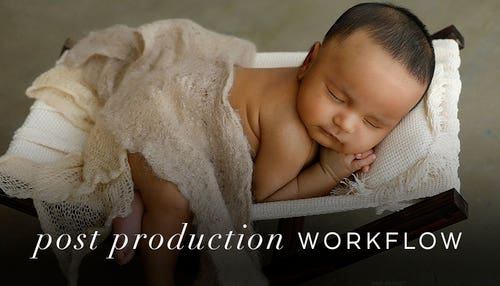 ---
3. Post Production Workflow
If you are more interested in the editing part of this craft, then this training is definitely for you.
Just like the first course mentioned, this one is also very comprehensive in terms of scope. It covers a lot of post-processing workflows that can teach you how to efficiently adjust your images across various software.
In total, this class has 42 lessons (a mixture of text, audio, and video-based discussions). It involves tutorials on how to edit maternity, baby, and family photos.
If you already have your own established workflow, then I believe this one will enhance it greatly since it also teaches you how to properly sort your gallery for easier access when it is time to edit.
==> Click here to grab your spot!
---
Learn and Earn with this Informative Course
---

---
4. Making Money As a Photographer
Now, if you are just starting out in this industry, it can be pretty overwhelming to see a lot of competitors who already have a head start in their careers. But, don't let it discourage you.
As the experts always say, it is never too late to figure out what you are good at. And if it is this genre for you, then by all means do everything you can to ensure that you stay on top of your game.
This class will help you realize the true potential of being in this industry. It will help you improve areas of your work that you've never even given attention to in the past.
Although short in terms of duration, this is still packed with lots of information that can guide you into making money out of this craft.
==> Click here to grab your spot!
---
Get into Business with Some Branding Strategies!
---

---
5. Pricing Your Artwork
Let's face it:
Not every artist knows the real value of their work. The saddest part of it all is that some people (usually the ones closest to you) think that it is okay to ask you for free pictures.
While in some cases it is okay, you should start realizing that this is also your livelihood and not everyone gets to have that opportunity to have free shots just because you are close.
In this class, you will learn how to properly put a monetary value to your masterpieces. Since you worked hard in producing your work, it is only proper to set the right price for it.
But here's the catch…
This course is geared towards establishing a luxury branding strategy. So your target market is those people who really know how to pay for wonderful artwork of yours.
==> Click here to grab your spot!
---
Is Belly Baby School Worth It?
---
On a personal level, I honestly think BBS is worth it. There are just so many things you can learn from Ana Brandt.
And knowing her passion for this genre, you can really expect a lot of great insights from the expert herself.
Now, if you are an aspiring infant photographer who is looking for a good place to start with, then this is one of the best routes you can take. Since the platform is focused on family and baby photoshoots, then it will give you more edge over the others who still haven't found their area of specialization.
Belly Baby School is definitely one of the best newborn photography courses online.
And like I mentioned earlier, you can find maternity, child and family photos done by Ana Brandt on her Baby Belly Love website. She's definitely great in what she does.
==> Click here to get the membership plan for a special price!
---
Ana Brandt Education: Final Thoughts
---
Look:
You don't need to be a professional photographer in order to take good photos of babies. All you need is proper training and the right tools.
There are many institutions/workshops/instructors who will teach you how to do all this, but they can be really costly and not all people have the time or money to attend them. That is why many prefer taking online lessons about it.
However, there are only a few e-learning platforms focused on the baby and family photography genre, and Baby Belly School is among them.
All in all, Ana's education is one of the most high-quality resources focused on newborn photography. And before I forget, they do offer free webinars from time to time so you have the chance to learn from the expert without really buying the classes.
Now, I want to hear from YOU:
What do you think of this Baby Belly School review?

What do you think of Ana Brandt newborn photography skills?

Do you think if BBS courses are worth it?
Let me know your thoughts in the comment section below!