Please note: As an Amazon Associate I earn from qualifying purchases. I also work with other affiliate partners and may be compensated from the links below. Details here.
August 8, 2020
ABJ Drone Academy: Is Their Drone Flying Training Worth It? (Review)
---
Welcome to my ABJ Drone Academy review!
---
Look:
Drones are really popular these days and we can clearly see why. Let's face it, those awesome aerial shots are just beyond what a handheld mirrorless/DSLR can do!
However, the main challenge is the "operating and controlling" part of it.
Good news is you can learn this skill. There are specialized drone courses available (online and offline) so you will be able to fly these little monsters sooner than you think.
Now…
ABJ Academy is one of the few online teaching platforms that will help you operate these remote-controlled devices smoothly, safely and effectively.
(It's not about ABJ drones but rather a review of their drone flying training.)
So, is it really worth your time and money? Let's see.
ABJ Drone Academy Courses (Summary)
---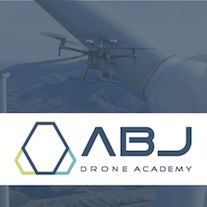 Company: ABJ Drone Academy
Website: https://abjacademy.global/
Instructors: Professional pilots
Product Type: Drone classes
Best for: Beginner to professional level
Price: $50 – $1,788/year (memberships)
My Rating: 94/100
Recommended: Yes
---
ABJ Drone Academy is an educational institution that offers both in-person and online training modules for both aspiring commercial drone pilots and professionals. They have various lessons from simulation to specialist courses that will improve your skills.
What I find amazing is that they…
provide official certifications,

instantly approve them into their pilot network,

offer global opportunities to graduates.
Pretty awesome, right?
From what I've gathered, this company is the best in the industry and you should check out if you want to master the art of flying a drone AND make a career out of it.
==> See the list of their offers.

---
---
Most Popular ABJ Drone Training Courses
---

---
Basic Drone Photography – Specialist Course
---
This particular class is for UAS pilots who want to add photography to their skill set, or the other way around (photographers who want to use drones for their craft).
Aerial shots are now becoming a trend for most photographers, and that's all thanks to the presence of drones.
This falls under their specialist training program. It is divided into 5 different modules that will guide you from the set-up process towards the photography aspect.
You'll learn the basic settings and controls of a standard drone.
You will be taught how to operate the device to get the most stunning stills you want to achieve. This is very crucial in a successful shoot because messing up one setting might ruin the entire experience.
Here is the outline:
Module 1: UAS Camera Controls

Module 2: Sensors and Storage

Module 3: Practical Factors

Module 4: Your Photography

Module 5: Additional Considerations
To test your understanding of the topic, you have to answer 30 questions in the end.
==> Check it out here. <==
---
Basic Drone Videography – Specialist Course
---
This is a special training for videographers. Thanks to this one, you will be able to capture breath-taking aerial videos that will definitely add character to your projects.
The greatest thing about using drones for videography is that you get to have that effortless panning effect. You can shoot at great distances and zoom in as quickly as you need to by just playing with the controls.
Here's an overview of the topics covered:
Module 1: Pro Level Videography

Module 2: Understanding the Mission

Module 3: The Shoot

Module 4: Producing the Video

Module 5: Post Production
For this specific course, you need to have a deep understanding of videography and actual experience is a major edge.
Right from the start, you have to be very clear headed on what concept you want to achieve so that you can save time and effort. You'll learn what exactly you want to shoot in order to properly do it.
==> Check it out here. <==
---
Three Primary Courses at ABJ Academy
---
1. Part 107 Prep – Professional Drone Training Course (US)
This is for those of you who wish to make drone flying as your career. It will help you pass the US FAA Part 107 exam.
The entire course will prepare you to become a well-paid commercial UAS pilot in the US. After mastering it, you can proceed to other industry-specific specialty tutorials offered by the academy. 
==> Click here to enrol today.
2. PfCO License Preparation Training (UK)
PfCO stands for Full Permission for Commercial Operations. This workshop runs for 3 days and it will tackle everything you need to get a certification with the CAA.
Here's an overview of the topics covered:
Ground School plus Theory Test

Operations Manual

Flight Test

Submission to CAA

Follow Up Support
You will need this license if you wish to make money by operating drones in the UK.
==> Click here to enrol today.
3. Drone Pilot License Training Course (India)
If you are based in India and are looking for a drone training online, this one is for you.
It includes the first two primary courses mentioned above plus some special modules. Since it is modular in nature, you can skip between lessons or follow it chronologically as presented by the academy.
You also have the choice to finish the entire tutorial in one sitting, or whatever pacing you may be comfortable with.
Here's an overview of the topics covered:
Regulations

Airport Operations

Emergency Procedures

Radio Procedures

Airspace

Weather

Physiological Factors

Maintenance and Inspections

Decision Making

Drone Loading and Performance

Crew Resources
There are also test questions provided after each module so that you can assess your understanding of the topics discussed.
==> Click here to enrol today.
---
Drone Simulator Training
---
High quality drones are expensive, and involving it in an accidental crash could be devastating.
Flying these devices need a certain degree of expertise to avoid unwanted accidents. If you are new to this, then there is a high chance for accidents to happen (unless you are born a pro at operating remote-controlled devices).
ABJ Academy knows how frustrating it can be when an expensive drone gets damaged so they are offering this Online Simulator Training for you.
You will be exposed to realistic scenarios without using your actual drone.
You can think of it as something like playing with a VR. ABJ's flight control technology closely resembles real-life situations that will certainly improve your skills.
There are different software prepared for individual pilots, institutions and customized solutions. You can choose one that best fits your needs.
==> Check it out here. <==
---
In-Person or Online? That Is the Question…
---
You may wonder:
"Which is better? Online or in-person training sessions?"
There is no definite answer to this. It just really depends on what type of learner you are.
If you are more of a hands-on type, then you would appreciate the latter option. For a particular session, you will spend about 2-3 days with an instructor who will guide you throughout the entire lesson.
For online tutorials, you need to do well on your own and be highly capable of following through the set of instructions given. You may choose to apply the theories afterwards to test what you have learned.
Another thing…
If you opt for in-person training, you can visit their various locations since they offer services globally.
If that's too much trouble for you, then you can contact them and let them come over to where you are, and that's totally fine with them.
You just simply need to send them a message to schedule the visit/class.
Also, their programs are tailor-made for specific individuals or groups of people who would like to avail of it.
The tutorials are offered to individual pilots (like you), enterprises and institutions with more than one pilot, and for customized organizational solutions (normally for engineering and construction firms).
Expensive much?
Drone pilot lessons cost can be overwhelming, but hey, an official training could land you a commercial license in the end. If you are thinking of making it big in this industry, then you definitely need that certification from official companies like ABJ.
(And if you want to learn it for fun, at the end of the post I'll provide other options.)
Note:
For the core of this review, I talked mostly about how drone piloting relates to photography and videography and gave you a sneak peek of their other popular courses you might be interested in.
---
Pay-per-Course or Membership Plans?
---
---
Unlike most online platforms that sell products on a per course basis, ABJ Academy mainly focuses on monthly and yearly membership-based offers.
You pay the due for the period and you get access to the particular tutorials they offer. The good thing about it is that you get access to various lesson updates as well (if there are any).
FAQ:
"Is the membership program better than buying one course at a time?"
For ABJ Drone Academy, it is better to avail of the membership program than to enrol in one class at a time.
In the long run, you will be saving thousands of dollars for choosing the subscription method.
However…
If you think you only need to learn one specific training, such as Basic Drone Photography or Basic Drone Videography, then it would be best to just enrol in those ones individually.
Who is ABJ Academy for?
It seems that the ABJ Drone Academy's target audience is intermediate to professional drone pilots.
Most of their advanced tutorials, for example Multispectral Training, require you to have some basic knowledge about the specific subject at hand/basic drone flying ability.
However, they also welcome beginners who have yet to discover their potential as drone pilots.
There are courses that don't require you to have prior knowledge about the topic, something a newbie would love.
Now…
As of today, ABJ offers 12 broad options that you can choose from. And here are some of the best ones that they have.
---
Is ABJ Drone Academy Worth It?
---
My honest opinion?
I think paying for any of ABJ's drone classes would be much worth it if you are aiming to be a commercial drone pilot in the future.
They will give you an edge over other pilots who have no license or those who did not undergo formal training like you.
It will also be worth the investment if you would use it to improve your business processes, especially for construction firms.
Drones aid project managers in overseeing on-site projects that are hard to reach physically. It also makes communication between the manager and workers more efficient and easier. With all the benefits like these, ABJ Drone Academy sounds like a great investment.
However…
If you only want to simply learn how to fly a drone for fun or for personal purposes, then you can find other online classes that are not too pricey.
For example:
So you might consider these options if you want to do aerial photography/videography just for fun and want to save money.
---
ABJ Drone Academy Review: Thoughts
---
ABJ Academy's professional drone training courses are great for those who want to make a career out of operating a drone.
The lessons will prepare you to apply for actual commercial pilot license in your area. If you want to make money with aerial photography, then they are definitely worth checking out.
However, I can't really recommend ABJ for those of you who only want to know how to operate drones for recreational purposes alone. There are better ways to learn the basics of flying these devices at a more affordable price.
If you are a photographer or videographer who wants to step up your career by using drones, you can find other classes online that are simpler and tailor-made for you.
Since you already have experience and expertise in the field of photography, all you need to know is how to fly the drone and how to navigate it. You don't really need to get a certification for that purpose alone.
Don't you agree?
---