Please note: As an Amazon Associate I earn from qualifying purchases. I also work with other affiliate partners and may be compensated from the links below. Details here.
June 20, 2020
Pinterest Magnate: Awesome Training to Increase Your Exposure & Sales (My Review)
---
Welcome to my review of Pinterest Magnate course!
---
Have you ever struggled promoting your photography portfolio online and wished there was some crash courses on how to increase your audience as fast as possible?
Perhaps you ever wished there was another way to lead your viewers to your site aside from paying for expensive ads?
Well, you might be in luck!
Pinterest Magnate course by Jon Dykstra is here to save your day. I personally bought it and I can attest how helpful it is in directing traffic to your site, FAST!
In this review, you'll learn:
who is Pinterest Magnate for

the structure of the course

why PM can help you increase site traffic

list of Jon Dykstra's killer courses

and a whole lot more
If you are a blogger, entrepreneur or a photographer who wants to promote your work of art online, then this post is definitely for you.
Let's get started, shall we?
---
Pinterest Magnate Course Review (Summary)
---
Course Name: Pinterest Magnate
Website: https://fat-stacks.teachable.com/
Instructor: Jon Dykstra
Product Type: Online marketing and growth
Best for: People with limited traffic/exposure
Price: $197 
Money-back Guarantee: 30 days
Recommended: YES!
---
Look…
Pinterest Magnate was created by Jon Dykstra from FatStacks for people who wish to increase their exposure and potentially earn more income as a result.
Whether you are:
a blogger,

in the e-commerce business, and/or,

an entrepreneurial-minded photographer.
Since Digital World Beauty is a photography-related website, I understand that most of my readers are photographers…
… but really Pinterest Magnate is for ANYONE with an online presence who wants to increase their exposure, traffic and sales.
This course shares actionable tips and techniques on how you can maximize Pinterest for your online portfolio and/or your photography channel.
(With a step-by-step guide on how to do just that.)
Jon explains everything you need to know in the simplest way possible. Personally, I found it to be as easy as 1-2-3 while still being very informative.
And guess what?
You won't find this information in any other Pinterest course out there.
==> Click here to check it out for yourself. 

---
---
What Makes Pinterest Magnate Special?
---
Okay, before we dig deeper into the course…
Pinterest is an online platform where you can post images and videos, pin them on boards across the site, and put tags and links in between.
Most people consider it as social media, but Jon knows better than that.
He treats it as a search engine, and he's seen MASSIVE results.
Check it out:
---
---
Then, shortly after…
Achieving 300,000 sessions in 1 month:
---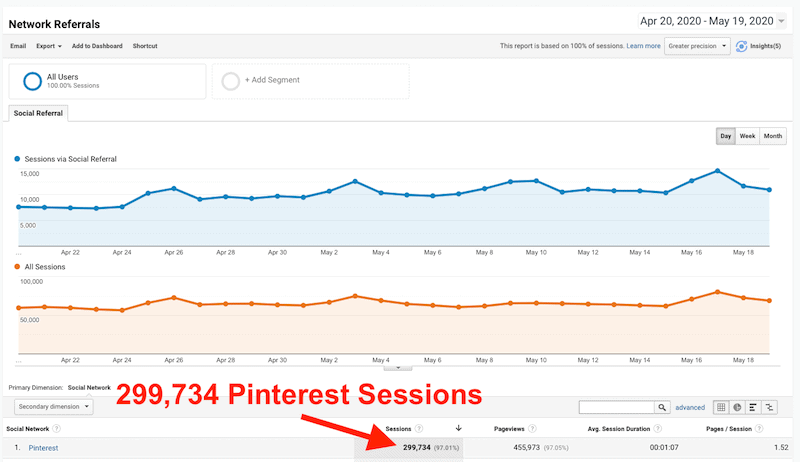 ---
How impressive is that!?
(I was nowhere near that number with ALL my traffic sources combined.)
Now…
Remember the old adage "a picture is worth a thousand words"?
Well, that's pretty true especially today.
You can market your products easily with visual representations instead of using too many flowery words (which for sure goes unread most of the time).
This is what makes PM so special.
It guides you on how you can fully use the power of this online platform without exerting as much effort as providing content for Google search engine.
---
Pinterest Magnate Course: The Structure
---
So…
How's this course structured? How many lessons are in there?
---
---
---
Right now, there are 4 (mainly text-based) modules inside this course, with various sub-topics per each.
Just so you know, Jon regularly updates this course so you can expect to see more modules in the future. (And that's the reason why there's an annual renewal of $19.70)
The first one is an introductory part.
Here, Jon welcomes and thanks you for getting Pinterest Magnate. It also contains a link to his main forum where you can share your thoughts and raise your concerns regarding all his online courses.
In addition to those, this section offers a list of Jon's other digital products that are available for you.
The next one contains all the basic information that you should know about Pinterest. It includes a step-by-step guide on how you can set-up a business account in this platform.
In this module, Jon Dykstra teaches you the most recommended and effective niches for this platform and which ones are less likely to gain views and generate traffic.
Module 3: Growing Pinterest and Traffic
This is the part of the course where it gets really, really interesting. Here, Jon discusses his strategy in maximizing Pinterest views to generate and direct traffic to your site.
In this module, you will also learn how the author does his keyword research effectively, since it needs a different approach than the conventional one for Google content.
This unit also has some short video clips so you can better understand what Jon wants to say. It's very simple and easy to consume as well.
Module 4: Pin Design Templates
The last part of the course (which was recently updated by the author) contains downloadable files for both Photoshop and Canva design templates. These are editable that you may experiment on, or use.
For me personally, this section ALONE is very much worth the price.
Jon had his professional designer do the work and shared the templates with his course students, at NO additional cost. While I very much enjoy photography, I really didn't want to do all the testing to come up with the winning (converting) pin.
So, this section just makes one's life SO much easier!
I think you'll feel as thankful for these editable templates as much as I am, especially if you're not much of a web designer.
(Spoiler alert: After using a couple of Jon's editable templates, my video pins reached over 2.5K views! Say what!)
---
Is Pinterest Magnate Worth It?
---
At this point, many of you might be asking if PM is really worth investing in.
My honest opinion?
Pinterest Magnate course is DEFINITELY worth your time and money.
While there may be some free stuff about all these on the Internet, there are some personal strategies developed by the author that you won't anywhere else and I found them extremely helpful.
In fact…
After applying the knowledge, I started getting multiple views and visits to my site:
---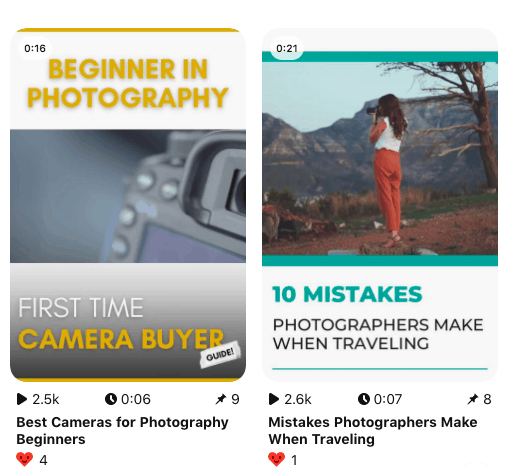 ---
Wow.
2.5K+ views on these 2 video pins in just a couple of days!!!
(By the way, this is after I started using his editable templates that REALLY work.)
Now, regarding the renewal.
If you noticed, this course was priced at annual basis. The reason for this is that Jon Dykstra updates the course with more relevant strategies and topics from time to time.
So it's worth the price tag and it's worth renewing if you want to stay updated.
---
How Pinterest Magnate Can Help You Today
---
In a nutshell:
This course teaches you to use Pinterest's massive potential in generating traffic to your site.
Simply put, the course will be giving you tips and strategies on how you can effectively gain more views and direct your viewers to your digital real estate.
With that, site traffic/audience will be increased, prompting more visits and clicks.
This could only mean one thing: increase in site popularity and potential profit.
(And by the way, this also could work for your YouTube channel.)
==> Click here to join the course today.

---
Jon Dykstra's Digital Products
---
Look:
Jon Dykstra has a lot of experience in terms of increasing your traffic and online income. And PM is not the only course he has.
Here are Jon's other courses that you can check out:

There's a LOT of potential in the Internet.
But whatever you do, you should have proper guidance!
---
Pinterest Magnate Review: Thoughts
---
This is a well-prepared course that I highly recommend not only for new photographers, but also to intermediate ones who want to have an additional platform where you can display your work of art.
If you own a business/website/channel in any other niche, Pinterest Magnate is definitely the one to use to increase your exposure and sales!
Look:
I've gone through MANY digital courses online.
And I can say without a doubt that it is one of the best ones on the market today and totally worth your buck.
Now, I'd like to hear from YOU:
What are your thoughts on this Pinterest Magnate review? Anything else you think I should add? Let me know in the comments below!
---
Sharing is caring!
About Author
Zarina
Founder & content creator at Digital World Beauty. My main objective here is to create a valuable resource for photography enthusiasts with honest tech reviews, course recommendations, and how-to tutorials.