Please note: As an Amazon Associate I earn from qualifying purchases. I also work with other affiliate partners and may be compensated from the links below. Details here.
July 20, 2018
The 7 Tips on How to Shoot Product Photography (For Beginners on a Budget)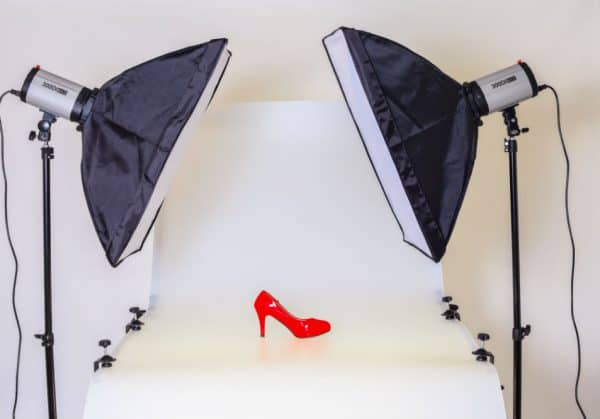 ---
A layman will never understand the effort that goes into learning how to shoot product photography.
This kind of photography can make or break it not just for a product but also for the entire brand.
Among the number one law of advertising is that the audience only remembers 20% of what they read. The remaining 80% percent of that same memory is the image that they saw.
So, in order to make a long-lasting impact on people, you would need to have great quality images of your product—else you risk losing out on some major sales.
Now, product photography is easy when you have a high budget backing you. Sadly, that is not always the case for most people.
In here, we will provide you with tips on how to shoot quality images of your products without causing a hole in your pocket. However, let us first define what product photography really is.
---
What Is Product Photography?
---
First things first: what is product photography?
Product photography is a kind of photography that uses very specific techniques in order to showcase a product or products in a way that is not only attractive but is also able to entice any potential buyer towards purchasing it.
This kind of photography is essential not just for online advertising.
It's also an important part of offline advertising industry as well, which includes advertisements in brochures, billboards, catalogs, magazines, and several others wherein the manufacturer can directly sell to the consumer.
---
Best Cameras and Lenses for Product Shots?
---
Update May 2019:
Today, I published a post written by Ann Young, who's a professional photographer specializes in portrait, wedding, commercial, and product photography for magazines, listings, advertising, etc.
==> The best cameras and lenses for product photography on the market right now.
The list includes cameras across different categories and budgets.
---
How to Shoot Product Photography
---
---
Now that you know what it is, the next step would be to learn how to shoot product photography.
As a beginner, we understand that you might not have that much when it comes to the budget. We've all been there.
In that case, allow us to provide you with tips on how to do it without spending too much money.
You Can Use Your Smartphone
We know you expected us to say use some high-end fancy DSLR.
While that may be a great idea, it isn't always necessary, especially when you are on a tight budget. So, if you do not own a DSLR, you can use your smartphone.
Unlike a couple of years ago, smartphones had cameras not more than five megapixels. Luckily, times have changed. These days, most phones boast either a 12- or 13-megapixel camera, sometimes even more.
Moreover, some models also have several temperature settings that can optimize your shots.
If you are using your smartphone, never ever prop your phone against something to capture the image of the product.
This make-shift setup is just too easy to slide off, causing obvious inconsistencies in the appearance of your photographs.
Similarly, holding your phone isn't a great idea either. It may be fine if you need to click one or a handful of images. However, if you need to take more photographs as your business grows, it is very unlikely to have that consistency.
For this reason, owning a tripod is essential.
A tripod ensures that there is consistency in all of your product images. Furthermore, tripods are quite reasonably priced too. Investing in one won't cause a hole in your pocket. When shooting on a smartphone, you can opt for either a traditional or a flexible tripod.
Any photographer will tell you that the right lighting can make a world of a difference to the subject in an image. The correct light setting can help reveal some of the best features of the product that will entice the customer to buy it.
It is important to note that not one single setup of lighting will work for every product. In fact, incorrect lighting could have the opposite effect and actually weaken the appearance of the product.
For this, you could either shoot in natural or artificial light. Natural light is basically sunlight and also known as "soft light".
You should opt for natural light for your product when it is meant to be used outside, preferably used by a person, as people look better in natural light and when you want to also emphasize the surroundings of the product instead of just specific attributes.
Artificial lighting is more commonly used in most photography. In product photography, the photographer tends to use artificial lights when they want to highlight particular details of a product.
Often, if not always, you will notice a clean white background for any product photography.
This typically looks the best as it naturally pulls the focus to the product. This is also known as the Infinity Curve, which allows the photographer to shoot the product against a white background that appears to be endless and also does not reveal any horizon in the back.
For a more cost-effective measure to achieve this, you can either use paper or fabric, white in color and bend it so that it creates a curve. Place the product in the center of the image, so that the audience's attention automatically gets attracted to the product.
Sometimes, just clicking an image of the product head-on may not be the ideal thing to do. So, the best thing you can do is to try out multiple angles as you click the image. Don't be afraid to be adventurous with this.
We would highly recommend trying close-ups of the product from different angles.
You never know which angle will be the most flattering and highlight the product well. Whatever angle you choose, though, ensure it still accurately reflects all the attributes of the product and is not deceiving.
You may often find yourself tempted to delete certain images right away when you feel they don't fit the criteria you are after. However, you have to be patient.
You wouldn't realize how the image appears once you upload it on to your computer and how it would look on a bigger screen. Sometimes, images that look average on the camera's small screen may look phenomenal on a big screen.
Taking a photo of a product is just half the battle.
The next step is to edit it and give it some touch ups. If you are uploading the images on a site, make sure that all of the image sizes stay the same, or at least approximately the same size.
For some basic editing, you don't really need to be a tech whiz.
A simple editing app that you would find even on your phone would suffice. Applications such as Snapseed is a brilliant way to do some basic photo editing.
---
Conclusion on Shooting Product Photography
---
We hope all the tips we have listed above have given you a better idea on how to shoot product photography. Product photography is not the most difficult thing to do, especially if you put your heart and mind to it.
In order to improve your captured images, you can also glance through several products online to have a better idea of how you would want your product to look like too. Don't be afraid to experiment, especially when you are on a budget.