Please note: As an Amazon Associate I earn from qualifying purchases. I also work with other affiliate partners and may be compensated from the links below. Details here.
October 8, 2019
How to Find and Develop Your Personal Photography Style (My Top 3 Tips)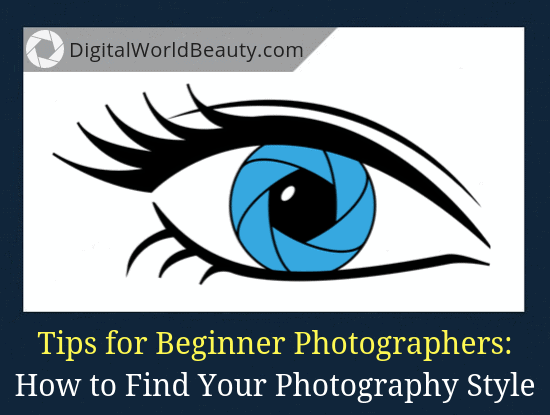 ---
Look:
Becoming a successful photographer starts with finding and developing your personal photography style. But still, a lot of new photographers tend to skip this step.
Why?
Mainly because it's not easy to uncover one that you are happy to stick with for a long time. It takes diligent effort.
The good news is, it's not rocket science if you know what you're doing.
Without a doubt, if you want your photography experience to be rich, rewarding and exciting, it's important that you develop a unique personal style.
One that resonates with you, your ideas and can ultimately help you take stunning photographs.
Now…
Contrary to popular belief, this isn't an overnight process. It requires patience and focus to find one that you can be confident with.
After all, you need a personal favourite genre that will let you connect with your inner artist over a period of time.
For many, finding the style (that they can work with) is an on-going, creative process that they go through while evolving as a photographer.
The question is:
How do you go about finding a style that gives your snaps an edge over the others?

How do you really choose a photography genre that you won't get bored with later on?
Here are few practical tips on how you can go about finding and developing your own, without complicating things.
Let's get started.
---
Tip #1: Identify Your Core Goals
---
One of the factors that influences your photography style is what you actually want to achieve or accomplish with it.
The more clarity you have on your goal as a photographer, the easier it will be for you to find a way that makes your work stand out from the rest.
Ask yourself:
Why did you get into photography in the first place?

And where do you want to go from here?

Is there something about it that you enjoy more than anything else?
Getting answers to these questions will lead you to get a better understanding of what you want to accomplish.
It will give you the much needed clarity and assurance. 
Also, consider the market you want to make your name in. There are a ton of different markets you can target as a photographer – which one do you want to go after? And why?
Your goals are often a reflection of the segment you want to focus on, which makes them extremely important.
For example:
If you enjoy using your camera at weddings, then maybe that's the direction you should focus on. Or if you enjoy wildlife photography, that's what you should be pursuing.
Or perhaps you're an avid angler interested in capturing your fishing trips?
Hell, you can even rock it with photographing the ants! Seriously.
I mean see below one of Andrey Pavlov's work: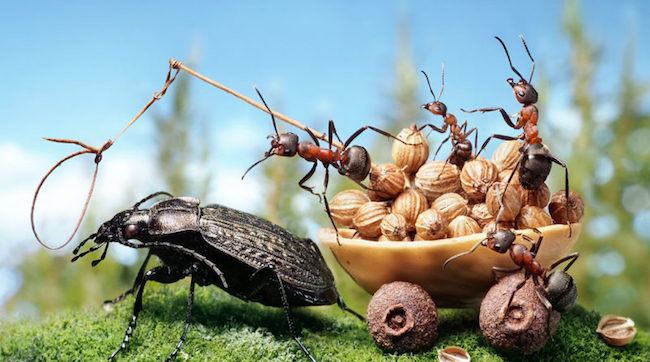 How crazy is that!?
Anyway…
Not all markets are the same, and not every niche will sound appealing to you. So be careful before selecting one. The goals you choose depend on it.
Defining your style becomes more feasible when you're more connected with your goals. Which means you need to set them according to your long-term vision.
And feel confident with the ones you choose.
---
Tip #2: Find Inspiration, But Don't Copy (Duh!)
---
Let's face it:
Your photography style is yours.
Nobody can copy the essence of it, no matter how hard they try. They can never ever be the original. Which is exactly why you should avoid copying someone else's style.
It simply won't serve the purpose.
A copy will always remain a copy. It'll lack the required depth. There'll always be that "something is missing" feel to it. So yes, copying is without a doubt a bad idea.
But seeking inspiration?
Now, that's something you can and should always try to do, especially when you're starting out.
When you see one's approach to photographing things (could be your favorite photographer or your next door neighbor) and instantly connect with it, take an idea from it. And blend it with your own ideas.
Instead of directly lifting off what they are doing, make it a part of your photography's DNA.
You can enhance your style by adding more to it with the right amount of inspiration. Whether it's how they blur the background, the way they use the flare lens or simply what they do with the lighting.
Find out what strikes you about their style and then use that particular element.
Inspiration is all you need.
Copying?
Not so much.
---
Tip #3: Practice Every Single Day. For Real.
---
Truth is:
Photography is all about practice.
Every successful photographer will tell you that.
The more photos you tae, the easier it will be for you to discover a style that resonates with you. You'll find that the right one comes out on its own if you simply try to use your camera more often.
You need to get into the habit of shooting at least one image day in and day out. That's the only way to give your mind the space to identify an interesting photo-genre.
There are 365 days in a year.
Imagine what would happen if you clicked at least 365 photos over the year without fail. It may take only a few months before your efforts start getting rewarded.
But you'll end up finding a style that is truly yours.
When you're shooting on a regular basis, you'll automatically see your shots leaning to one particular direction. That is your own, that nobody else has.
---
Conclusion
---
Look:
I agree, it's not easy to find the courage and passion to shoot in your own style, but it'll be totally worth it once you find it.
All you need to stop trying to do what everybody is doing, and focus on being your real self.
Having a role model is good, but not at the expense of your originality.
Also, you don't have to follow the norm as a photographer. Some rules are good, but not all of them. Go break them if it makes you a better photographer.
Always try to be adventurous and have the zeal to experiment with something new.
So:
Go ahead and shoot your pictures in a way that is close to your heart. And you'll quickly find your snaps are getting noticed, appreciated and even applauded.