Please note: As an Amazon Associate I earn from qualifying purchases. I also work with other affiliate partners and may be compensated from the links below. Details here.
October 16, 2021
11 Best Heated Socks in 2022 (For Skiing, Motorcycle Riding, Hunting & More)
---
List of the best heated socks for skiing, hunting, cycling etc. (Updated for 2022)
---
Let's face it:
Winter season can be pretty harsh for cold weather photographers and winter sports enthusiasts. So it's important to protect yourself while enjoying it outdoors in the cold.
The good news is…
You can invest in heated gloves and socks to battle the freezing cold without putting on too much garments (which is quite heavy, you know). 
---
If you are in a hurry and just want to find out what the best heated socks (under $100) are, then here's my top pick!
---
Whether you are into cold weather activities like skiing, motorcycle riding, ice fishing, hunting, winter photography, or simply have chronically cold feet, this post is for you.
Here's an overview:
11 Best Battery Heated Socks in 2022
---

Without much ado, let's get started.
---
Best Value for Price (Editor's Top Pick)
---
Snow Deer
Battery Life: 2.5 to 6 hours
Heat Settings: 3 levels
Best For: Skiing, Raynaud's syndrome, motorcycle riders
---
Winter weather can be pretty frustrating especially if your hands and feet easily get cold.
And that sometimes becomes a cause for missing out on the fun activities outdoors. But, you don't really have to bail out on those exciting stuff anymore. You just need to wear the right kind of clothing to enjoy some time out during the cold season.
One of the few good products you can wear to fight off the freezing cold is Snow Deer electric heated socks.
It is made from a unique fabric that provides great insulation for your feet. Because of its advance heating technology, you won't have to worry about cold feet anymore (even if you stay out for a long time).
I would even label it as the best heated socks under $100 for winter 2022. Certainly my top pick.
Snow Deer's socks have built in infrared heating materials responsible for keeping your feet warm. But, that's not only what these heating elements can do. Since it uses infrared technology, it can also help promote proper circulation in the area (perfect for those who have Reynaud's).
This pair comes with 3 different heat level settings that you can choose from – low, medium, and high. When switching between levels, you simply have to quickly press the power button (except when turning it on or off, you need press it a little bit longer). The color indicator changes with ever quick press with Red as the highest heat setting, white for medium, and blue for low heat.
Most cheap foot warmers only heat the sole. But this one heats the entire foot up to the toes. Snow Deer has distributed the heating elements evenly to ensure that everything is covered. That is one of the reasons why people with Reynaud's syndrome prefer this brand over the others.
This is probably the most ignored feature when buying warm socks. But it's totally important for the brand to offer various sizing options most especially when it's classified as "unisex". Imagine a woman buying a pair of 8's only to find out that it is in men's sizing. That can be quite frustrating, to be honest.
Snow Deer socks come in 4 different sizes. Small (5-6 US size), medium (6-8.5 US size), large (9-12 US size), XL (12-14 US). All are of standard sizing so it fits both men and women.
These battery heated socks are engineered with powerful and top-quality materials to provide utmost comfort and warmth to the user. Though the pair appears to be knitted, it is weatherproof. The inner membrane is padded so that your feet stay as comfortable as possible.
Where to Buy Them Online?
This product is available on Amazon and The Warming Store.
---
Best Affordable Heated Socks (Runner Up)
---
Rabbitroom
Battery Life: up to 6 hours
Heat Settings: low, medium, high
Best For: Hunting, biking, skiing, hiking, circulation
---
Rabbitroom is a low-key brand that offers decent quality winter gears. They have created a good reputation for offering products at a really affordable price without foregoing superior design and comfort.
This feature might be trivial to some, but to others it is as important. Having color coordinated outfits doesn't only make you look good physically, but it also helps you start your winter activities on a good mood.
Rabbitroom offers a wide selection of color schemes for their battery powered products. You can choose among the following hues: Black, Green-White, Pink, Brown, White, Green-Yellow, Gray, and Blue-White.
Far Infrared Heating Technology
There are several heating technologies that can be used to fully insulate heated socks, but FI is among the best. While others only promote good heating capabilities, this one aids in blood circulation around the toes. This has helped a lot of people suffering from chronic cold feet or even Reynaud's.
Also, it can heat up to 125F no matter the weather. This means your feet will remain as nice, toasty and dry as it should be.
It can't be denied that there are specific set of gears for different kinds of winter activities. Rabbitroom made it possible to combine both comfort and durability.
So whether you engage in extreme winter sports or simple stay at home, these socks will keep up with you. The only thing you should keep in mind is a fairly low battery life. So if you work outside all winter, this pair is NOT for you.
Where to Buy Them Online?
This product is available on Amazon and The Warming Store.
---
Another Popular Battery Heated Foot Warmer
---
Global Vasion
Battery Life: 3 – 6.5 hrs
Heat Settings: Low, medium, high
Best For: Camping, skiing, showboating, hiking 
---
In the past, warming feet and toes is done indoors facing the furnace. It's all good until you decide to go out and face the extreme cold weather.
Most of the time, you're torn between going out and staying in just because there's no way to keep your feet warm enough for long. But that's not going to be a problem anymore. Companies like Global Vasion makes thermal socks that will keep your feet toasty and nice despite being outdoors.
Their products are currently very popular because of its high quality and functionality. It works as advertised, which is a really good thing.
The first thing you'll notice when buying electric heated socks by Global Vasion is its simple design. There's really nothing much going on externally. It looks just like a regular pair cotton socks except that it has a special pocket on each side. These compartments serve as battery holders.
This pair is made up of breathable and absorbent fabrics. It helps wick away moisture so your feet stays dry and warm all day long. The heels and toes are padded for additional comfort. In addition to that, a thick elastic membrane is blended into the product to slow down the wear and tear process.
Carbon fiber heaters are implanted within these layers of fabric, so you won't even feel that there are tiny electronic in the socks. Also, the reinforced padding helped tuck away these heating elements so that your feet stay as comfortable as it should be.
The main downside is that the battery life is pretty short. Keep it in mind.
Normally, thermal socks only come in black, gray, or white. However, Global Vasion is thoughtful enough to include a variety of color options to choose from. This feature guarantees that you remain as fashionable as ever. This product is available in gray, black, deep blue, pink, red, green yellow, and green white.
As for the sizing, this one's quite unique. While other manufacturers offer at least three sizing options, Global Vasion doesn't. Honestly, I don't know whether this is a good feature or not (well, it probably is good in some ways). This pair comes in "free size" or "one-size-fits-all". It fits both men and women.
Another notable feature of this winter socks is that it is 100% washable (both machine and hand wash). Just make sure to remove the batteries before soaking it in detergent to avoid damage. Also, remember not to toss this into the drier because it can destroy the heating elements embedded in the socks.
Where to Buy Them Online?
This product is available on Amazon and The Warming Store.
---
Multi-Purpose Battery Powered Socks 
---
Savior
Battery Life: up to 7 hours
Heat Settings: 3 level temperature control

For For:

Skiing, hunting, biking, fishing, Raynaud's syndrome
---
The thing is…
Having cold feet tend to make the entire body feel chilly. And when that happens, you almost always feel under the weather. But you can prevent that from happening by wearing the appropriate pair of electric foot warmers.
When it comes to thermal socks and warmers, SAVIOR HEAT is one of the leading manufacturers that don't disappoint. They have been providing warm winter gears to people suffering cold hands and feet for over 12 years. As an established brand, there's no denying that they value quality more than anything else.
Before adding an item to your cart, it is important to know how much area is covered by the heating elements. If it only covers the soles, then that's not enough. What will keep you truly warm is when it heats even up to your toes.
The good news is that…
SAVIOR HEAT knows that all too well. In fact, their foot warmer doesn't only keep your toes warm, but the entire foot as well. Even if you don't use insulated boots, you'll still feel nice and toasty feet every day.
The greatest thing about Savior's products is that they are multi-purpose. You can use it for both indoor and outdoor winter activities. It is perfect for skiing, biking, ice climbing, hiking, hunting, fishing and all other fun doings during the cold weather. With this pair, you never have to worry about painful frostbites even if you engage in those activities mentioned.
A high-quality product doesn't necessarily mean it's easy to use. By adding more and more features to it, more complexities in usage could also follow. But what happens when quality meets simplicity in operation? This is what SAVIOR does.
It's very easy to use and operate. It only has one switch that controls all the 3 heat settings. One long press of the button will power up the heating system. If you want to change the temperature, all you need to do is quickly press the button and you're good to go.
How many of us really consider warranty as an important factor when buying winter gears? I bet only a few. Sometimes, this aspect goes neglected, which I believe is somehow wrong. It is always good to know whether the company is offering warranty or not.
Right now, SAVIOR is offering a 12-month warranty for this. It also has a 30-day full refund policy for defective items.
Where to Buy Them Online?
This product is available on Amazon and The Warming Store.
---
Cheap Thermal Socks for Everyday Use
---
Autocastle
Battery Life: up to 7 hours
Heat Settings: 3 levels
Best For: Blood circulation, sleeping, skiing, cycling, etc.
---
Having chronic cold feet is never easy. Instead of being able to enjoy all the fun stuff outdoors during winter, you are forced to stay at home as much as possible.
Although you can wear several layers of clothing, it does not always do the trick. If you have this kind of problem, then it would be best to try out a good pair of electric powered heating socks.
Autocastle is among the few trusted manufacturers that produce pretty great quality foot warmers. It uses spandex and cotton blended fabric that provides great insulation even without the heating elements.
Powered by two 3.7V lithium-ion batteries, this pair can run up to a total of 7 hours. It's a must-have for those who are planning to spend a day out in the snow.
What's even better is that it comes in a wonderful box wrapping perfect for gifts during winter. And since it's unisex, you can give them out to your group of friends.
FYI, Autocastle also offers some of the best heated beanies on the market this year.
The problem with foot warmers with heating elements is that it's relatively difficult to clean. Since it has electronics somewhere within the layers of fabric, you have to be extra careful when washing it.
This is also true for Autocastle electric powered heating socks. You need to gently hand wash it if you think it needs cleaning. Although the item itself is durable, machine washing is highly discouraged because it will damage the built-in heating system.
It's really hard to find a wearable item that fits both men and women, but Autocastle made it possible. The colors are also neutral so regardless of gender, it will still look good on you (it's nice to stay in style even if the socks won't show under layers of winter clothes, IMHO).
For first time users, you need to initially charge the batteries for 12 hours straight. After that, the batteries will fill up in as fast as 4 to 5 hours. With an over-voltage protection feature installed, your charger's indicator light will turn green. This will keep you and your batteries safe from over charging.
The heating elements are strategically placed on the front instep. It warms that area well and reaches up to the toes after a while.
In order to keep the entire feet warm throughout its full operating time, there's a trick you need to know. When you switch the battery heated socks on, just set the temperature to the highest level for 10 to 15 minutes.
That's enough to warm the entire foot. After that, you can adjust to medium or low setting and just keep the warmth at an acceptable level. With this trick, you can also save lots of battery time.
Where to Buy Them Online?
This product is available on Amazon and The Warming Store.
---
High End Socks for Winter Sports Enthusiasts
---
Lenz 5.0
Battery Life: up to 14 hours
Heat Settings: 3 levels
Best For: Raynaud's syndrome and winter outdoor activities
---
If you are looking for premium battery powered heated socks, then this is the perfect product for you. Made with only the finest sock materials, LENZ has dominated the top ranks when it comes to high grade winter gears.
However, there's a catch: it also comes with a premium price tag.
To be honest, the features included in this pair are beyond creative, and that probably explains the expensive pricing. If you don't mind spending over a hundred bucks for one pair, then this is definitely a good foot warmer you can invest in.
One of the major concerns when it comes using thermal socks is that the battery almost always runs out during the most important moments. With LENZ 5, you never have to worry about that ever again.
This product has by far the longest running battery life I've known. For a single full charge, you can enjoy warm feet for up to 14 hours tops. Wow, that's more than half an entire day. Just imagine all the fun activities you can do outside without worrying about cold feet.
This is the best thing about Lenz products. It offers a whole new feature that can only be seen in premium items such as this pair. Once you connect it via Bluetooth, you can now control the heat settings of the socks from your phone. You don't need to manually reach out the button in order to set the temperature into your desired level. It's very convenient, honestly.
The most common concern about buying cheap heated socks is that they don't warm the toes. It's somewhat maddening because that area gets cold easily.
The good thing is that LENZ has toe cap heating elements. This ensures that the entire toe (front, back, sides) remain as warm as possible. And since this pair warms up pretty quickly, you'll feel it on your toes fast enough.
Where to Buy Them Online?
This product is available on Amazon and The Warming Store.
---
Electric Foot Warmer With a Snug Fit
---
Mobile Warming
Battery Life: 11 hours
Heat Settings: 3 levels
Best For: Hiking, working outdoors, motorcycle, ice fishing
---
Warming your feet has never been this easy.
With just one click of a button, you instantly feel that nice warm heat enveloping your entire foot. Mobile Warming's electric foot warmer helps you with the cold feet situation.
Made for everyday use, this pair of socks is excellent in doing its job. What makes it even more interesting is that it doesn't feel like there are tiny electronic pieces inside it. It's almost as if wearing a regular sock with the bonus of a heating element. Since it has the thickness of a normal pair, fitting your ski and winter boots will not be an issue.
Just like any other pair, this pair will totally work for cold weather photographers.
One thing that I liked about Mobile Warming's product is that they do well in terms of operating time. Powered by a 3.7V 2200 mAh battery, you will enjoy using it for as long as 11 hours. That's quite longer than most of the thermal socks mentioned here.
Mobile Warming is not only concerned with how effective the heating elements in the socks are, but they also pay close attention to how sanitary it is to keep using them. They use anti-microbial fabrics to ensure that your feet stay as clean and as healthy as possible.
Where to Buy Them Online?
This product is available on Amazon and The Warming Store.
---
Advanced Heated Socks for Extreme Winter Sports
---
THERM IC PowerSock 1400
Battery Life: 16 hours
Heat Settings: levels 1-3
Best For: Alpine hiking, ice climbing, snowboarding, skiing
---
THERM IC creates top of the line winter gears, and this POWERSOCK 1400 is no exemption. It is a high-quality foot warmer with advanced feature not usually seen in an average pair.
However, you have to be prepared to pay quite a lot for this product if you want to get your hands on them.
This activewear will keep your entire feet warm despite being out in the cold for long hours. It is made specifically for those who engage in winter sports. It lets you have dry and toasty feet even after hours of skiing, ice climbing, alpine hiking and any other extreme sports under the snow.
You don't have to worry about it not being able to keep up with your activities because beneath the soft and comfy exterior lies the tough layers of protection.
This technology guarantees the durability and functionality of Powersock 1400. It offers not only comfort, but is also effective in insulating the feet effortlessly. It allows the material to still effectively stretch without making it soggy after a few uses. After washing, the socks return to its original state, looking brand new as ever.
Remote Control via Bluetooth
Powersock 1400 is among the few foot warmers controllable via Smartphone application. You just need to connect the socks via Bluetooth and you'll be able to remotely control it with a few taps on your phone.
This is actually a very helpful feature especially for those wearing ski and hunting boots. We all know how burdensome putting it on and taking them off, honestly. With this feature, you don't need to go through all that ever again. Just simply open the app and control the heat settings like a pro.
The best part about Powersock 1400 is that it has an excellent battery life. It can last up to a maximum of 16 hours. That is enough to keep you going for almost an entire day. There are just so many activities you can do within that timeframe.
Another good thing about this feature is that you won't ever feel like the batteries run out because you can charge it during bedtime. The next morning, you'll be ready to get active under the snow again without feeling cold.
Like many others on this list, Powersock has 3 levels of temperature control. Setting it to the lowest heat will let you use it for the max output time. On the other hand, putting it on high will only let you enjoy its warmth for 6 to 7 hours (which is still really great considering that's the max run time of most average socks).
Where to Buy Them Online?
This product is available on Amazon and The Warming Store.
---
Socks with Up to 20 Hours Battery Life
---
VOLT Heat 3V
Battery Life: up to 20 hours
Heat Settings: high, medium, low

Best For:

Everyday use, cold weather activities outdoors
---
Wearing thermal socks is now a thing during winter.
I'll be honest though, the quality of the material of this product is not to my likes and I personally would spend the money on another pair.
However, in general, VOLT has a good reputation when it comes to producing top tier winter gears. Many avid cold weather sports enthusiasts seem to use and enjoy this product, so I included it in the list.
This is what sets VOLT from the rest of the products on the list. It is made out of a thin fabric that is well-insulated. This characteristic makes it a perfect liner for thicker winter socks or even ski boots. The product itself provides warmth to the feet without the heating elements.
In case you feel like the insulation you are getting is not enough, you have the option to put in the batteries that come with it. This will turn your liner into a battery heated sock. Pretty awesome.
Not many people pay attention to this, but it's a great feature nevertheless. This allows you to adjust the seams of the socks to ensure a perfect fit no matter what you are doing. No need to worry about the socks going down because this adjustable cinch will do the trick of keeping it up all day long.
Where to Buy Them Online?
This product is available on Amazon and The Warming Store.
---
Good Price-Quality Ratio
---
Jomst
Battery Life: 5 to 8 hrs
Heat Settings: 3 levels
Best For: Fishing, Camping, Motorcycle, Skiing
---
Not all thermal socks are created equal. Some are made for skiing and climbing, while others are made specifically for hunting and fishing.
It is important to know which activities you want to engage in before buying a pair.
However, there are times when you don't necessarily need different pairs for various winter activities. There are heated socks good for everyday use, just like this pair from Jomst.
This is the perfect choice for those of you who want to find the balance between quality and price. For something below $75, it surprisingly performs fairly well.
This pair comes with two 3.7V lithium-ion rechargeable batteries. The good thing about this is that you don't need to buy disposable power supplies every time it runs out. All you have to do is connect it to the AC charger that comes with the pack. Just imagine all the hassle you won't experience.
On low, you can enjoy warm feet for as long as 8 hours straight. On high, you can use this pair for about 5 hours. Although it doesn't have a middle ground, both heat levels are just of the right temperature to keep your feet toasty and dry throughout the day.
Jomst uses carbon fiber for its heating system. This is one of the best materials for conducting heat effectively. They evenly distributed these elements to various parts of the socks to target common cold spots like the toes. This will give you dry and warm feet all day long.
These heated socks are made up of wool, polyester and cotton. Since wool and cotton are naturally soft, the pair is still comfortable to wear.
On the other hand, polyester makes it more durable and weatherproof. Blending polyester into the other materials also ensure proper housing of the heating elements. Because of this, you can wash your socks without destroying the tiny bits of electronics inside it (just remember not to wring it too much to avoid damage).
This could be easily tagged as a "best value for money" item. It is very affordable with a price ranging from $45 to $65 per pair.
Where to Buy Them Online?
This product is available on Amazon and The Warming Store.
---
Cheap Alternative to High End Heated Socks
---
MMLove
Battery Life: 6 hours
Heat Settings: 3 levels

Best For:

Skiing, hunting, hiking, biking, fishing etc
---
MMLove brings you a quick-heating thermal sock to make you feel nice this entire winter season. It might not be a brand that rings a bell, but it definitely has something good to offer – and for a very affordable price.
This product is perfect for those who are looking for inexpensive alternative to high end battery powered heated socks. It falls below $50 so it really doesn't cost much for something that could last a couple of winter seasons.
Rechargeable Li-Ion batteries
Since it comes with rechargeable power supply, you get to save more with this product. And it charges faster than most brands, at about 4 to 5 hours in full capacity. This means you'll be able to use it more during the day.
This is the best thing about this pair. It doesn't let your feet stay cold for long. In fact, it starts heating up the entire feet (including all your toes from base to tips) in less than a minute. That is considerably fast enough.
MMLove's thermal socks are made of cotton fabric. Because of this, it's really soft and gives you a comfy feel. No matter how long you wear them on, it will not irritate your skin so you don't have to worry. Just always remember to clean them regularly to avoid bacteria and fungi.
However, there's a setback to that. Since it is made entirely out of cotton, it is not waterproof. It gets wet easily so be careful when using it outside. The good thing is that, it also dries as fast. Once it does, you're ready to use it as if nothing happened.
Where to Buy Them Online?
This product is available on Amazon and The Warming Store.
---
Heated Socks Buying Guide: Things to Know
---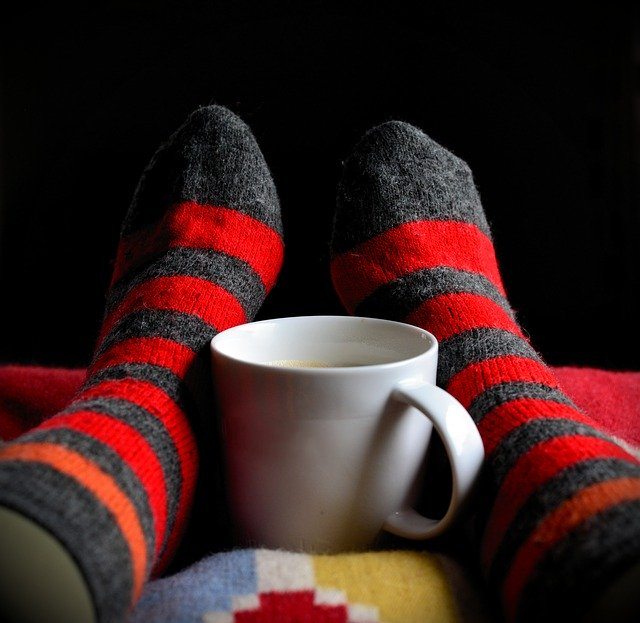 ---
In this section, I'd like to talk about what you need to know before buying battery heated clothing, in this case socks.
Buying winter gears need thorough consideration. If you want the purchase to be worth it, there are several factors to consider. Though this season only lasts for a couple of months, investing in good quality products will give you more benefits in the end.
Here are some of the features you must look for:
Of course, your main concern for buying a product should be this one. Otherwise, why would you buy something that easily gets broken, right?
The durability of an item is a deal-breaker. Have you ever noticed how some people pay a hefty price just to buy high-quality products? It's because you will benefit from it longer than cheaper ones.
Durable heated socks last for more than one or two winter seasons. Imagine the savings you will get from paying $200 for a pair that you can wear for 3 years compared to buying 6 to 8 pairs within that same timeframe at $50 each.
FAQ: How will you know if the item is durable?
The answer is simple: do your research. You can read various trusted product reviews online or even better you can directly ask a friend of yours who uses the same pair. Nothing beats actual usage experience. Ask them to give you an honest opinion on the product and consider it when you make the actual purchase.
The materials used in creating a product are also important. Some of them provide great insulation even without electric heating elements, while others don't.
Heated socks can be made out of wool, cotton, spandex, polyester, or a combination of two or more of them. Each of these materials have different durability and offers different levels of comfort (this one's entirely based on your personal preference).
Wool and cotton are soft and provides good insulation. Since these are the two most commonly used materials for making normal socks, you won't even feel that there are heating elements embedded in it unless you put the batteries in.
On the other hand, spandex and polyester are not that common in regular socks. However, they still are good materials for thermal socks. These materials make it more durable and long lasting. If you are looking for a pair with awesome weatherproofing capabilities, then find one made with these kinds of materials.
The next thing you need to consider is the overall battery life of the electric heated socks. The bigger the battery capacity, the longer you will be able to use it to warm your cold feet. However, there's always a trade-off to that. Bigger capacity means bulkier batteries.
Generally, winter socks may use two different types of batteries – disposable and rechargeable. Both have their own set of advantages and setbacks.
Personally, I prefer buying warm socks that uses rechargeable batteries. At an average, this type can be recharged over 400 times, allowing you to save hundreds of bucks in the long run. On an average, these type runs for 2 to 8 hours continuously. Other high grade ones can even operate for as long as 12 hours straight.
When using disposable batteries, you can readily bring some spare ones so your winter activities remain uninterrupted. By the moment your current set runs out, you can simply dispose it and replace it with new ones. The only downside about this is that when you sum up the entire amount spent on spare batteries, it tends to be more expensive.
Another important thing to consider before buying warm socks is its heating capabilities. Most of the time, these kind of socks has 3 heat settings – low, medium, high.
The greatest advantage of having multiple options is that you can adjust the temperature to your own liking. If your feet are not that cold during normal winter days, then you can just put it on the low heat setting to save up on battery.
There are also other good quality winter socks that have heat boost settings. This is a special feature that gives you burst of warmth on specific time intervals without affecting your battery capacity.
Last but definitely not the least consideration should be the price of an item.
Let's be honest here…
Pricing plays a vital role in decision making when purchasing winter gear. But this totally depends on how much you are willing to shell out for a single pair of battery heated socks. You can buy a high quality pair for up to $500 while the cheaper ones can cost as low as $30.
Truth is…
There is nothing wrong if you wish to buy the cheapest pair in the market, but you should always consider the quality of that product. Most often than not, these are not sturdy. You might even end up getting frustrated with it.
On the other hand, expensive pairs do not necessarily mean they are the most durable. There are might still be other more affordable options with better performance. It's really just a matter of choosing which features are more beneficial to you. 
The other heated gear/clothing you can check out:
Now…
I'd like to hear from YOU:
What are your thoughts on this guide of the best heated socks in 2022?
Do you need heated socks for skiing, snowboarding, sleeping, hunting, ice fishing, or do you simply have chronically cold feet and need them for everyday use?
Sharing is caring!
About Author
Zarina
Founder & content creator at Digital World Beauty. My main objective here is to create a valuable resource for photography enthusiasts with honest tech reviews, course recommendations, and how-to tutorials.